A benefit to participating in a Summer farm share is that you get vegetables that you may have never tried. In my first CSA pick up two weeks ago we received rhubarb. I was afraid of rhubarb until I made these strawberry rhubarb oat crisp bars.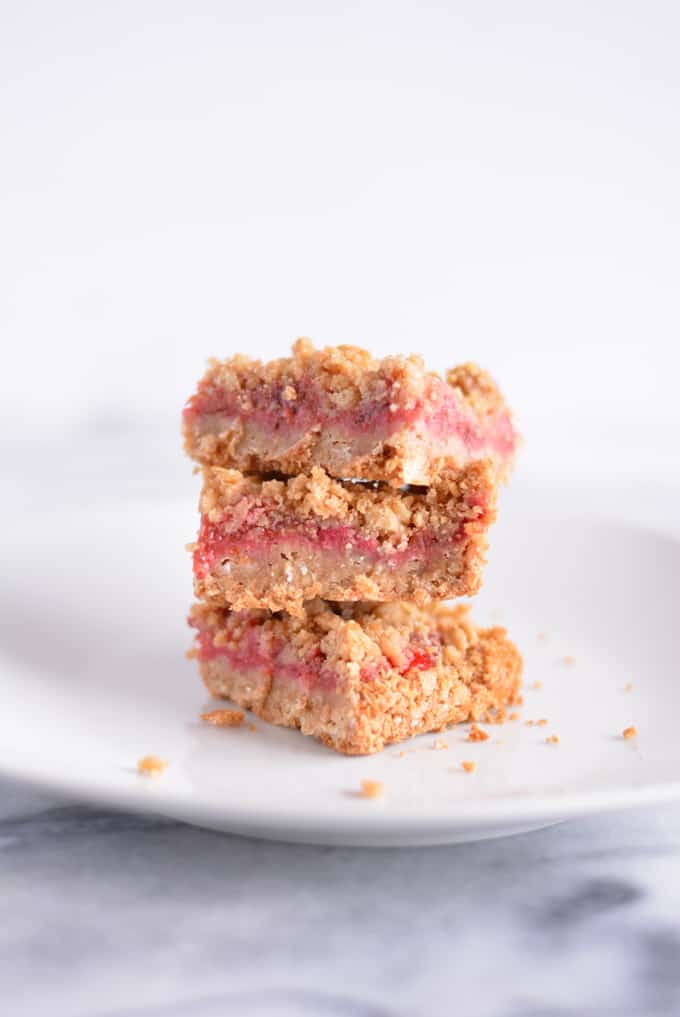 Can you believe it's time again for the monthly recipe redux!  I swear the month just flies by.  This month's theme is commemorating  the 5th birthday of the Recipe Redux.
June Theme: Celebrate a ReDuxer!
For ReDux's birthday month, let's celebrate each other! Pick a fellow ReDuxer, go to their blog and either make one of their recipes or create one of your own inspired by theirs. In your post, give your readers a little intro to this blogger, what you like about this blogger/their blog and either link to their recipe you made or share your brand new "inspired" creation.
June is also the beginning of my Summer CSA deliveries.  In my first share I received rhubarb.  Stay tuned for upcoming posts to see what else was in my share.  I have never used rhubarb and had no idea what to do with it.  Thanks to my fellow Reduxers I was able to find a wealth of recipes over at Teaspoon of Spice.  Deanna and Serena love rhubarb!
[Tweet "Participating in a Summer CSA is a great way to try new vegetables."]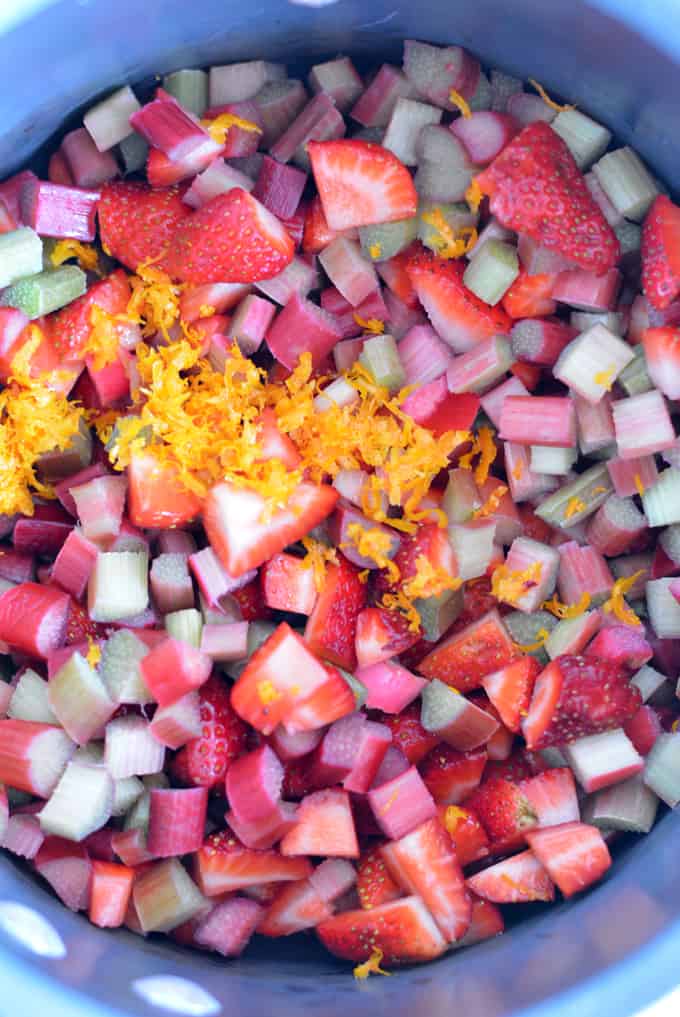 The recipe that caught my eye at Teaspoon of Spice was their Strawberry Rhubarb Crisp.  I am a bit odd (in more ways than one) and I don't like soft cooked fruit.  Jam consistency is ok though, so I decided to turn their crisp into an oat crisp bar.  I loaded these bars up with fiber.  Not only do they contain whole wheat flour, but they also contain oats, oat bran, and chia seeds!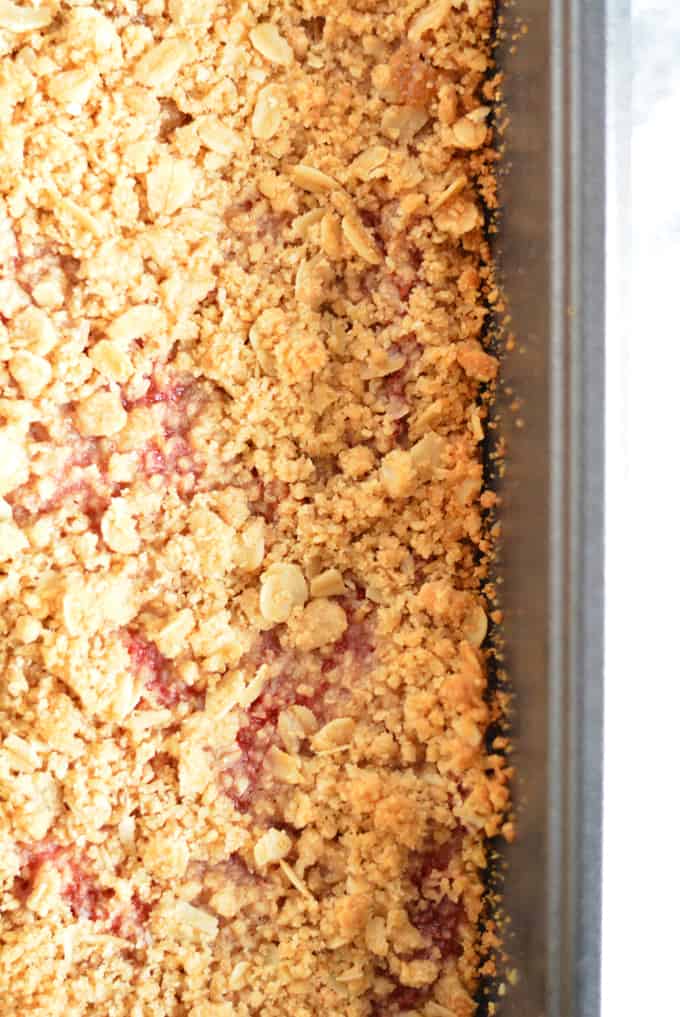 I have to be honest, I still really don't know what rhubarb tastes like on its own since its mixed with strawberries, sugar, butter, etc in this recipe.  I really love this recipe and it was a hit at work.  The next time I get rhubarb I will give it an honest try on its own, just so I know what it really does taste like.  I need to take baby steps just like many of my clients!
Strawberry Rhubarb Oat Crisp Bars
Ingredients
2

cups

fresh rhubarb

cut into 1/4 inch pieces

2

cups

fresh strawberries

cut into 1/4 inch pieces

1

tablespoon

lemon juice

Grated zest of 1 orange

1/2

cup

sugar

2

tablespoons

chia seeds

2

cups

whole wheat flour

I use white whole wheat

1

cup

uncooked quick oats

1

cup

oat bran

1

cup

brown sugar

firmly packed

1

cup

butter

softened

1/2

teaspoon

baking soda

1/4

teaspoon

salt
Instructions
Preheat oven to 350 degrees F.

Combine rhubarb, strawberries, lemon juice, and orange zest into a medium saucepan.

Cook fruit over medium heat, stirring occasionally until fruit is tender (about 10 minutes).

Stir sugar and chia seeds into fruit mixture.

Continue to cook fruit, stirring frequently for 1-3 minutes until mixture boils.

Continue to boil fruit for 1-2 minutes or until the mixture thickens.

Remove fruit from heat and set aside.

In a large bowl combine flour, oats, oat bran, brown sugar, butter, baking soda, and salt,

Beat crust mixture on low speed until the mixture crumbles.

Grease a 13x9 inch baking pan with butter.

Press crust mixture into the bottom of the baking pan reserving 2 cups for the topping.

Pour fruit mixture over crust carefully spreading fruit close to the edges.

Top with reserved crumble mixture.

Bake for 30 minutes or until browned.

Cool completely.

Store in refrigerator.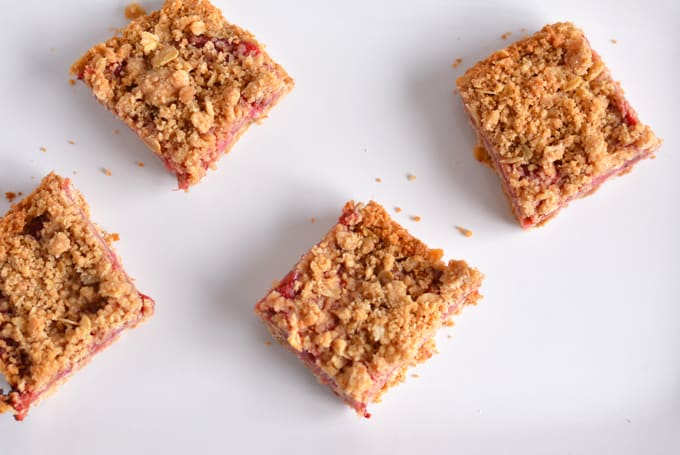 Have you tried rhubarb? What's your favorite way to prepare it?
For more dessert recipes check out my Dessert Board on Pinterest!
This is my favorite pan to make desserts in. The lid with handles makes it easy to travel with.

This post contains affiliate links.