Mini desserts are perfect for bridal showers, tea parties, receptions, and just plain portion control! Instead of eating a whole piece of apple pie enjoy a mini walnut apple tart instead.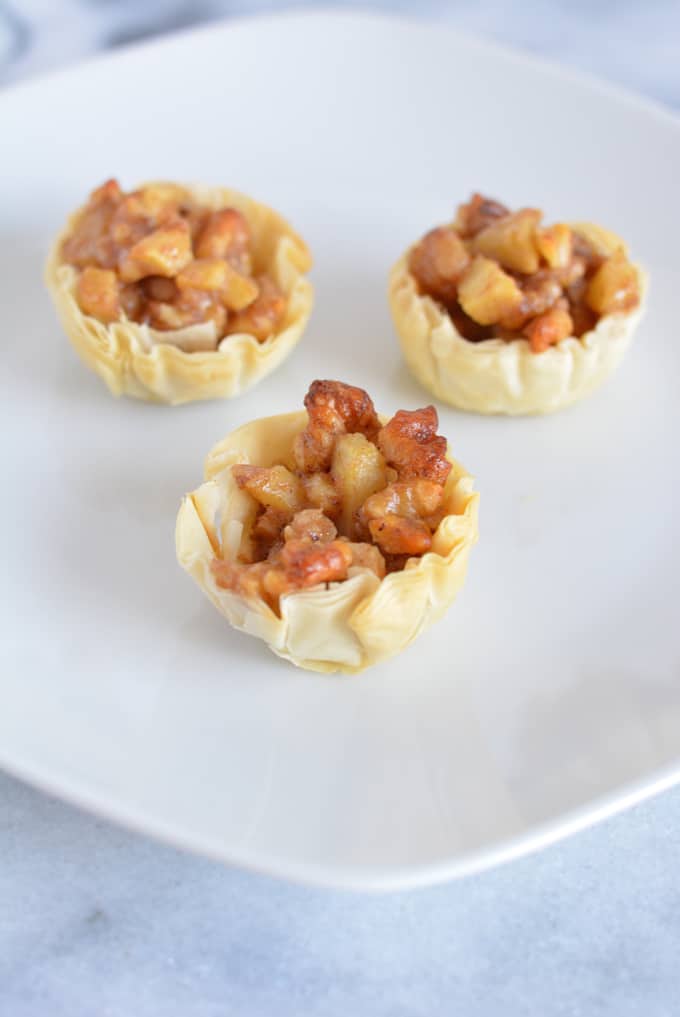 I love dessert.  I think it genetic.  My whole family loves dessert.  My Dad used to say after dinner "is there any dessert type food?".  He doesn't say that much anymore, but there is usually some kind of dessert around.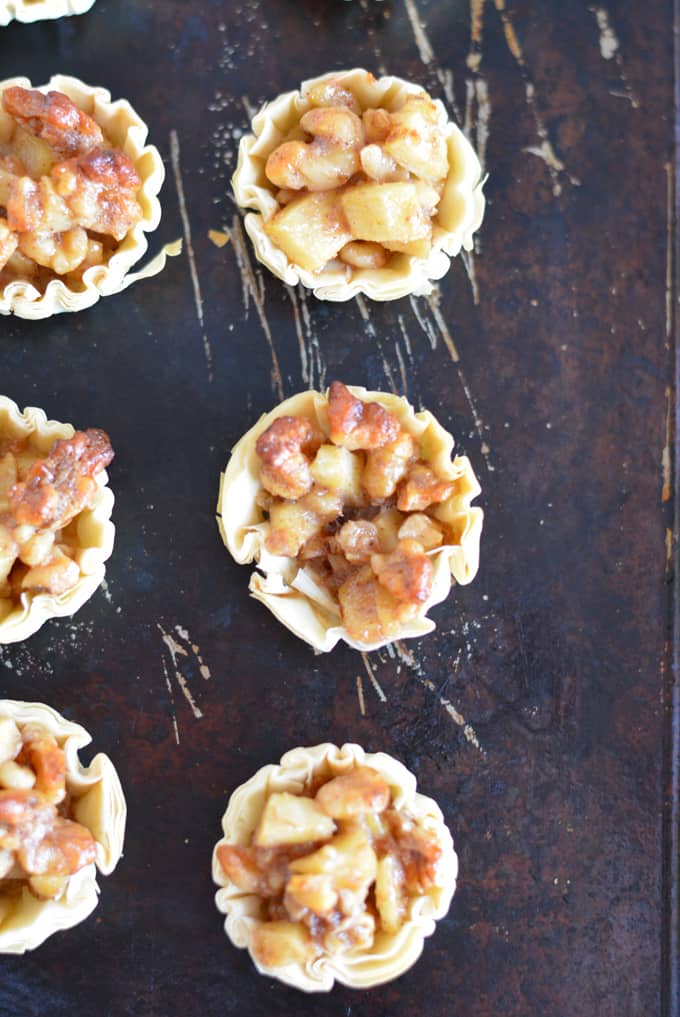 Many of my patients have a sweet tooth.  A suggestion that many dietitians will use with clients is the "one bite rule".  Faced with a dessert decision when you are trying to be mindful of what you are eating is tough.  We often suggest taking a taste or one bite to satisfy the craving and then move on.
The suggestion of taking just a taste is difficult even for me.  One bite will inevitably turn into two, three, and then before you know it the whole dessert is in my belly!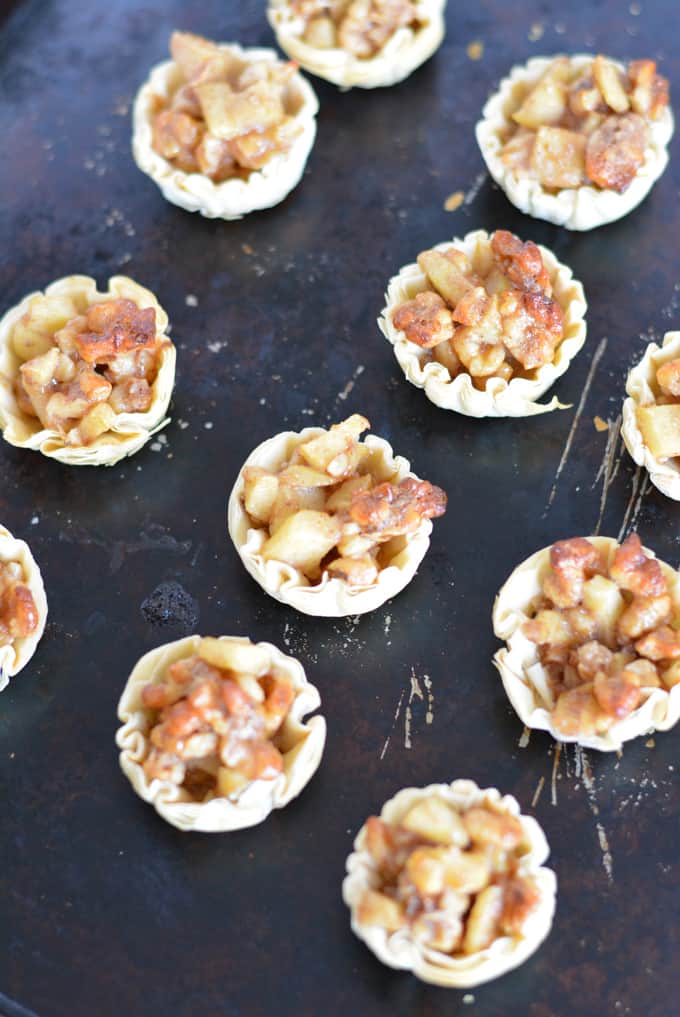 A dessert lovers worst dilemma is when there is a choice of more than one dessert.  What do you do? You can't eat one of each choice (well you could, but shouldn't).  Bite size desserts solve all these problems.  You can literally take just one bite and taste more than one choice.  That's why I love them.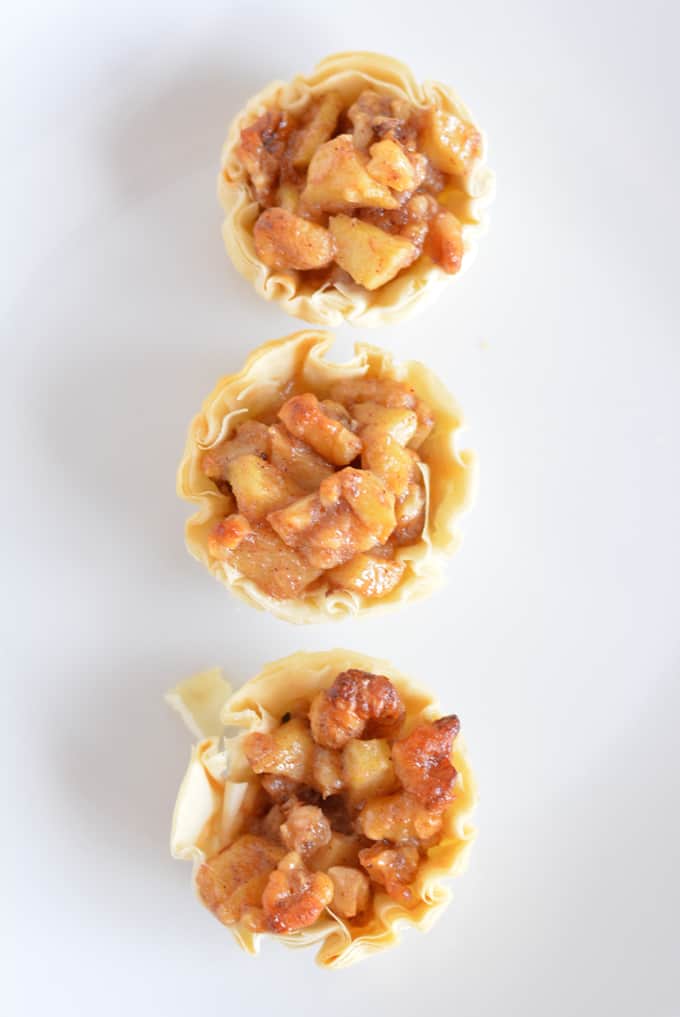 These mini tarts will remind you of apple pie.  To be honest I don't enjoy apple pie.  I think it's a textural issue.  Mushy cooked apples, just don't appeal to me.  The apples in these mini tarts are still slightly crunchy.  The consistency of the size of the apples are much more appealing to me in this recipe.
I know walnuts are not usually an ingredient in apple pie, but apples and walnuts are just meant to be together.  Plus walnuts add extra healthy nutrients to an indulgent dessert.
Walnuts are a nutrition powerhouse.  A serving (¼ cup of shelled walnuts or pieces) contains:
190 calories
18 grams Fat
1.5 grams Saturated Fat
2.5 grams Monounsaturated Fat
13 grams Polyunsaturated Fat
2.5 grams Omega-3 Fatty Acids
0 grams Cholesterol
1 mg Sodium
125 mg Potassium
4 grams Total Carbohydrates
2 grams Fiber
<1 gram Sugar
4 grams Protein
You might be thinking, OMG that's a lot of calories and fat!  Walnuts are nutrient dense food, so for the calories, you get a wealth of nutrients that your body needs as opposed to empty calorie foods, which only give you calories and no nutrients to go with it.  So think of a nutrient dense food as a food that gives you more bang for you buck.
As for fat, a healthy diet should contain about 25-30% of its calories from healthy fat.  Healthy fats are unsaturated fats.  Walnuts contain mostly unsaturated fats.  Omega-3 fatty acids, in particular, have been shown to help prevent cardiovascular disease.
For more information visit California Walnuts.
"I received free samples of California walnuts mentioned in this post. By posting this recipe I am entering a recipe contest sponsored by the California Walnut Commission and am eligible to win prizes associated with the contest. I was not compensated for my time."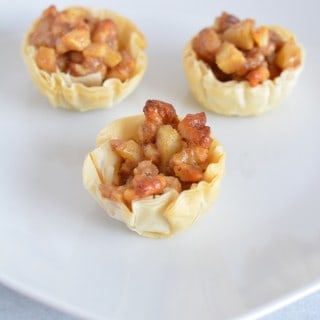 Mini Walnut Apple Tarts
Ingredients
1-2

apples

I used Pink Lady about two cups diced

2

tablespoons

butter

divided

¼

teaspoon

lemon juice

1

cup

walnut pieces

⅛

teaspoon

cinnamon

1

pinch

nutmeg

2

tablespoons

brown sugar

2

tablespoons

maple syrup

1

egg

beaten

24

phyllo cups
Instructions
Preheat oven to 350 degrees F.

Peel apples and cut into ¼ inch cubes.

In a saucepan combine butter, lemon juice and apple cubes.

Cook apples 3-5 minutes until tender.

Add cinnamon, nutmeg, and walnuts to the saucepan with the apples, cook for another 2-3 minutes.

Melt 1 tablespoon of butter.

Add brown sugar and maple syrup to melted butter.

Slowly add in 1 beaten egg into butter/sugar mixture.

Pour your sauce over your apple walnut mixture directly in the saucepan.

Place phyllo cups onto a sheet pan.

Fill each phyllo cups with about 1-11/2 teaspoons of apple walnut filling.

Place the tarts into the oven for 10-15 minutes until slightly browned on the tops.

Cool for 3-5 minutes and serve.
Nutrition
Calories:
0
kcal
Carbohydrates:
0
g
Protein:
0
g
Fat:
0
g
Saturated Fat:
0
g
Polyunsaturated Fat:
0
g
Monounsaturated Fat:
0
g
Trans Fat:
0
g
Cholesterol:
0
mg
Sodium:
0
mg
Potassium:
0
mg
Fiber:
0
g
Sugar:
0
g
Vitamin A:
0
IU
Vitamin C:
0
mg
Calcium:
0
mg
Iron:
0
mg
Tried this recipe?
Mention @nourishedsimply
Recipes Containing Walnuts from Nourished Simply