In the Northeast part of the United States, we experience excess heat like many parts of the country plus high humidity. Even though we have air conditioning no one wants to turn on their oven to cook when it feels like an oven outside. This is when slow cookers come to the rescue. My Slow Cooker Hawaiian Pulled Pork recipe is the perfect summer meal without all the heat.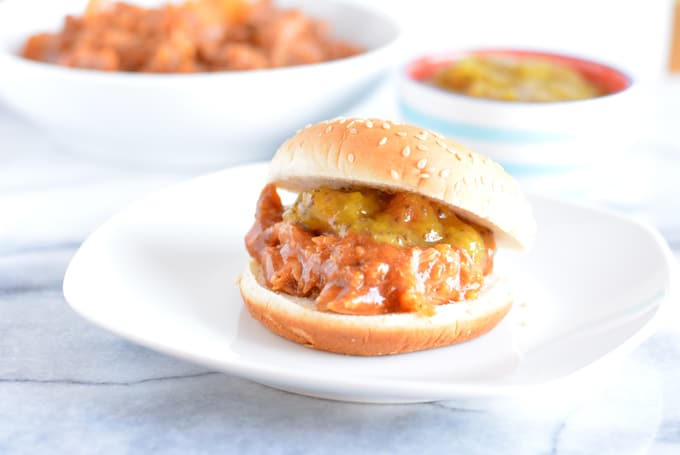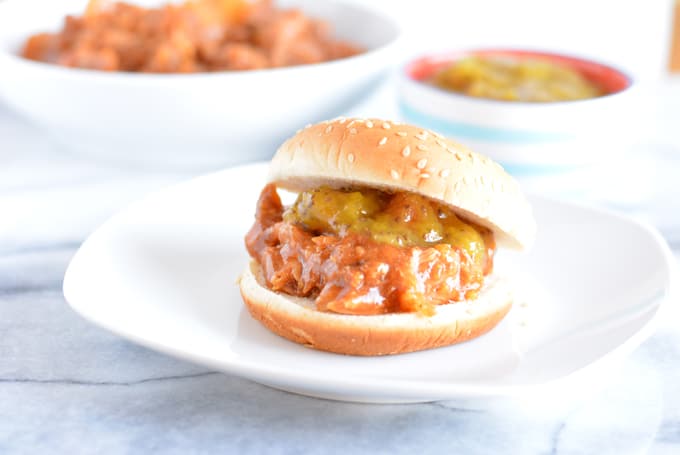 This month's Recipe Redux challenge: Beat the heat with a Slow cooker/Instant Pot/Pressure Cooker is all about cooking delicious and mostly healthy meals without the need to heat up your kitchen by turning on the oven.
I have said this before, but I will say it again: my slow cooker is grossly under utilized.  It sits buried in my kitchen island behind my standing mixer. To dig is out, as you can imagine, is a bit of a pain. Slow cookers are so handy though to prepare home-cooked meals when you don't have a lot of time. Just dump the ingredients into your slow cooker and forget out it.
I'm starting to think of different recipes that my hubby can handle. He works from home, so can easily get the slow cooker started  (if I don't have time in the morning) and then I can finish the meal when I get home from work.  We are going to have a busy schedule when school starts in September, so I need to prepare now for many nights when we will be our kids Uber driver.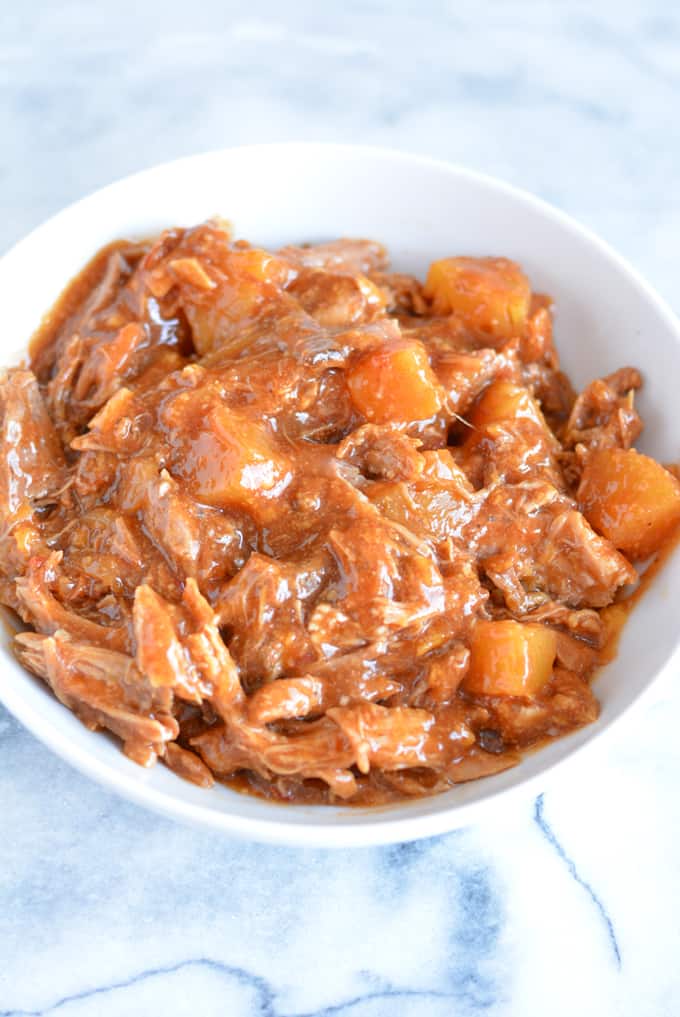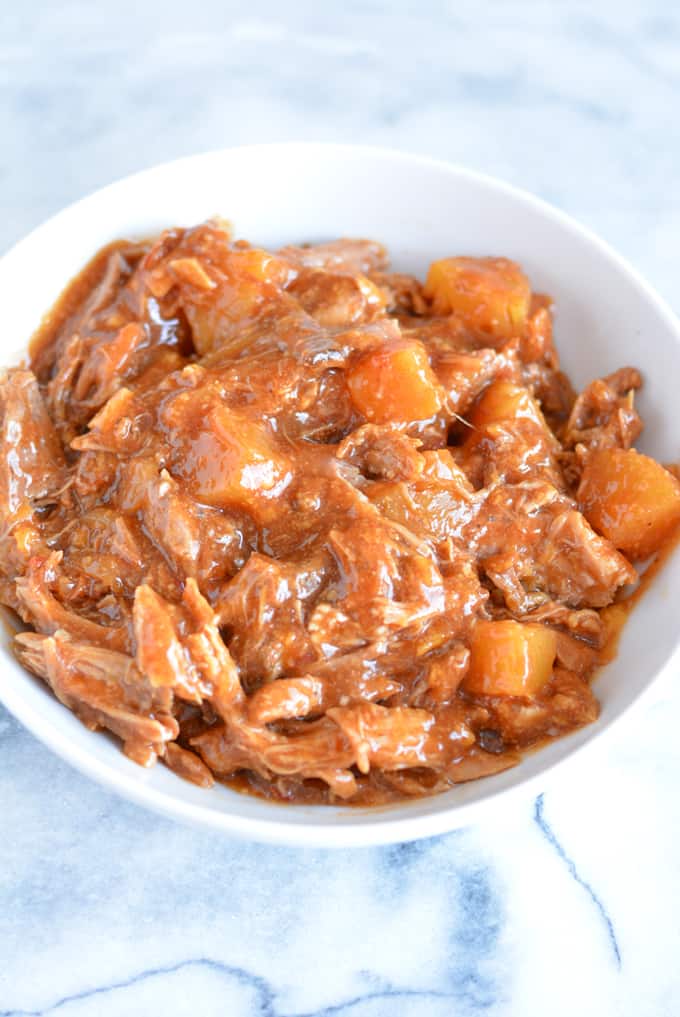 Pulled pork isn't the leanest of dishes. Pork can be fatty. You can use a pork tenderloin, which will shave off a few calories.  I use a pork shoulder because it's just more tender with the bit of extra fat.  The calorie difference really isn't that much.
We don't eat a lot of pork, however, my daughter has been begging for pulled pork. She is a pretty picky eater, living on mostly chicken, turkey, cheese, and fruit. Bee won't touch a vegetable! So when she asks for something specific I make it.
My son was pretty picky but now will eat just about anything. So I don't stress too much about Bee being particular as I don't expect it to last forever. The only two times she has enjoyed pulled pork was during our trip last Summer to Hawaii and a few months ago during her classes on international food day.  One of her classmates who is originally from Hawaii brought in pulled pork to share.  I knew that Bee would not eat pulled pork unless it had a Hawaiian flavor.
Recipe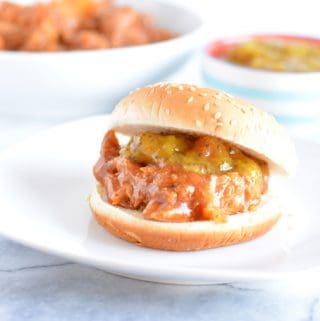 Hawaiian Pulled Pork Topped with Mango Chia Jam
The ultimate fix it and forget it meal. This slow cooker Hawaiian pulled pork recipe can be thrown together in just a few minutes and ready to eat without much attention in 5-6 hours.
Ingredients
5-6

pound

pork shoulder

1 ½

cups

prepared BBQ sauce

I use Sweet Baby Ray's

1

20 oz can pineapple chunks with juice

1

cup

onion

sliced

1

glove garlic

minced

2

teaspoons

Sriracha
**Option Topping: Mango Jam
1

cup

mango chunks

½

cup

water

1

teaspoon

sugar

1

teaspoon

chia seeds.
Instructions
Place the pork shoulder in the slow cooker.

Cover with the entire can of pineapples, juice included.

Add in onion, garlic, and sriracha.

Cover and cook on high for 5-6 hours.

When cooked through shred with a fork.

Serve on a roll of your choice or alone.
**Optional Mango Jam:
Place mango chunks, water, sugar, and chia seeds in a small saucepan. Bring contents to a slow boil over medium heat. Cook until mango mashes (about 5 minutes). Let cool and refrigerate until ready to serve.
Nutrition
Serving:
3
ounces
Calories:
277
kcal
Carbohydrates:
11.7
g
Protein:
20
g
Fat:
16.1
g
Saturated Fat:
5.9
g
Polyunsaturated Fat:
8.5
g
Monounsaturated Fat:
0
g
Trans Fat:
0
g
Cholesterol:
73.1
mg
Sodium:
207.5
mg
Potassium:
0
mg
Fiber:
0.5
g
Sugar:
9.7
g
Vitamin A:
0
IU
Vitamin C:
0
mg
Calcium:
0
mg
Iron:
0
mg
Tried this recipe?
Mention @nourishedsimply
Even though pineapples are not actually native to Hawaii, which we learned on our trip, we associate pineapples with Hawaii. Pineapples were a must! Bee, of course, wouldn't eat them! To continue the tropical theme you can top with a mango salsa or mango jam.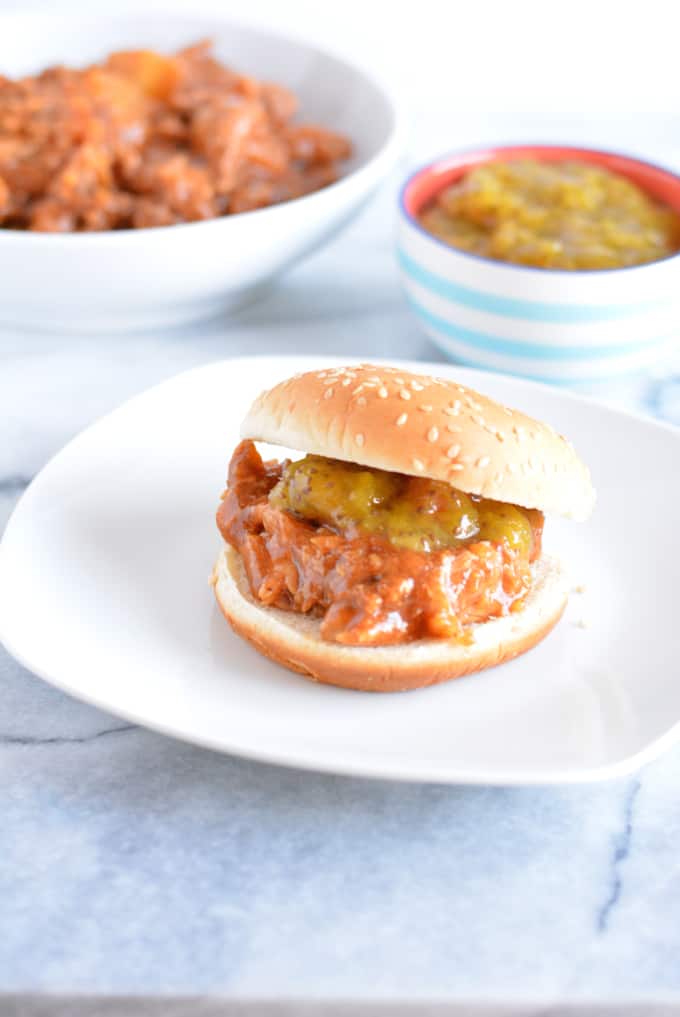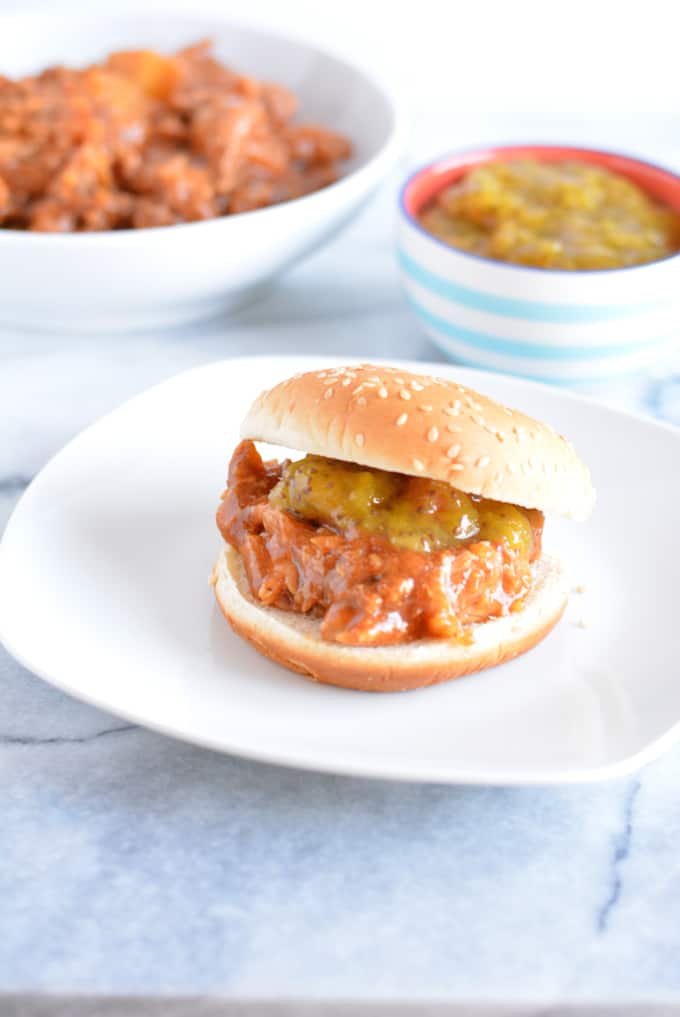 The pulled pork is really juicy and pretty messy.  I use hamburger roll to make pork sandwiches, but the roll gets soggy pretty quick. A nice kaiser roll might stand up better.