If you're like me and need to add a little something special to your steak dinner.  These saucy mushrooms & onions add an extra meaty flavor to any steak or beef dish.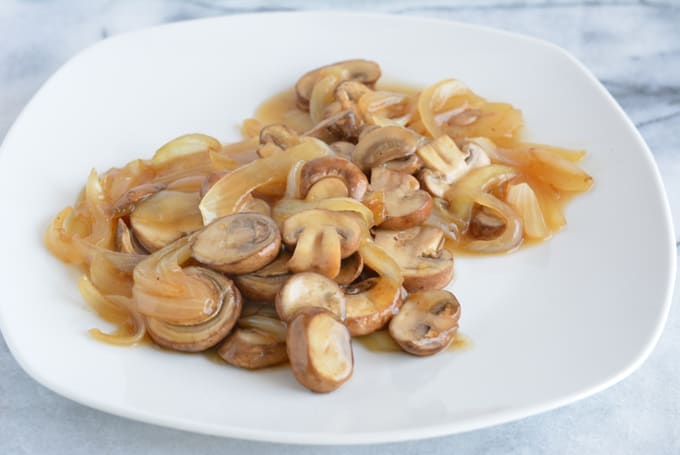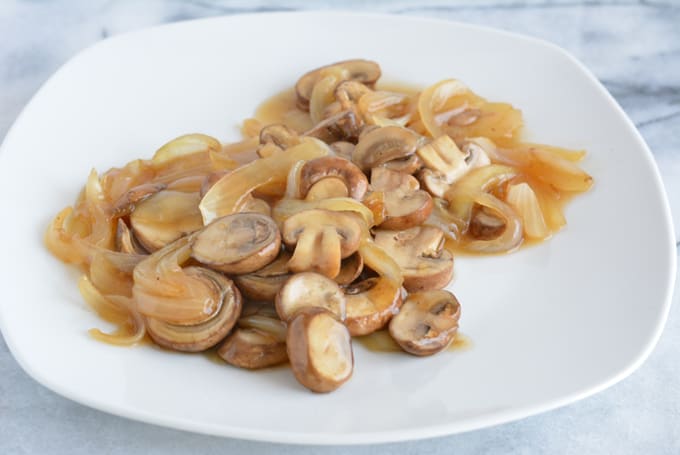 I received a free sample of Kikkoman soy sauce mentioned in this post.  By posting this recipe I am entering a recipe contest sponsored by Kikkoman and am eligible to win prizes associated with the contest.  I was not compensated for my time.
 The latest sponsored contest through the Recipe Redux network was pretty interesting.  Soy sauce is generally associated with high sodium foods.  The challenge "Sodium Saving, Flavor Raising" asked participants to swap out salt for soy sauce in a typical recipe.
New research published in the Journal of Food Science revealed that swapping soy sauce for salt reduces the sodium content of a recipe by up to 50% without decreasing flavor.  Soy Sauce in rich in umami – a savory flavor that is described as meaty or broth-like. Researchers believe that umami helps enhance overall flavor and palatability of food.  B
We use a lot of soy sauce in our house.  Kikkoman is my brand of choice, because of their lower sodium version.  My samples added to my stash! Kikkoman Low Sodium Soy Sauce contains 575 mg sodium per 1 tablespoon.  In comparison, 1 teaspoon of salt contains 2360 mg sodium. Using soy sauce in recipes decreases salt tremendously!
[Tweet "#AD: In comparison, 1 teaspoon of salt contains 2360 mg sodium. Using soy sauce in recipes decreases salt tremendously! @kikkomankitchen #nourishedsimply"]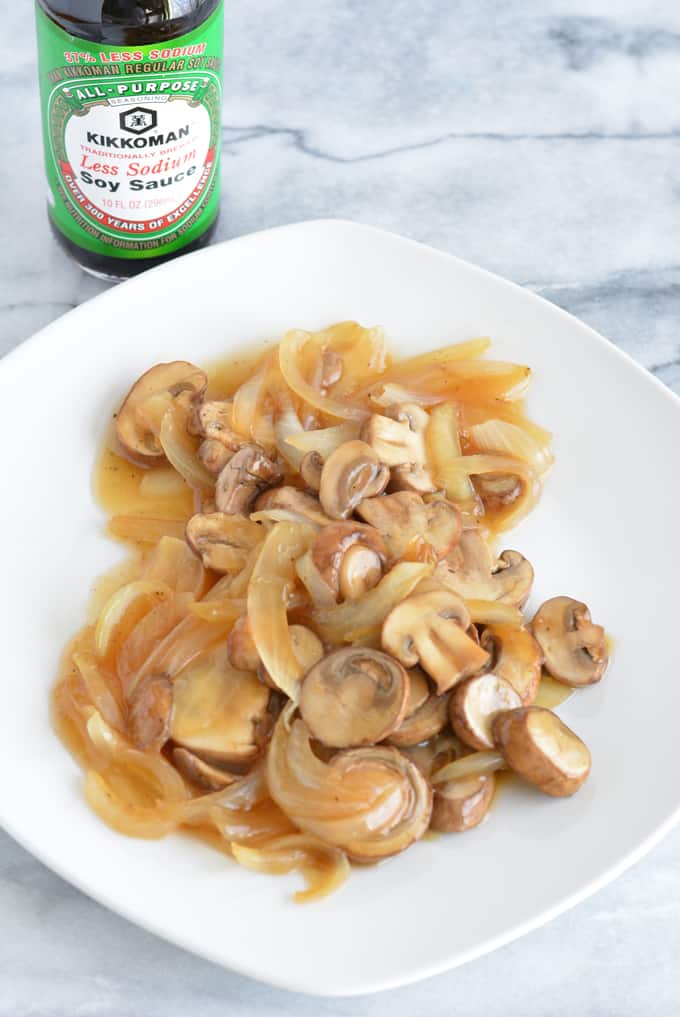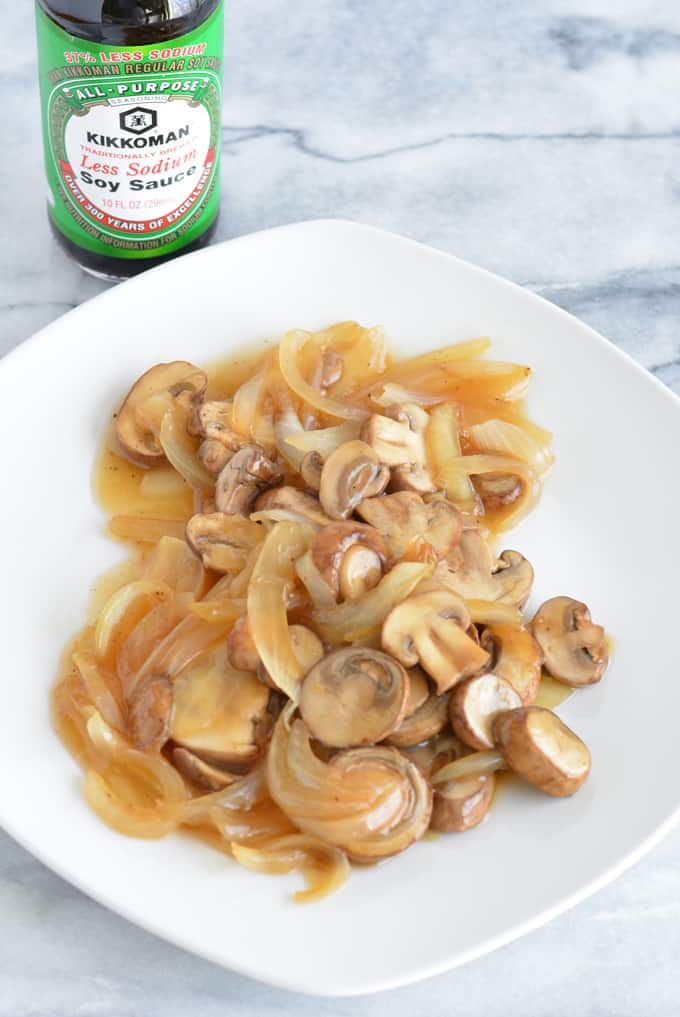 My hubby and son love steak.  We have steaks maybe once a month or every other month.  I'm not a huge steak fan, so we do limit steak consumption because of this and of course the cost. When we do have steak on our menu my hubby always uses garlic and soy sauce as a marinade, which I enjoy. I made saucy mushrooms & onions to smother on top of my steak.  I share of course but could eat them all.  I usually use salt, pepper, and beef bouillon to flavor the onions and mushrooms, but my veggie mixture ends up with a high sodium content.  Just ¼ teaspoon of salt contains 590 mg sodium and 1 teaspoon of beef bouillon contains 900 mg sodium.  Swapping out the salt and beef bouillon for soy sauce did not change the flavor at all but saved me about 900 mg of sodium.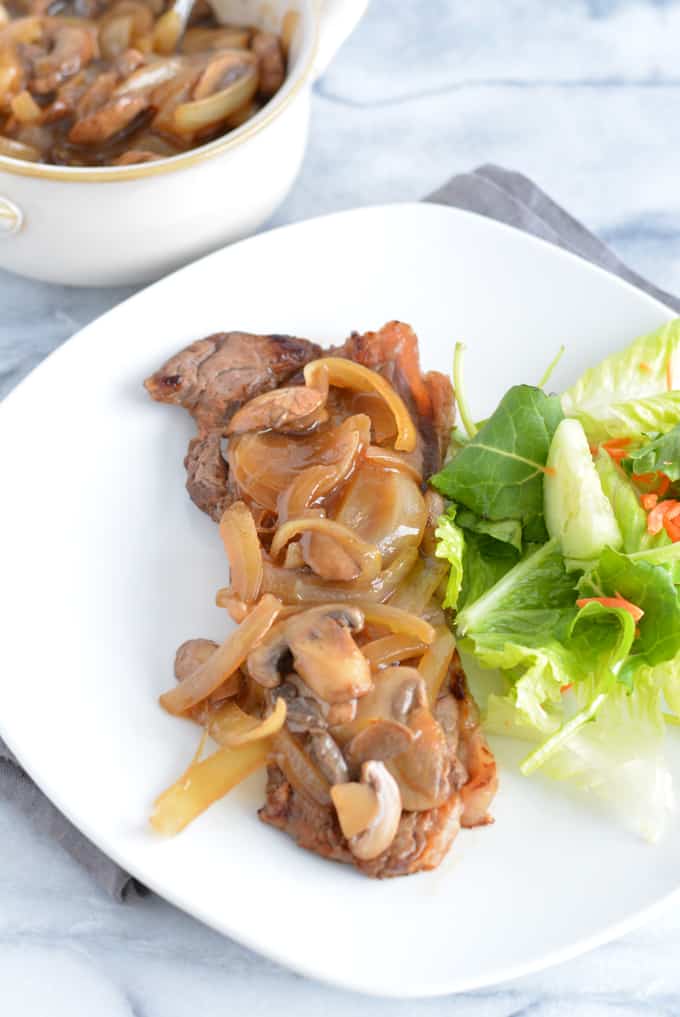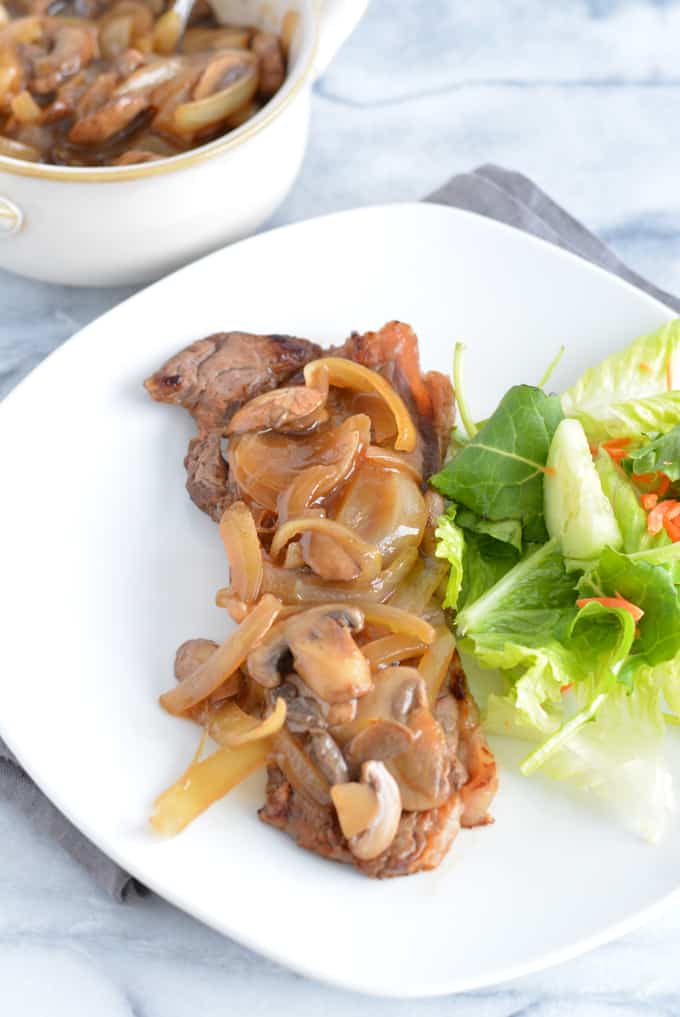 Get the Recipe
Recipe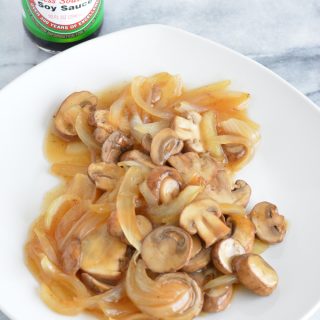 Saucy Mushrooms & Onions Over Steak
Perfect topping for steak or beef entrees.
Ingredients
Steaks

2 6-

ounce

NY Strip Steaks

2

Tablespoons

Kikkoman Low Sodium Soy Sauce

1

clove

garlic

minced

Mushrooms & Onions

2

teaspoons

olive oil

1

Vidalia onion

sliced

8

ounces

sliced portabella mushrooms

1

tablespoon

Low Sodium Kikkoman Soy Sauce

⅛

teaspoon

ground black pepper

1

cup

water plus 2 tablespoons

2

teaspoons

cornstarch
Instructions
Steaks

Place steaks in a shallow dish.

Drizzle each with 1 tablespoons of soy sauce.

Place garlic on top of steak.

Marinate in the refrigerator for at least 1 hour.

When ready cook as desired.  Mushrooms & Onions

In a saute pan heat olive oil over medium heat.

Add in sliced onions and saute until they begin to caramelize about 5 minutes.

Add in sliced mushrooms and saute for 2-3 minutes.

Pour in 1 cup of water and soy sauce, stir to combine.

Sprinkle in ground black pepper.

In a separate bowl mix together 2 teaspoons of cornstarch with 2 tablespoons of water. Mix well.

Slowly pour cornstarch mixture into the mushroom & onion mixture.

Stir to thicken.

Bring sauce to a slow boil to thicken sauce, about 1-2 minutes.

Serve over steak.
Nutrition
Calories:
248
kcal
Carbohydrates:
9.6
g
Protein:
19.4
g
Fat:
14.9
g
Saturated Fat:
5.9
g
Polyunsaturated Fat:
6.9
g
Monounsaturated Fat:
0
g
Trans Fat:
0
g
Cholesterol:
69.7
mg
Sodium:
448
mg
Potassium:
0
mg
Fiber:
1.6
g
Sugar:
5.7
g
Vitamin A:
0
IU
Vitamin C:
0
mg
Calcium:
0
mg
Iron:
0
mg
Tried this recipe?
Mention @nourishedsimply