Many people are out today madly shopping for the perfect gift.  Have you ever given a homemade gift?  When my son was little and in day care he had a lot of different teachers and it was a bit overwhelming to purchase gifts for so many people.  One particular year the budget was pretty tight.  I purchased a book earlier that year that was all about mason jar gifts.  I made all of T's teachers cookie dough jars as gifts for the holidays. All the ingredients to make a batch of chocolate chip cookies were layered into the jars.  I added decorative fabric, ribbon, and a recipe tag to each lid.  I thought that they were the cutest gifts!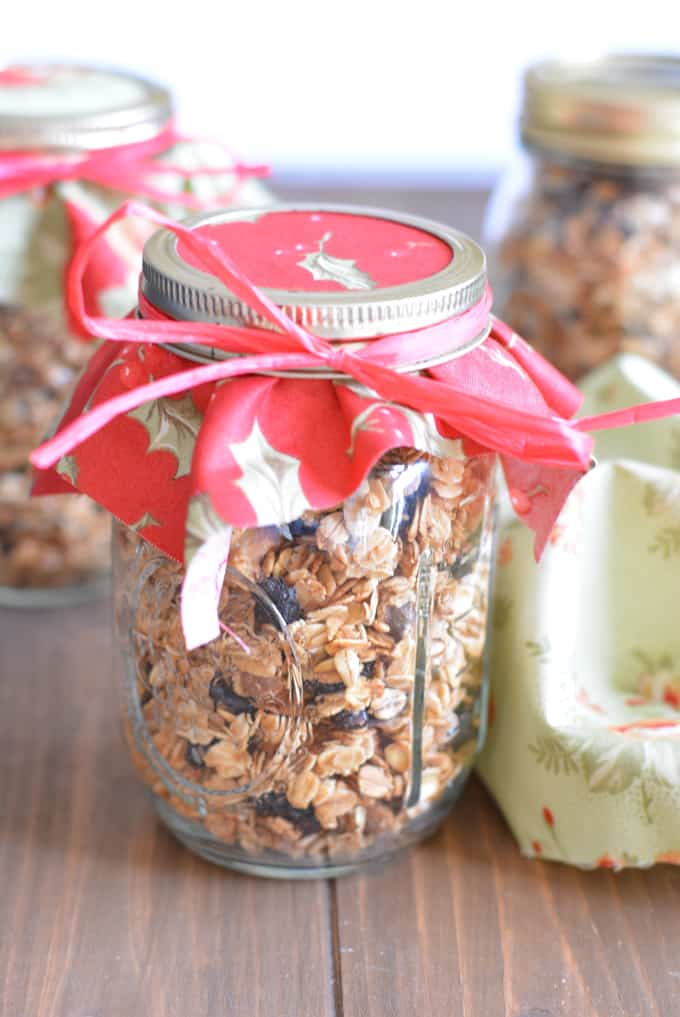 Homemade gifts are not only more affordable, but they show how much thought and preparation the creator put into that gift.  Quick breads, cookies, pies, spice blends, jams, and soup mixes are also great gifts.  Katie Webster, in her new cookbook entitled Maple
, talks about how she makes her Maple Cranberry Walnut Granola for holiday gifts.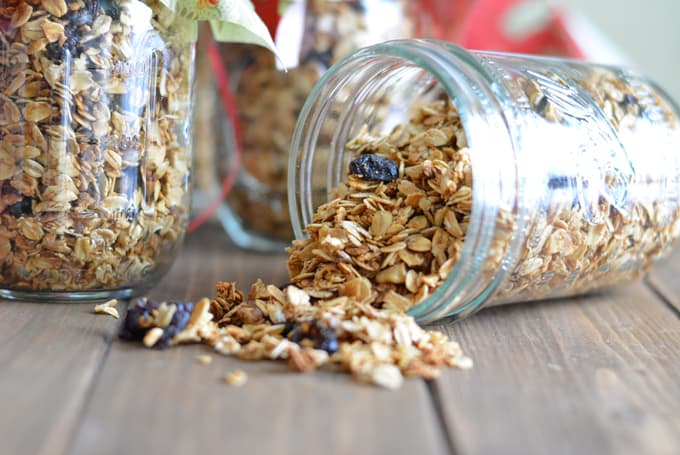 Katie Webster is not only the author of Maple
, but the creator of healthyseasonrecipes.com.  I met Katie in September at Blog Brulee 2015 in Vermont where she gave a wonderful talk on food photography.  This is where I first heard about her new book.  When I received my copy in the mail I was like a kid on Christmas morning!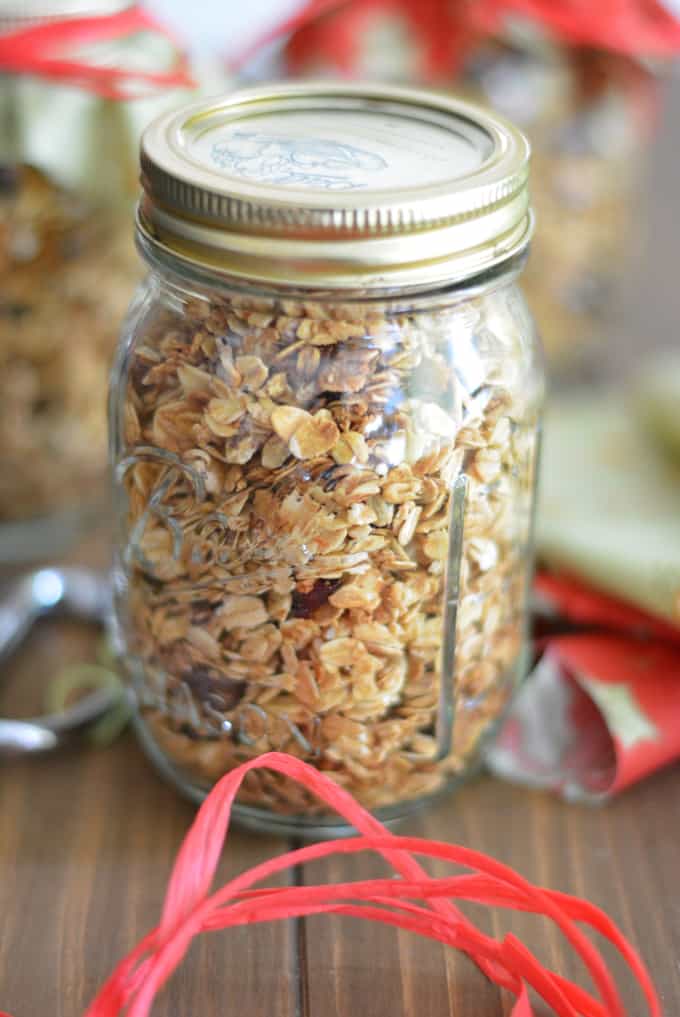 I love maple syrup.  I have been searching for years for somewhere local that taps maple trees so I can see maple sugaring in person.  I have not had luck, so someday I will be back in Vermont to see maple sugaring.  Katie and her husband tap the trees located at their Vermont home and make their own maple syrup! I am so jealous!!
Maple
 is a collection of 100 recipes using pure maple syrup including breakfast recipes, drinks, main dishes, side dishes, and of course desserts.  Katie's recipes use local, whole food ingredients. Katie also gives you information on maple syrup itself.
Katie graciously allowed me to share her Maple Cranberry Walnut Granola here with you.  I was able to get about 5 mason jar gifts out of one recipe.  As Katie says in her book the recipe does make the house smell cozy!  Definitely follow the recipe.  I goofed and added the cranberries too soon.  The granola was still delicious, however the cranberries were not supposed to be baked with the granola!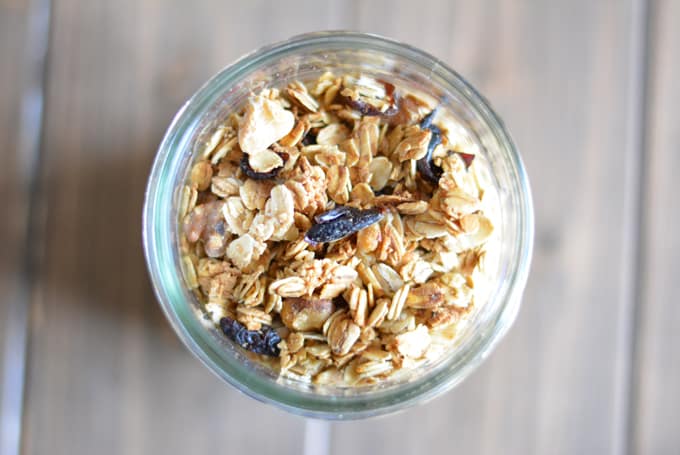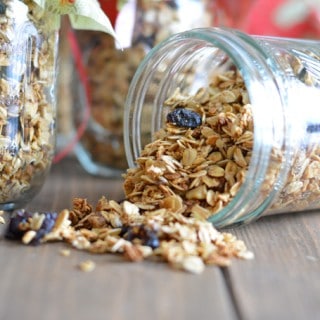 Maple Cranberry walnut Granola
Ingredients
8

cups

old fashioned rolled oats

1

cup

dark pure maple syrup

1

cup

walnuts

coarsely chopped

2

tablespoon

avocado oil or organic canola oil

Pinch

of Salt

1

cup

dried cranberries
Instructions
Preheat oven to 325 degrees F.

Coat a large, rimmed baking sheet with nonstick cooking spray. (I greased my pan with butter)

Stir oats, syrup, walnuts, oil, and salt in a large mixing bowl.

Spread mixture onto the prepared baking sheet.

Transfer pan to the oven and bake for 45 minutes.

Remove baking sheet from the oven, stir mixture gently, and return to the oven for another 10 minutes.

Turn off the oven, but do not open the door.

Let granola sit in the warm oven for 20-25 minutes, until crisp and golden.

Remove granola from oven.

Let granola cook on the baking sheet.

Stir in cranberries.

Store in an airtight container for up to 2 weeks.
Nutrition
Calories:
0
kcal
Carbohydrates:
0
g
Protein:
0
g
Fat:
0
g
Saturated Fat:
0
g
Polyunsaturated Fat:
0
g
Monounsaturated Fat:
0
g
Trans Fat:
0
g
Cholesterol:
0
mg
Sodium:
0
mg
Potassium:
0
mg
Fiber:
0
g
Sugar:
0
g
Vitamin A:
0
IU
Vitamin C:
0
mg
Calcium:
0
mg
Iron:
0
mg
Tried this recipe?
Mention @nourishedsimply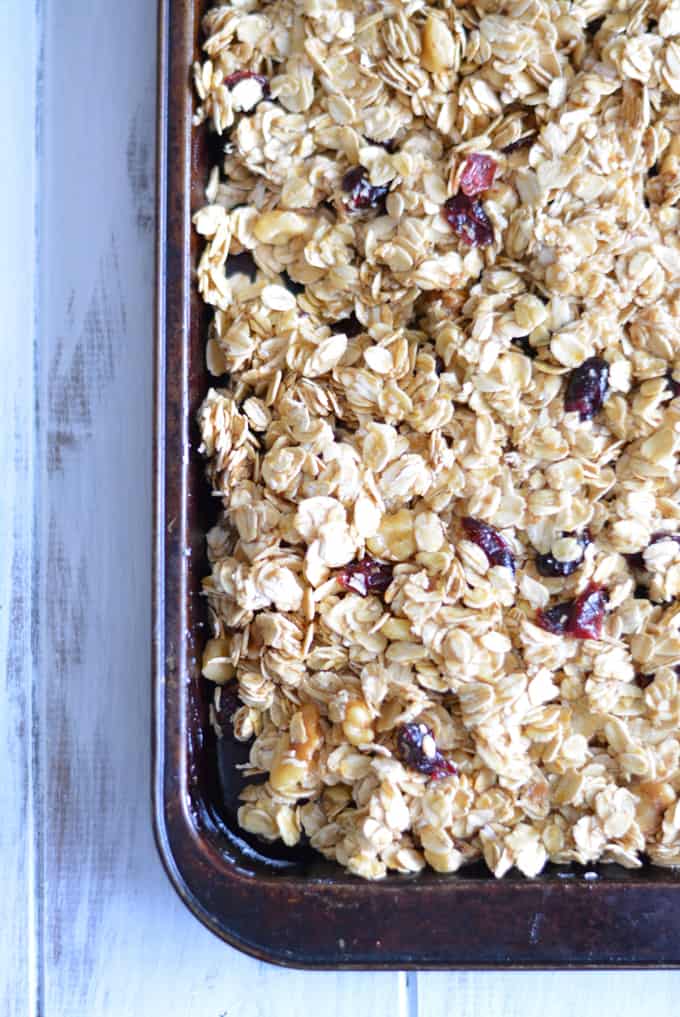 This post contains affiliate links and I do make a tiny commission on any purchased make through the links.