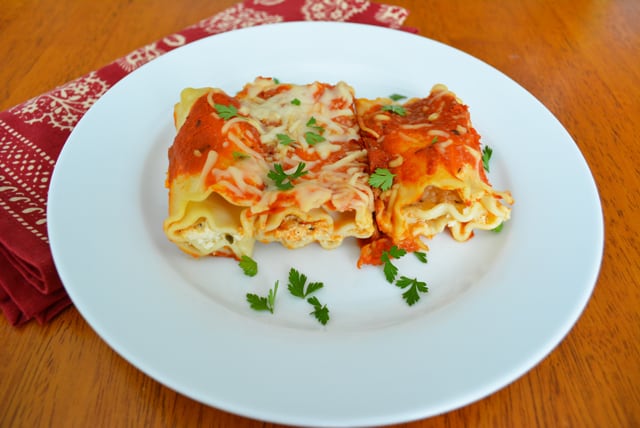 I love lasagna roll ups.  I first made them over 5 years ago after I watched Rachel Ray make them.  Lately I have seen various versions of lasagna roll ups popping up on Facebook and Pinterest, so I thought I would share how I make my them.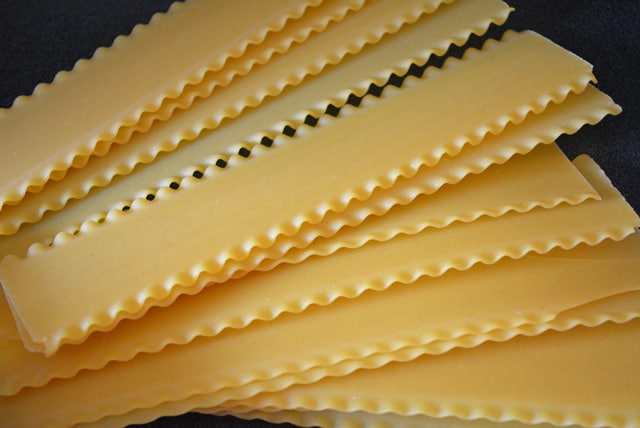 For just the four of us I make half a box of lasagna noodles.  We usually get two to three meals out of one batch.  I cook the noodles according to the package directions.  I drain and rinse the noodles under cold water.  By running the noodles under cold water you cool the noodles quickly, ending the cooking process, and make them easier on the fingers to handle.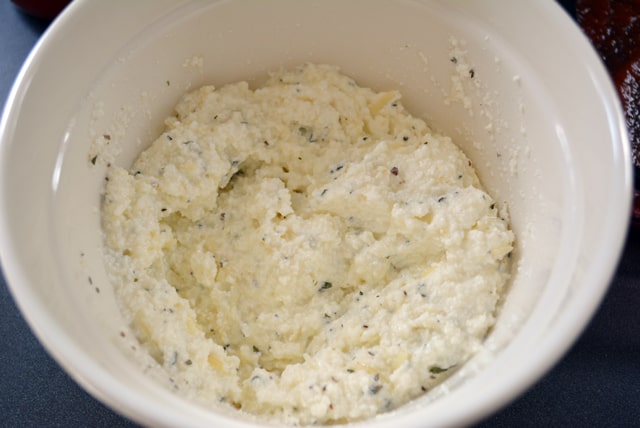 I make the ricotta stuffing exactly the same way my college roommate taught me many years ago.  Loretta would cook for us if she stayed in State College for the weekend.  She made the best spaghetti sauce in the biggest stock pot I have ever seen.  She used to make homemade stuffed shells for us too.  I always helped stuff the shells.  The ricotta mix was so good I would eat it cold right off the spoon (or my fingers!).  Loretta used sugar in her mixture and I do too.  I know everyone is afraid of sugar (more on that in a upcoming post), but I enjoyed the taste.  I use a small amount of sugar in the mixture, which gets spread over 24 roll ups.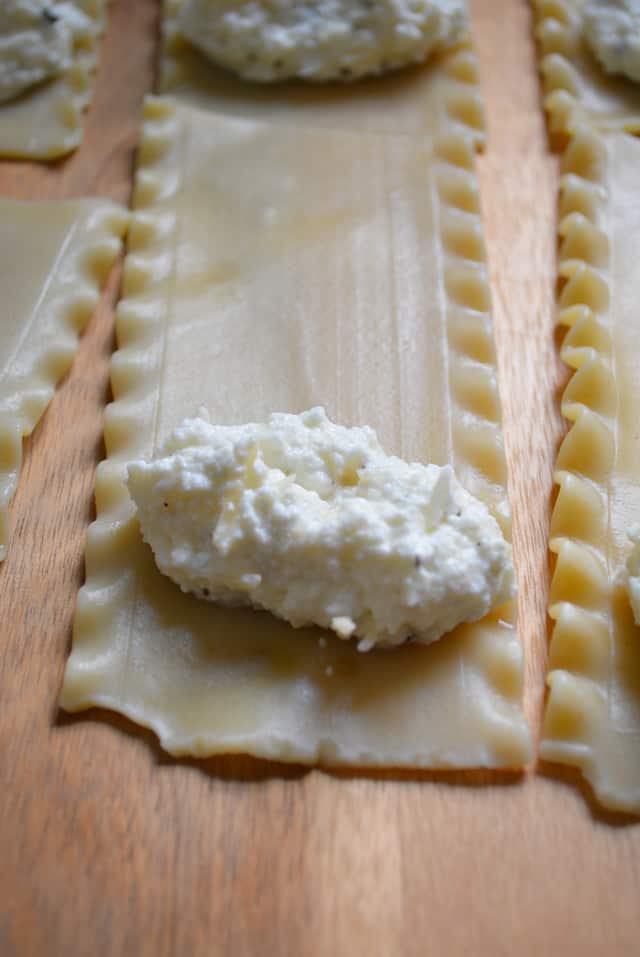 Each lasagna noodle in cut in half.  I place a spoonful of cheese at one end of each noodle.  A spoonful is about 2 tablespoons.  You then fold the noodle over the cheese mixture and continue to roll the noodle up.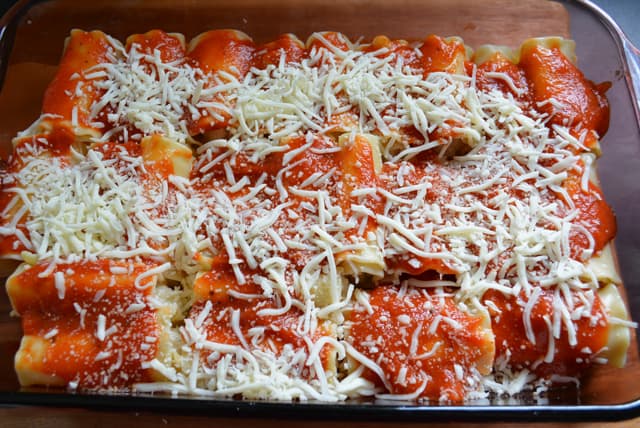 Place the noodles is a 13x9 inch baking dish.  I spread about ⅓ cup of spaghetti sauce on the bottom of the dish.  The lasagna roll ups are placed in the dish and then covered with the remaining spaghetti sauce.  I used a prepared Marinara sauce or a Tomato Basil sauce.  Loretta used homemade, but I don't have the time or desire to do that yet!  I top the noodles with mozzarella cheese and bake until the cheese melts and the sauce is bubbly.  The lasagna roll ups reheat well.  We are big fans of leftovers and this is a great leftover meal.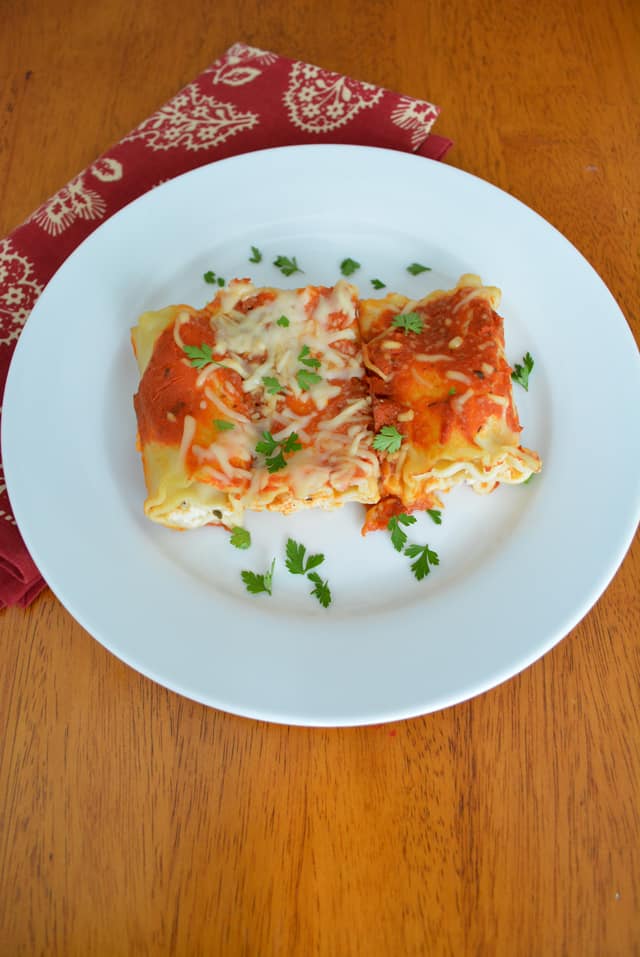 Recipe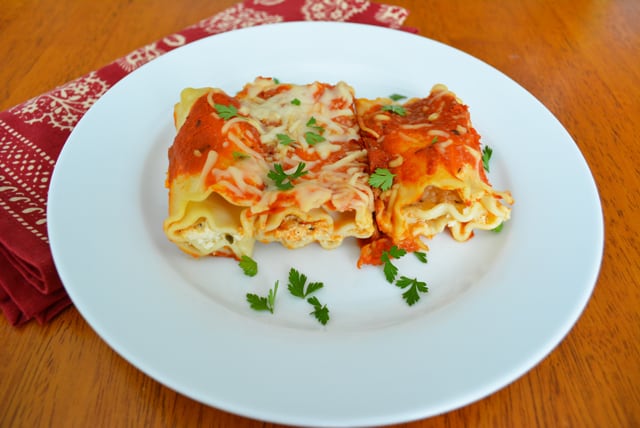 Lasagna Roll Ups
Ingredients
12

Lasagna Noodles

16

oz

Ricotta Cheese

¼

cup

shredded Mozzarella Cheese

¼

cup

shredded Parmesan Cheese

½

teaspoon

dried basil

1

teaspoon

sugar

Salt and Pepper to taste

1

jar Marinara Sauce
Instructions
Cook noodles according to package directions.

In a medium size bowl combine ricotta cheese, mozzarella, parmesan, basil, sugar, salt and pepper.

Stir to combine.

When noodle are finished cooking drain off the water and rinse noodles under cool running water.

Cut each lasagna noodle in half, so you end of with 24 shorter noodles.

Place about 2 tablespoons of the cheese mixture at one end of each noodle.

Roll the noodle up.

Place noodles in a 13x9 inch baking pan coated with a thin layer of marinara sauce.

When all the noodles have been rolled and placed into the baking sheet spread remaining marinara sauce over top of noodles.

Sprinkle with additional mozzarella cheese if desired.
Nutrition
Calories:
0
kcal
Carbohydrates:
0
g
Protein:
0
g
Fat:
0
g
Saturated Fat:
0
g
Polyunsaturated Fat:
0
g
Monounsaturated Fat:
0
g
Trans Fat:
0
g
Cholesterol:
0
mg
Sodium:
0
mg
Potassium:
0
mg
Fiber:
0
g
Sugar:
0
g
Vitamin A:
0
IU
Vitamin C:
0
mg
Calcium:
0
mg
Iron:
0
mg
Tried this recipe?
Mention @nourishedsimply