When dietitian's counsel clients we always start by getting our clients diet history.  One of the questions we ask is regarding food preferences.  The most common foods that clients and patients say they dislike are liver and brussels sprouts. Not a fan?  You will change your mind after you try these brussels sprouts with garlic gruyere sauce!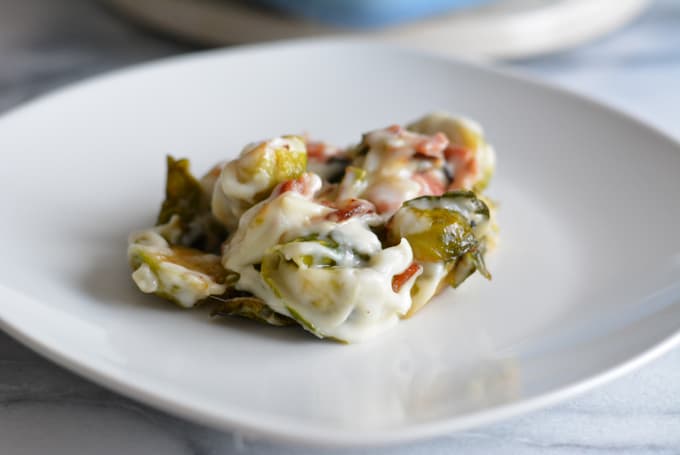 Brussels sprouts are a funny little veggie.  They look like mini cabbages!  Brussels sprouts are part of the cabbage family that includes kale, broccoli, cauliflower, and collard greens.  Brussel sprouts are low in calories with only 38 calories per 1 cup.  They are rich sources of vitamin C, potassium, and folate.  Their taste though is not always loved by all.
The first time I actually tried a brussel sprout was when I became a dietitian and started working at my first job.  I was about 25.  My family never did and still does not eat a variety of veggies.  We usually just had green beans, corn, and maybe peas.  Something like brussels sprouts were never served.
The nursing home I worked in would make brussels sprouts every once in while.  It was not a common veggies on the menu there either, because many of the residents disliked them as well.  The method of cooking there was probably boiling the heck out of them and using as little seasoning as possible! No veggie would taste yummy cooked this way.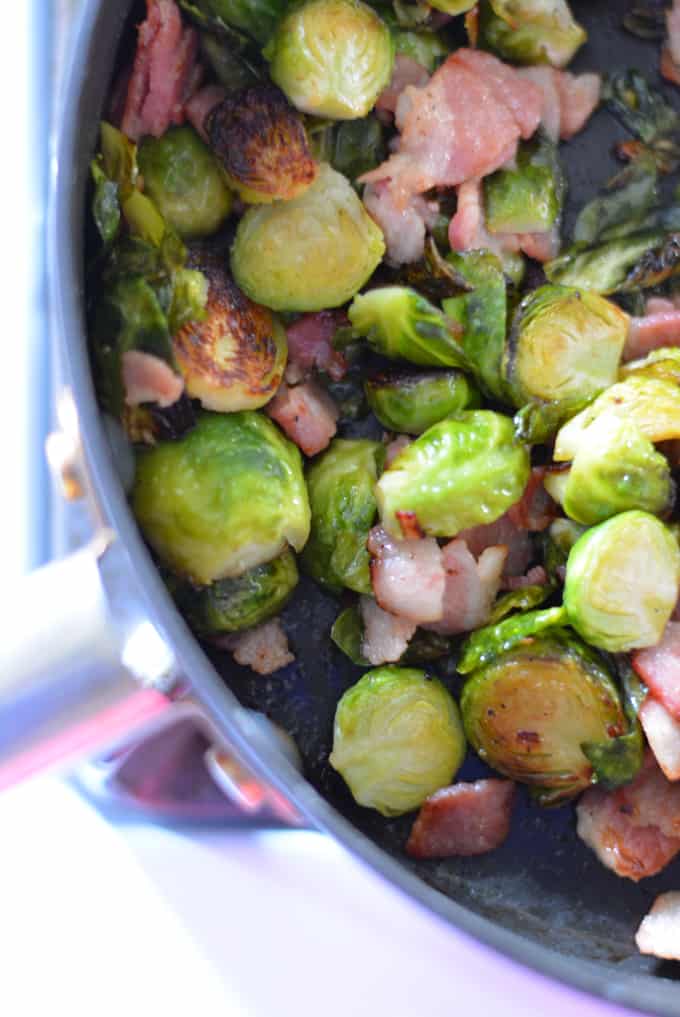 Since my first experience was not the best it took over 10 years for me to try brussels sprouts again.  A few years ago my hubby and I were visiting Washington DC and had dinner with some of his family.  We ordered a variety of appetizers, one of which was brussels sprouts with bacon in a gruyere sauce. They were delicious! Cheese and bacon makes anything yummy, right?
The dietitian in me would of course tell you to eat vegetables with no added fat, but the normal person that I am would tell you that having veggies doctored up every once in a while is o.k.  Honestly I make this recipe only every 3-6 months. So the addition of some bacon and cheese is no big deal.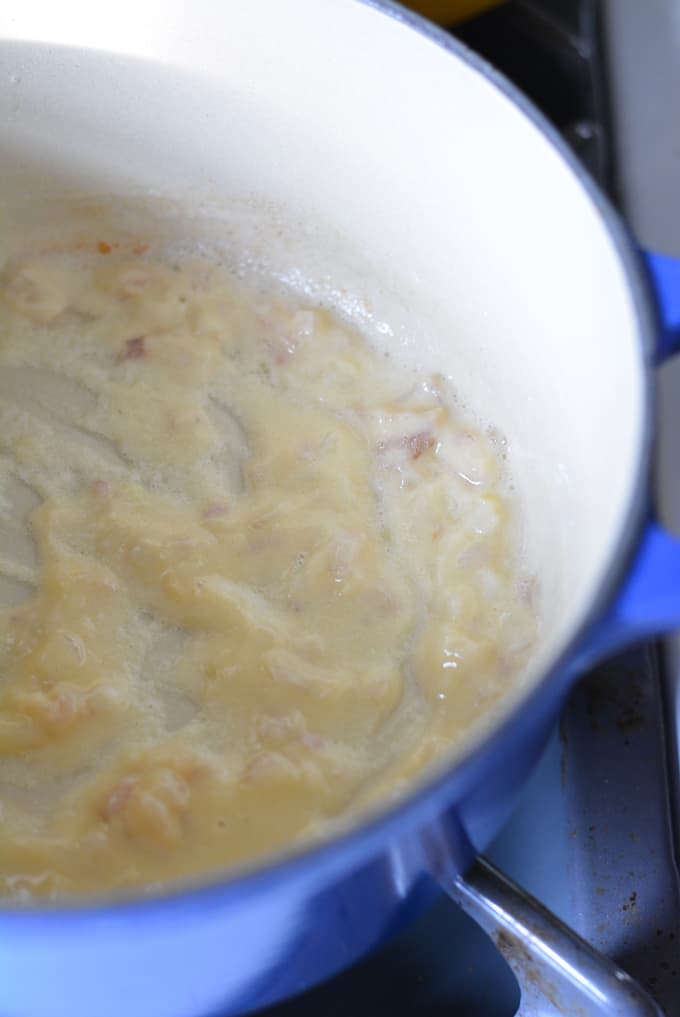 The garlic gruyere sauce isn't terribly high in calories. I use only 1 tablespoon of butter and non fat milk.  It's important to make a roux in order to thicken the sauce.  You can use as little or as much cheese as you want, but keep in mind this will really effect the calorie and fat content.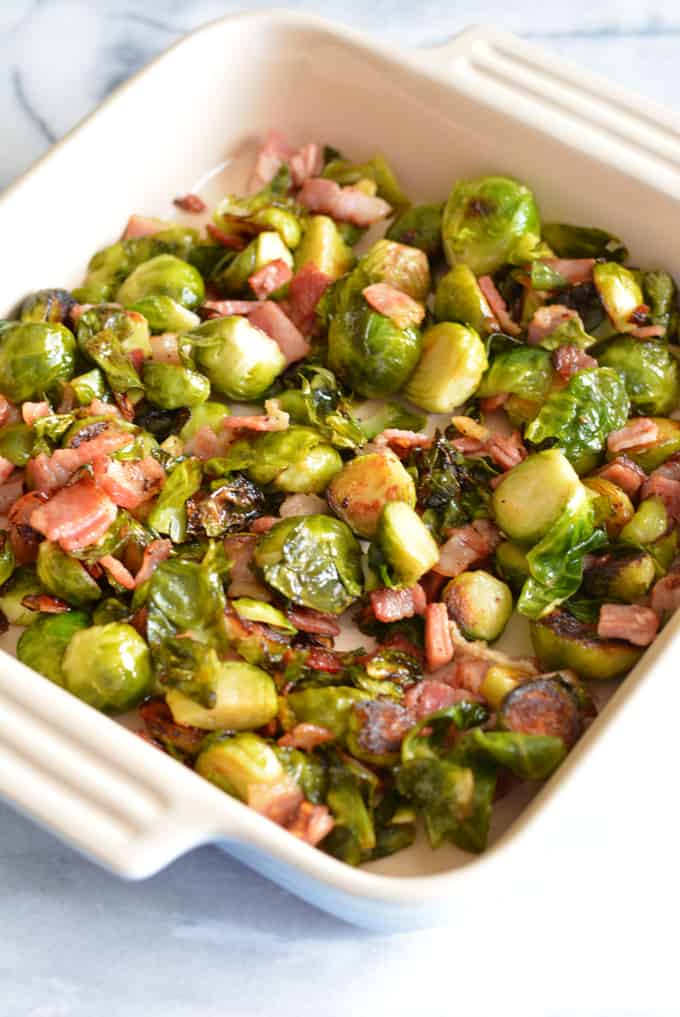 You can also just drizzle some of the gruyere sauce over the brussels sprouts before serving rather than mixing the ingredients together and baking the dish.
What's your opinion on brussels sprouts? Are there any veggies that you don't love?
Recipe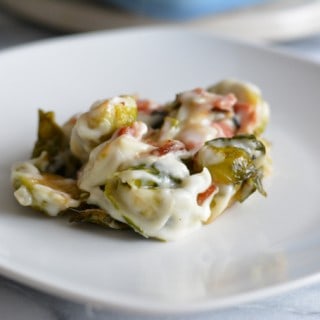 Brussels Sprouts with Garlic Gruyere Sauce
Ingredients
1

pound

fresh brussels sprouts

rinsed and cut in half

3

cloves

garlic

minced

2

teaspoon

olive oil

separated

2

slices

uncured bacon

cubed

¼

cup

minced shallot

1

tablespoon

butter

1

tablespoon

flour

1

cup

milk

½

cup

Gruyere Cheese
Instructions
Preheat oven to 350 degrees F.

Heat 1 teaspoon of olive oil in a saute pan over medium heat.

Add 2 cloves of minced garlic and cook for 1 minute

Add in brussels sprouts and bacon, stir frequently. (cover the pan in between stirring)

Cook until brussel sprouts are tender and bacon is fully cooked, about 20 minutes.

Meanwhile heat the remaining 1 teaspoon of olive oil in a small saucepan.

Add in minced shallots and remaining 1 clove of garlic and cook for 2-3 minutes or until translucent.

Add 1 tablespoon of butter and melt.

Whisk in 1 tablespoon flour to made a roux.

Cook for 1 minute.

Slow whisk in milk, heat until bubbling.

Remove from heat and stir in Gruyere cheese.

When brussels sprouts are finished place them into a oven safe baking dish.

Pour Gruyere sauce over brussels sprouts, sprinkle with additional cheese is desired.

Bake in oven for 5-10 minutes until top is slightly browned.
Notes
You can also pour sauce over brussels sprouts and serve without baking in the oven for 5 minutes. This allows you to use less sauce and omits the extra cheese.
Nutrition
Serving:
1
cup
Calories:
166
kcal
Carbohydrates:
11.5
g
Protein:
8.3
g
Fat:
10.5
g
Saturated Fat:
4.5
g
Polyunsaturated Fat:
0
g
Monounsaturated Fat:
0
g
Trans Fat:
0
g
Cholesterol:
22.2
mg
Sodium:
169
mg
Potassium:
0
mg
Fiber:
3.2
g
Sugar:
4.3
g
Vitamin A:
0
IU
Vitamin C:
0
mg
Calcium:
0
mg
Iron:
0
mg
Tried this recipe?
Mention @nourishedsimply