Every January many people make resolutions to eat healthier.  One of the biggest complaints I hear from clients is that eating healthy is expensive.  You don't have to spend a fortune of healthy food.  This Beef with Carrot Casserole costs less than $3 per serving.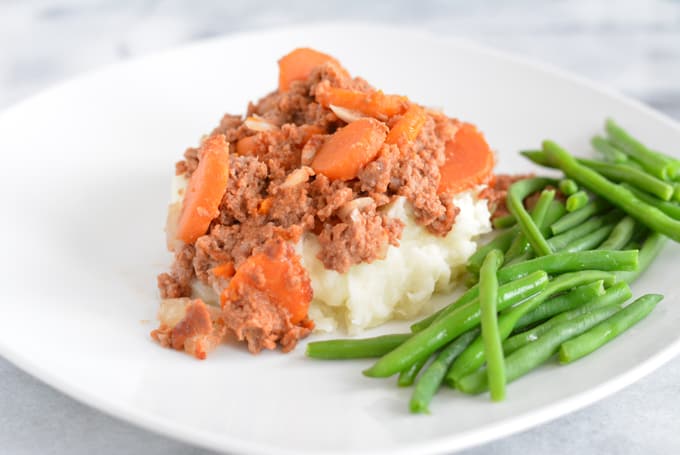 The Recipe Redux is the first and only recipe challenge founded by dietitians.  Each month dietitians and healthy living bloggers make delicious recipes in a healthier way.  This months challenge was to make a healthy entree for less than $3 per serving.
Beef with carrot casserole is a meal my family has made for years and I mean since I was little.  In our family, it's actually known as Meat with the Carrots, but I changed the name a bit for this post.  The recipe consists of just 4 ingredients: ground beef, onion, condensed tomato soup, and canned carrots.  Beef with carrot casserole is always served with mashed potatoes, but you can serve the casserole with anything you wish.  The dish would be wonderful on top of mashed sweet potatoes, pureed parsnips, or even mashed cauliflower for my low carb loving friends.
I know what you're thinking, beef, canned foods, mashed potatoes? How is this a healthy recipe?  Let's look at the ingredients:
Ground Beef: Beef does contain higher fat, saturated fat and cholesterol than compared to poultry and fish, however using leaner cuts can help your reduce the impact of these nutrients.  I would, of course, suggest limiting your intake of beef, but I don't advocate cutting beef out of your diet completely unless you want to.  I purchase Wegman's brand beef that is organic, grass fed, and 93/7 lean.  This particular brand contains per 3 ounce portion: 160 kcal, 7 grams fat, 3 grams saturated fat, 70 grams cholesterol, and 22 grams protein.
In addition to beef being an excellent source of protein, beef also contains, iron, choline, selenium, zinc, phosphorous, niacin, and riboflavin.
Canned Soup/Vegetables: Canned products get a bad wrap because they tend to have high sodium contents. Sodium is used to help preserve the food and extend the shelf life.  Luckily we have no added salt versions.  I this particular recipe I did use regular condensed tomato soup (you can use low salt), but I did use no added salt carrots. You can use fresh or frozen, however, I have not experimented with them, so don't know how these would change the recipe or baking time.
Carrots provide a good source of potassium and Vitamin A. Tomato Soup is a good source of potassium and Vitamin C.  Cooked tomatoes also are rich sources of lycopene, a phytochemical, that has been shown to provide health benefits, especially for our eyes.
Mashed Potatoes: As I said earlier you don't have to use mashed potatoes.  I do because as my hubby says "you can't have meat with the carrots without mashed potatoes!".  Potatoes are a rich source of complex carbohydrates, which makes them a higher carb food.  Higher carb foods pack a calorie punch if you are not mindful of the portion size.  Potatoes contain many nutrients including Vitamin B6, Potassium Copper, Vitamin C, Manganese, Phosphorous, and fiber. I try to limit the added calories in mashed potatoes by using lower fat milk and limited butter.
Cost Per Servings
Ingredients
Wegman's Organic Grass Fed 93/7 Ground Beef: $6.99
1 Vidalia Onion: $1.03
1 (10.75 oz) can Campbell's Condensed Tomato Soup
1 (14.5 oz) can No Add Salt Canned Carrot
Cost for the casserole per serving (6 servings): $1.63
Served with mashed potatoes
Cost per serving: $2.12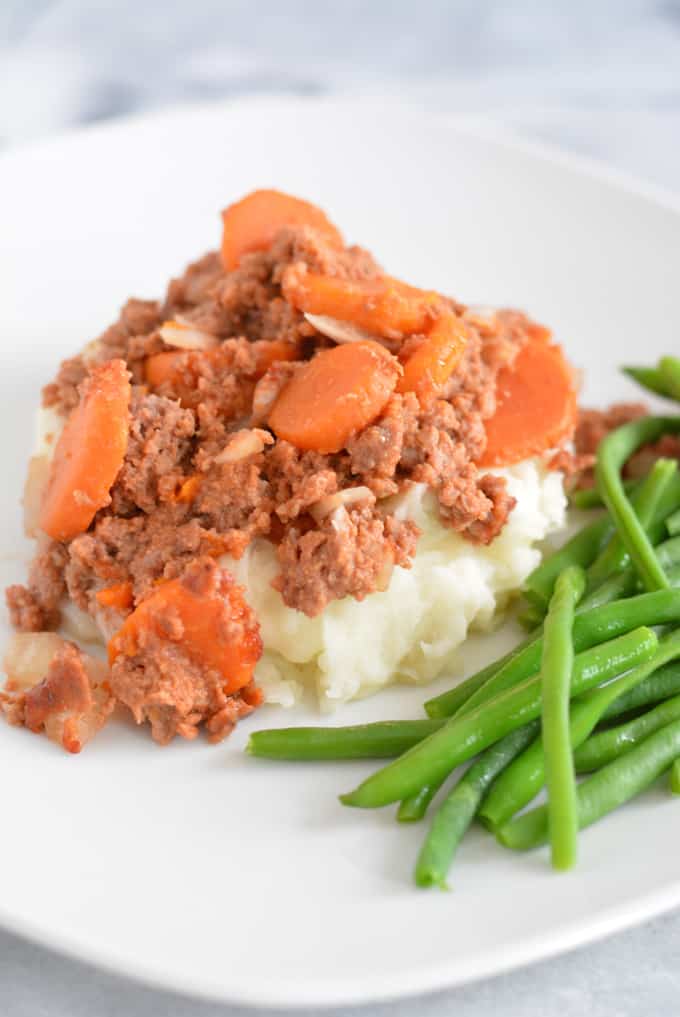 Get the Recipe!
Recipe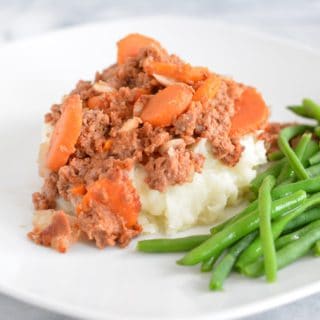 Beef with Carrot Casserole
A warm comforting meal made for less than $3 per serving.
Ingredients
1

lb.

lean ground beef

1

cup

chopped onion

1

10.75 oz. can condensed tomato soup

Black Pepper to taste

I use about ⅛ tsp

1

14.5 oz. can No Added Salt Carrots
Instructions
Preheat oven to 350 degrees F.

In a large bowl combine ground beef, onion, black pepper and tomato soup.

Mix well.

Add in carrots and gently combine.

Place mixture into a deep casserole dish.

Place casserole into the oven and bake for 30-45 minutes.

Serve on top of mashed potatoes if desired.
Nutrition
Serving:
3
/4 cup
Calories:
161
kcal
Carbohydrates:
13.9
g
Protein:
17.6
g
Fat:
4.1
g
Saturated Fat:
1.7
g
Polyunsaturated Fat:
1.7
g
Monounsaturated Fat:
0
g
Trans Fat:
0.2
g
Cholesterol:
46.9
mg
Sodium:
406.9
mg
Potassium:
0
mg
Fiber:
12.2
g
Sugar:
7
g
Vitamin A:
0
IU
Vitamin C:
0
mg
Calcium:
0
mg
Iron:
0
mg
Tried this recipe?
Mention @nourishedsimply