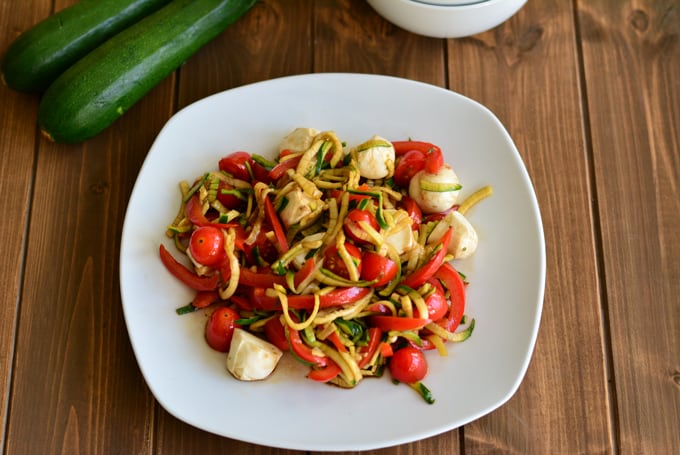 Zucchini noodles are very popular now and are advertised to be used as an alternative to pasta.  I love zucchini noodles, but they are not the same as pasta.  However, used as a salad with other veggies is a great use for zucchini noodles.  I used a tool called the Veggetti that I found at Bed Bath and Beyond.  The Veggetti was easy to use and inexpensive at $14.99 (plus I used a $5 off coupon!).  You just need to watch your fingers!  Make sure you use the safety cap or your fingers may end up in your noodles.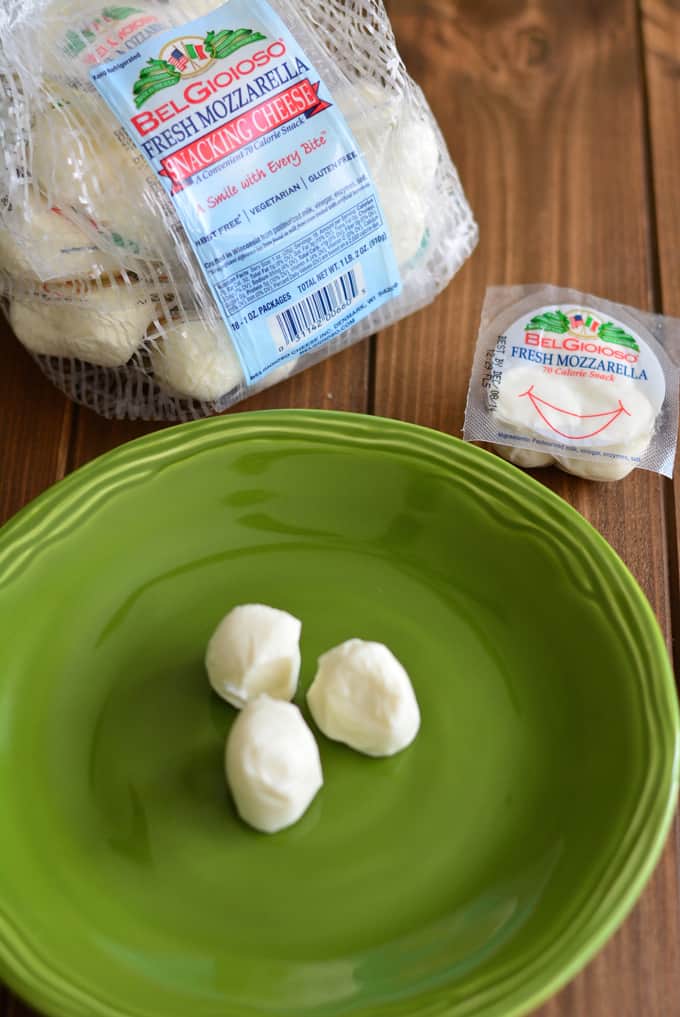 I can not make a salad without adding some protein.  A balance meal contains carbohydrates, protein, and fat.  Cheese is a great source of calcium and protein.  Fresh mozzarella is a favorite in our house.  I love these snack packs by Bel Gioioso.  Each pack contains three small fresh mozzarella balls.  The packs are 70 calories and contain 5 grams of protein.  My daughter loves them.  She eats them as an after school snack.  If I can get any, before Bree eats them all, I take one to two packs to lunch with me with some fresh tomato.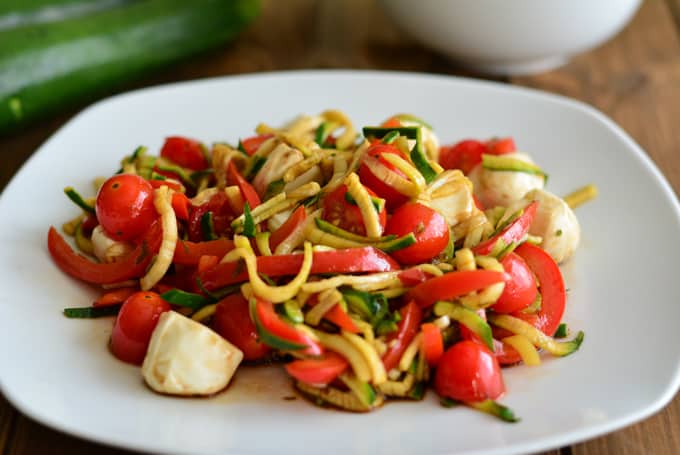 Caprese salad is one of my favorite salads.  The zucchini added an intersting texture to it.  The colors are great too for the upcoming Christmas season.  Red, green, and white, perfect for a holiday party.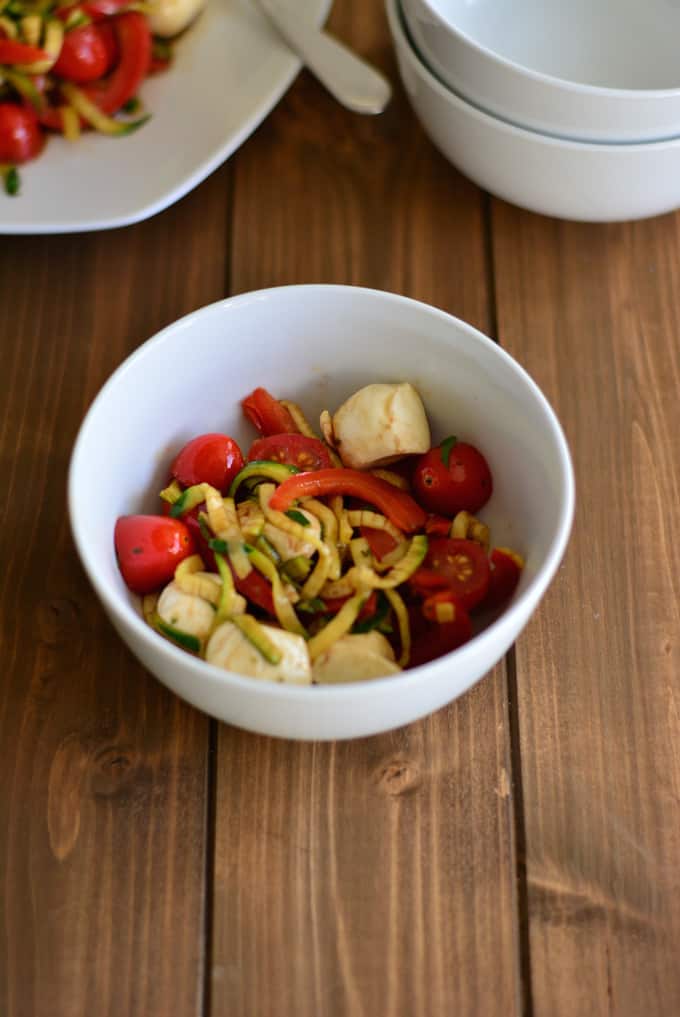 Serve in small bowls or plates.  You should get about 3-4 servings from the recipe.  This salad can be used as a meal or as a side dish.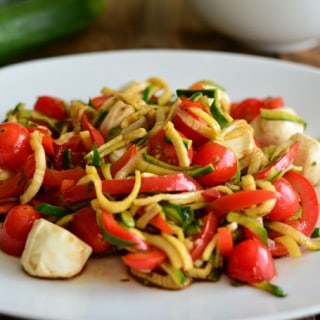 Zucchini Caprese Salad
Ingredients
1

medium zucchini

½

red bell pepper

6-8

grapes tomatoes

2-3

ounces

fresh mozzarella cheese

1

clove

of garlic minced

4

teaspoons

olive oil

2

teaspoons

balsamic vinegar

⅛

teaspoon

dried basil

Salt and Pepper to taste.
Instructions
Using a spiraling tool, cut zucchini into strips resembling noodles.

Slice the red pepper into thin strips.

Heat 1 teaspoon of olive oil in a sauté pan over medium heat.

Cook minced garlic for 1-2 minutes.

Add zucchini "noodle" and pepper slices, sauté for 3-5 minutes until slightly softened.

Remove mixture from pan and let cool.

When vegetables are cooled add in grape tomatoes and fresh mozzarella cheese.

Drizzle with remaining olive oil and balsamic vinegar, gently toss to coat.

Season with basil, salt, and pepper.

Serve immediately.
Nutrition
Calories:
0
kcal
Carbohydrates:
0
g
Protein:
0
g
Fat:
0
g
Saturated Fat:
0
g
Polyunsaturated Fat:
0
g
Monounsaturated Fat:
0
g
Trans Fat:
0
g
Cholesterol:
0
mg
Sodium:
0
mg
Potassium:
0
mg
Fiber:
0
g
Sugar:
0
g
Vitamin A:
0
IU
Vitamin C:
0
mg
Calcium:
0
mg
Iron:
0
mg
Tried this recipe?
Mention @nourishedsimply