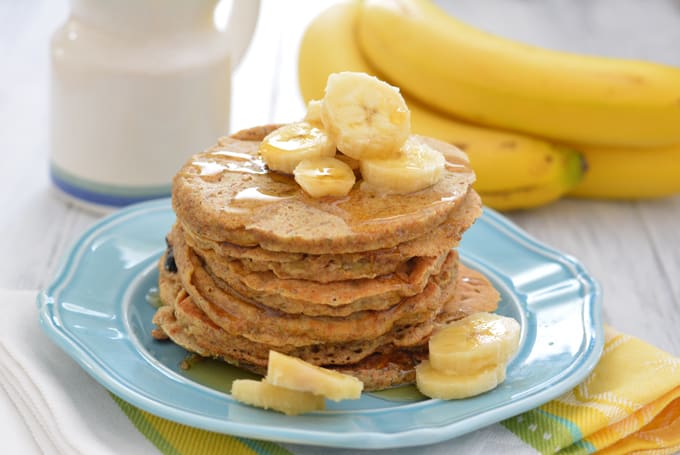 It is time again the the Recipe Redux challenge.  This months theme is DIY Kitchen Essentials.
What favorite kitchen staples do you now make from scratch – but in the past you purchased? Show us your best DIY recipe for keeping cupboards, fridge or freezer stocked with healthy basics. Think homemade frozen waffles, salad dressing, broth or other kitchen essentials.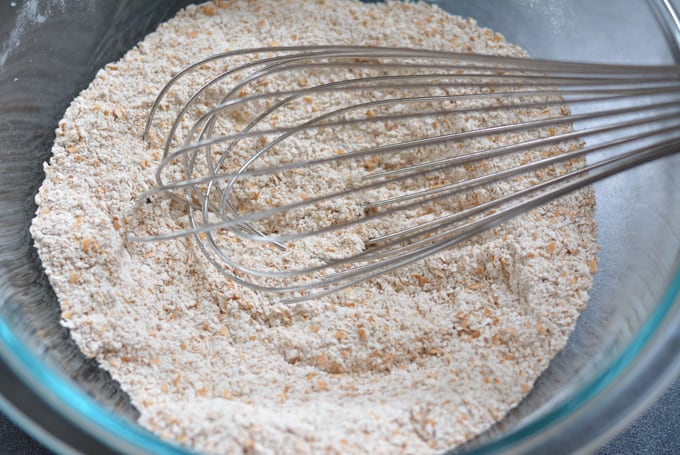 Since my son was able to eat finger foods, which was a long time ago (he is almost 12 years old), I have made pancakes from scratch.  I grew up with Aunt Jemima pancake mix.  In fact my mom still uses it.  She as had trouble making pancakes for the kids out our house, because I don't have a mix!  I used to buy pancake mix too until I read the ingredients about 11 years ago and decided that we didn't need to eat the chemicals the mixes contain.
Pancake batter contains dry and wet ingredients, which you mix separately and then combine. For flour I have used white all purpose, white whole wheat, and whole wheat. I prefer the whole wheat. My kids prefer the white flour. I compromise and generally use white whole wheat.
For this recipe I chose to use whole wheat from Castle Valley Mill, which is a local mill here in Bucks County that produces stone ground flours and meals. The flour contains no preservatives, so is stored in my freezer.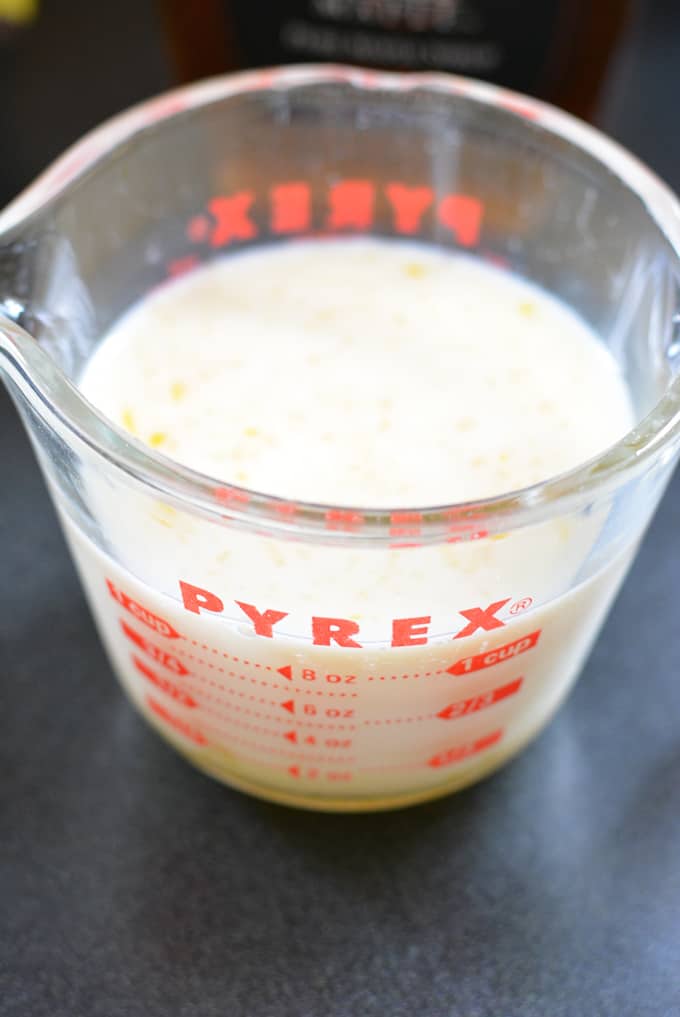 I find it easier to just combine the wet ingredients into a measuring cup.  After I measure out the milk I simply add the rest of the ingredients: egg and vanilla. I occasionally use canola oil instead of butter. If I use oil I will add that to the milk mixture, however the melted butter will start to harden if added to the cold wet ingredients. So if using butter I add the butter last after the wet and dry ingredients have been combined.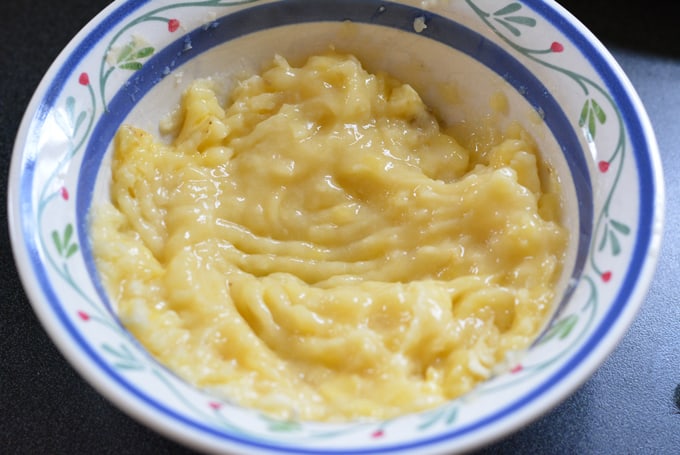 When we were on the cruise a few weeks ago I had banana pancakes one morning. The pancakes had a very fake banana flavor. Mashed banana provides of course a natural flavor and also potassium and fiber to the pancakes. A very ripe banana will give you a sweeter flavor. This banana was ripe, but not to the point where it was extremely sweet. I use 1 mashed banana and then add sliced banana's either during cooking or when I serve the pancakes.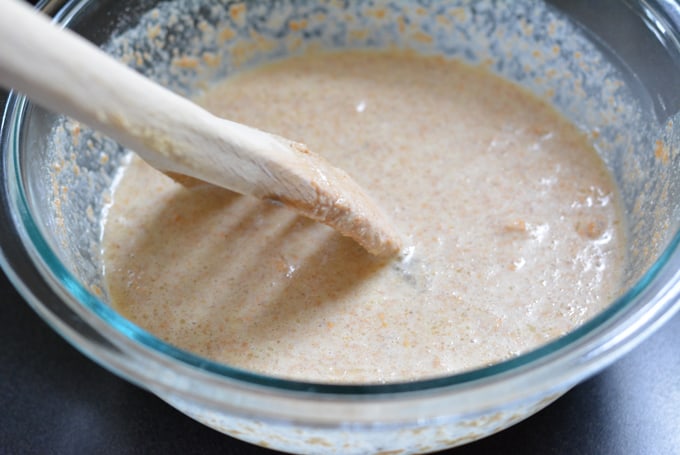 The batter may be lumpy when you mix the wet and dry ingredients together, which is fine. I tend to mix the batter longer to get rid of the lumps, because I don't like to bite into clumps of flour.  If the batter is too wet or drippy you can add a bit more flour, however I never do. The pancakes still turn out just fine.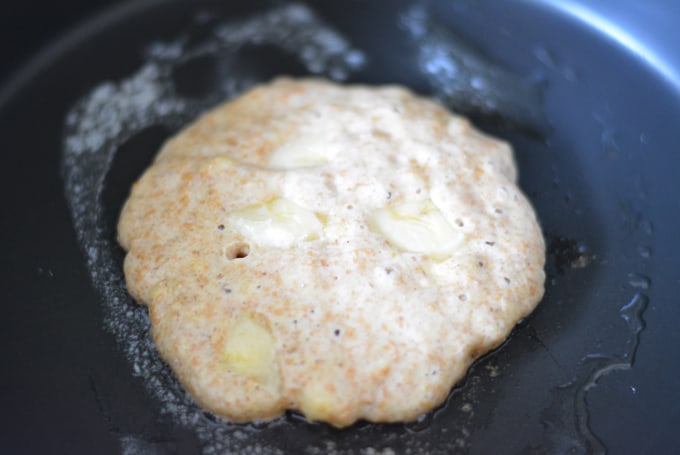 I learned a long time ago while watching a cooking show that pancakes are ready to flip when bubbles start to form on the top of the pancake (the wet side). Don't flip them as soon as you see the bubbles. Wait a few seconds until you have a lot of bubbles and then flip them. I am not very patient (the kids are not either when they are hungry) so I have in the past tried to flip the pancakes too early, which just makes a mess.
The mashed banana can be the only addition of fruit, however you can add additional banana slices to the batter when they are cooking. To serve definitely add banana slices along with maple syrup. Maple syrup is all I need to enjoy pancakes, however you can use a bit of butter if you wish (in moderation of course!)
Whole Wheat Banana Pancakes - Recipe Redux
Ingredients
1

cup

whole wheat flour

2

teaspoons

baking powder

½

teaspoon

baking soda

⅛

teaspoon

salt

1

tablespoon

sugar

1

cup

skim milk

1

egg

beaten

1

teaspoon

maple syrup

1

teaspoon

vanilla extract

2

tablespoons

butter

melted

1-2

bananas

1 mashed, 1 sliced

1

tablespoon

butter

cold
Instructions
In a bowl combine dry ingredients: flour, baking powder, baking soda, salt, and sugar.

Pour milk into a 1 cup measuring cup.

Add to the milk the beaten egg, maple syrup and vanilla extract.

Make a well in the center of the dry ingredients.

Pour wet ingredients into the well, stirring to mix. Batter may have lumps.

Pour in melted butter, stir to combine.

Add in mashed banana.

Heat a skillet over medium high heat.

In the skillet melt 1 tablespoon butter and coat pan.

Pour batter 2-3 tablespoons at a time into center of pan.

Cook pancake on one side until bubbles begin to show on the top of the pancake.

Flip pancake over and cook for another 2-3 minutes, or until brown on the second side.

Continue to cook pancakes until all batter is finished.

Serve with fresh sliced banana, maple, syrup, and butter.
Nutrition
Calories:
0
kcal
Carbohydrates:
0
g
Protein:
0
g
Fat:
0
g
Saturated Fat:
0
g
Polyunsaturated Fat:
0
g
Monounsaturated Fat:
0
g
Trans Fat:
0
g
Cholesterol:
0
mg
Sodium:
0
mg
Potassium:
0
mg
Fiber:
0
g
Sugar:
0
g
Vitamin A:
0
IU
Vitamin C:
0
mg
Calcium:
0
mg
Iron:
0
mg
Tried this recipe?
Mention @nourishedsimply