Twice baked potatoes can be used as a side dish or a meal on it's own.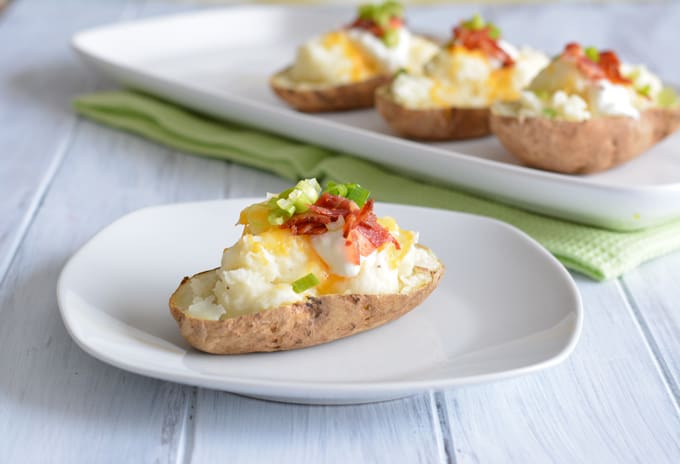 Twice baked potatoes are something that I have only made a few times.  Why? Despite how delicious they are they take awhile to cook.  Frankly, I usually do not make baked potatoes either, because they take so long.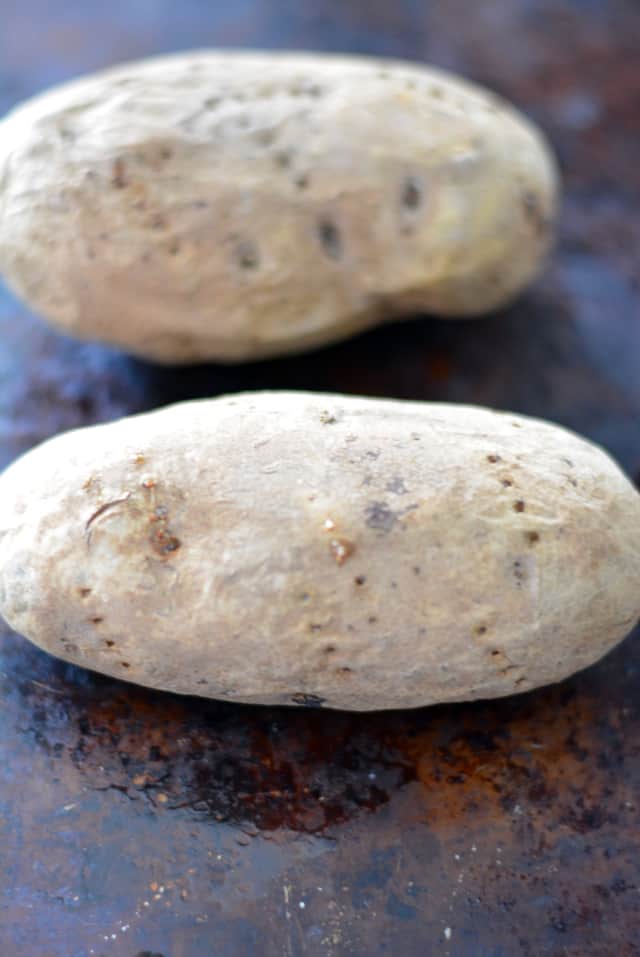 For this post I made the recipe a few times.  This was my son's first experience with twice baked potatoes and he really enjoyed them.  The second time I made this recipe for the photo shoot we ate them for lunch.  He said to me "I love potato month!"
Before baking the potatoes be sure to pierce the potatoes several times all around each potato with a fork.  This helps the baking process.  I also try to turn the potatoes at least once have way through cooking, however you could turn them more often if you wish.
My husband's parents actually microwave potatoes instead of baking them in the oven.  I have never tried this method.  I'm sure it's quicker, but I try to use the microwave as little as possible.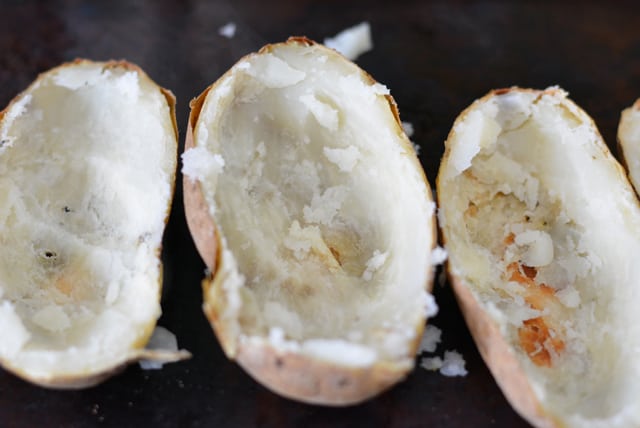 After the potatoes are done they need to be cut in half.  The meat of the potato is scooped out in order to mash it.  Be careful.  I am always trying to get as much potato out as I can, but you don't want to rip the skin.  I got a little too close to the skin on one of the halves in the picture above.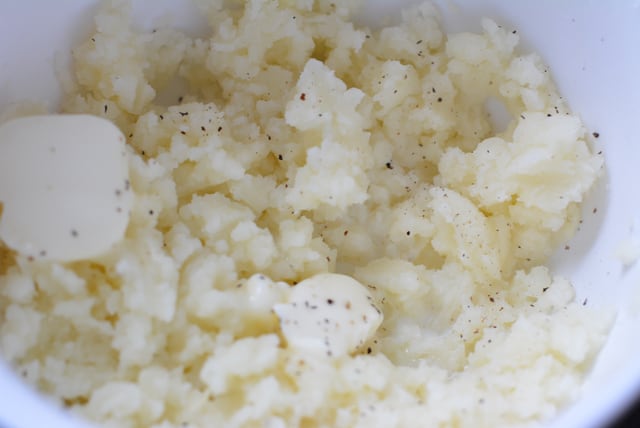 The potato that you scooped out is mashed just like you would make mashed potatoes for a side dish.  Last week I shared a basic recipe for mashed potatoes.  Twice baked potatoes just use a smaller quantity of mashed potato.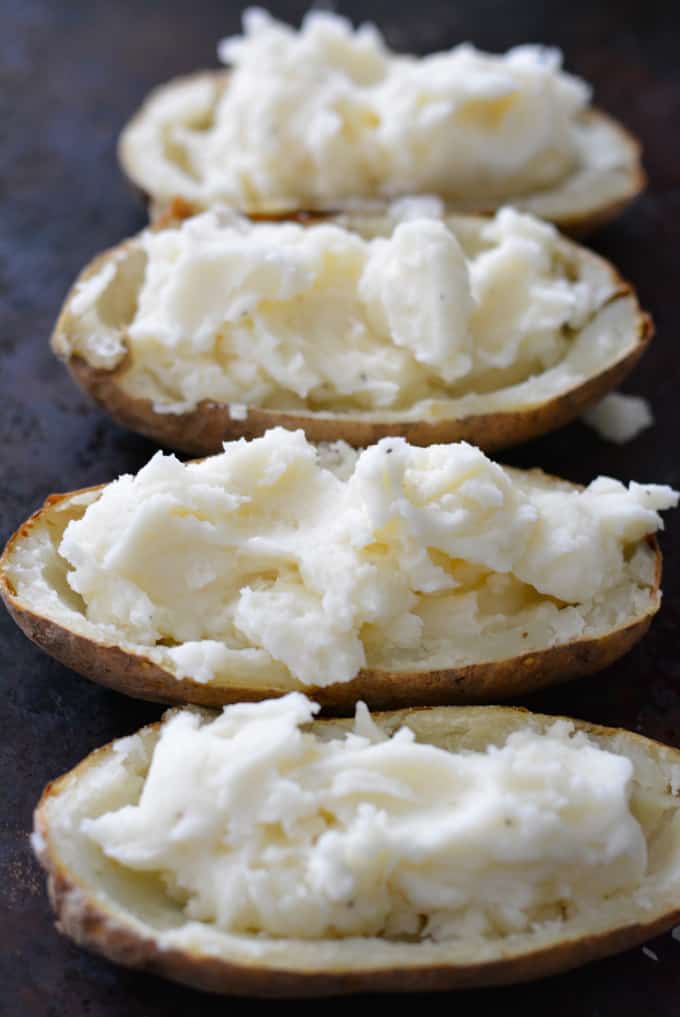 The mashed potato is placed back into the potato skins in order to be baked again.  You could get fancy and use a piping bag to fill the skins, but I just drop the potato back in.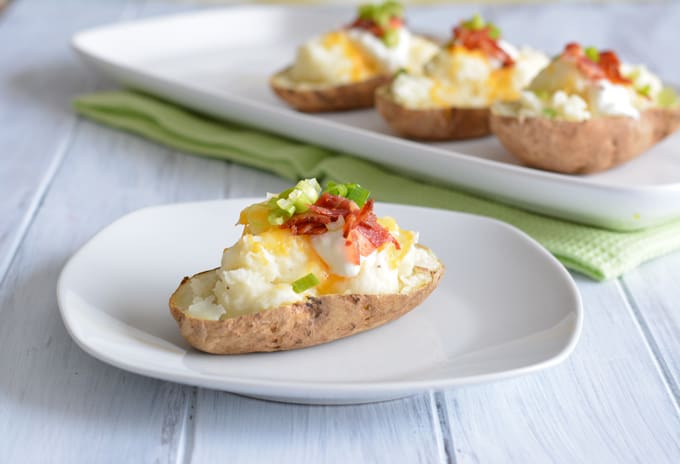 You can use any type of cheese you wish.  I love cheddar cheese.  I like to you use orange cheddar so it stands out.  I also top the potatoes with bacon (I always use Applewood Smoked Uncured Bacon), scallions (you can use chives), and sour cream.  For extra protein you can replace the sour cream with plain Greek style yogurt.
Recipe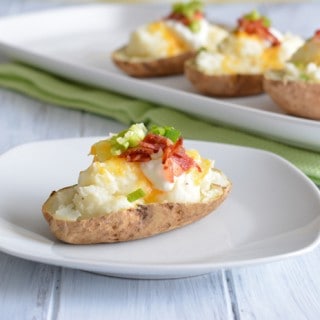 Twice Baked Potatoes
Ingredients
2

Russet Baking Potatoes

cleaned

1

Tablespoon

butter

3

Tablespoons

skim milk

4

Tablespoons

shredded cheddar cheese

Salt and Pepper to taste

2

scallions

diced

4

Tablespoons

sour cream

2

sliced bacon

cooked and diced
Instructions
Preheat oven to 400 degrees F.

Clean and dry potatoes.

Pierce skin of potatoes with a fork on all sides.

Place potatoes on a baking sheet.

Place in oven for 45-60 minutes turning half way through cooking.

When potatoes are done cooking remove from oven.

Cut each potato in half lengthwise.

Gently scoop out potato leaving about ¼ of potato on the skin.

Place potato into a small bowl.

Add in butter and milk, cream with a hand mixer until smooth.

Season with salt and pepper.

Scoop mashed potatoes back into potato skins.

Top potatoes with 1 tablespoon cheddar cheese each.

Place potatoes back into the oven until the cheese melts.

Remove again from oven, top with sour cream, bacon, and scallions.

Serve immediately.
Notes
I use Uncured Applewood Smoked BaconFor extra protein used plain Greek style yogurt instead of sour cream.
Nutrition
Calories:
0
kcal
Carbohydrates:
0
g
Protein:
0
g
Fat:
0
g
Saturated Fat:
0
g
Polyunsaturated Fat:
0
g
Monounsaturated Fat:
0
g
Trans Fat:
0
g
Cholesterol:
0
mg
Sodium:
0
mg
Potassium:
0
mg
Fiber:
0
g
Sugar:
0
g
Vitamin A:
0
IU
Vitamin C:
0
mg
Calcium:
0
mg
Iron:
0
mg
Tried this recipe?
Mention @nourishedsimply