There is nothing better then a night warm scoop of homemade mashed potatoes to go with any home cooked meal.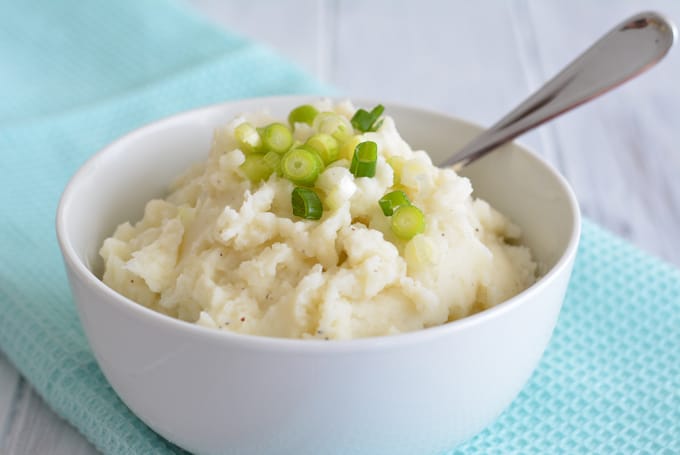 The most classic potato recipe is mashed potatoes.  I grew up eating mashed potatoes often.  My grandfather made Sunday night dinner every week.  He was a meat and potatoes kind of man, so he made mashed potatoes for most of our Sunday dinners.  He made the most perfect mashed potatoes every time.
My husband and I met in college.  In my junior year and his senior year we both lived with our friends into off campus apartments, so we were able to cook our own meals.  One particular weekend I decided to make mashed potatoes.  As I was peeling the potatoes he asked if I was making real mashed potatoes.  I didn't answer right away, because in my mind I was thinking "what on earth?".  I responded by saying "yes, what else would I make?".  Scott went on to explain that he had never had real mashed potatoes.  Really??!!
Growing up I rarely had boxed potatoes.  The only time I think I ate them was at a banquet or something.  I think they are gross!  We never had a box of potato flakes in our house.  In the 18 years we have been together I have never made him boxed mashed potatoes.  It's not an option.  Mashed potatoes are really easy to make.  Sure they take a bit longer than a box, but the real thing is so much better.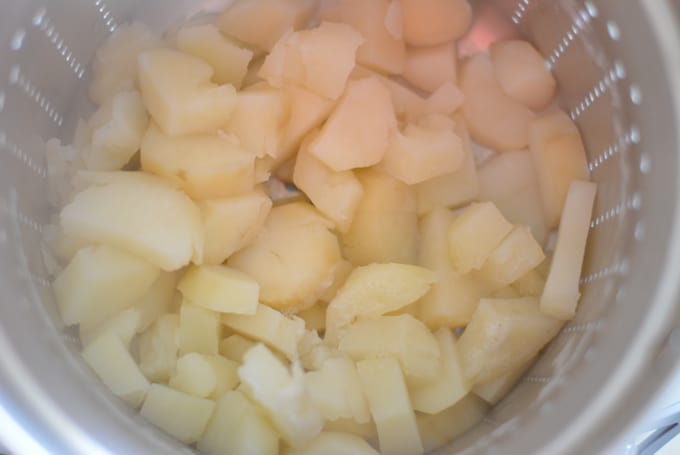 The number of potatoes to make depends on how many servings you need.  My grandfather and my parents rule of thumb is one potato per person and one for the pot.  I shared this with hubby the other day and he looked at me like I was nuts.  So, for four of us I cook five potatoes.  We usually have 1-2 cups of mashed potatoes leftover.
Potatoes usually are peeled in our house.  The kids are not fans of potato skin, even though their mommy dietitian knows they are great sources of fiber and nutrients.  You have to pick your battles though.  I cut the potatoes into chunks to allow them to cook faster.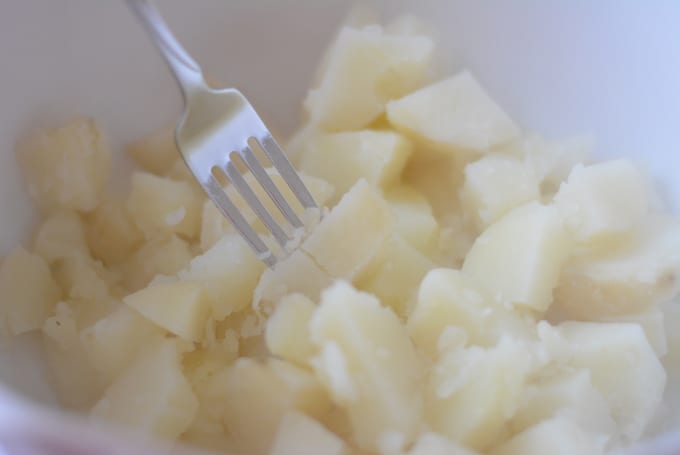 The amount of time to cook varies. I usually use the fork test.  When you can insert a fork easily into a chunk of potato they are ready to mash.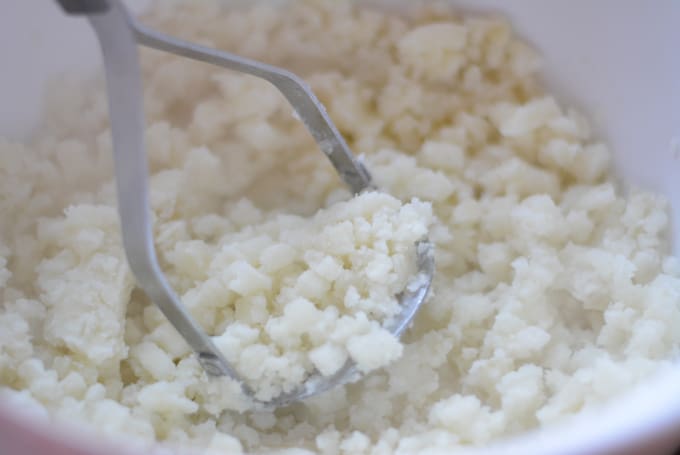 I start with a hand held potato masher to break up the drained potatoes.  I then use an electric hand mixer to cream the mashed potatoes.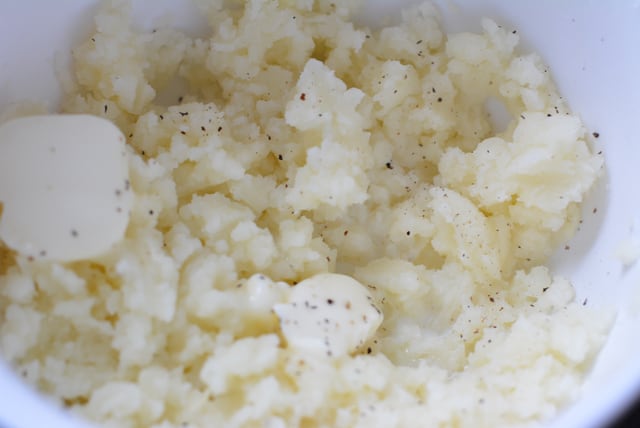 I add in the warm milk, butter, and seasonings to the potatoes and blend until smooth . I have to admit my mashed potatoes do not always turn out creamy.  Sometimes there are some lumps, but that's how you know they are real!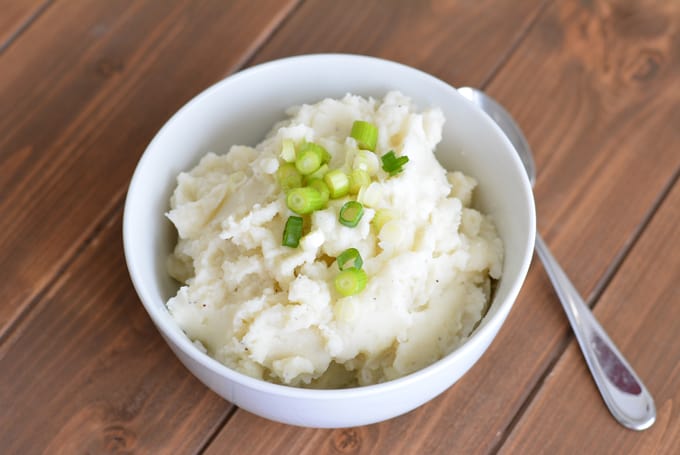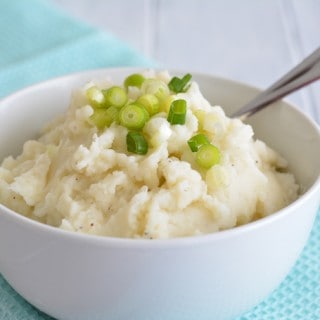 Mashed Potatoes
Ingredients
5

potatoes

scrubbed, peeled, and cubed

½

cup

skim milk

warmed

2

tablespoons

butter

Salt and pepper to taste
Instructions
In a large pot place potato cubes.

Cover potatoes with water.

Bring potatoes to a boil over high heat.

Boil until a fork inserts into potatoes easily, 20-25 minutes.

Drain water from potatoes.

Place potatoes in a large bowl.

Mash potatoes with a potato masher to break them up.

Add in skim milk, butter, salt, and pepper.

Blend with an electric mixer until smooth.
Nutrition
Serving:
1
cup
Calories:
363
kcal
Carbohydrates:
80
g
Protein:
10
g
Fat:
1
g
Saturated Fat:
1
g
Polyunsaturated Fat:
1
g
Monounsaturated Fat:
1
g
Trans Fat:
0
g
Cholesterol:
0
mg
Sodium:
4
mg
Potassium:
2056
mg
Fiber:
9
g
Sugar:
4
g
Vitamin A:
38
IU
Vitamin C:
49
mg
Calcium:
68
mg
Iron:
4
mg
Tried this recipe?
Mention @nourishedsimply