What is more refreshing than a cold glass of iced tea on a hot Summer Day? Peach Green Tea made with real fruit is the perfect summer drink.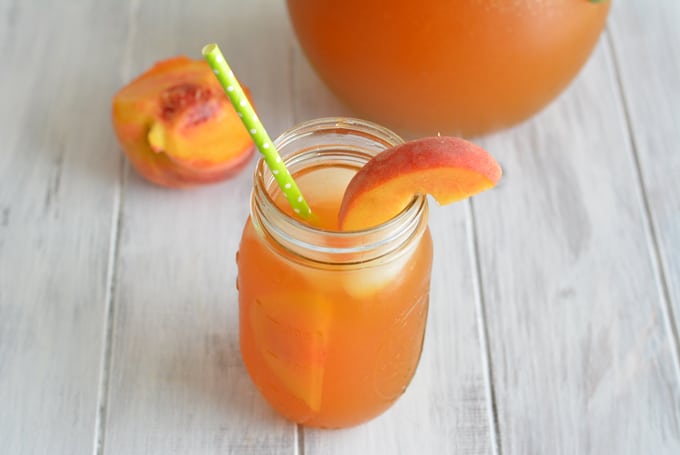 We always had brewed iced tea in our house when I was growing up.  I used to watch my mother boil water in a large pot and then steep the tea bags.  Years ago Mr. Coffee came out with an electric tea brewer.  When I moved out on my own the Mr. Coffee Iced Tea Maker was a must-have.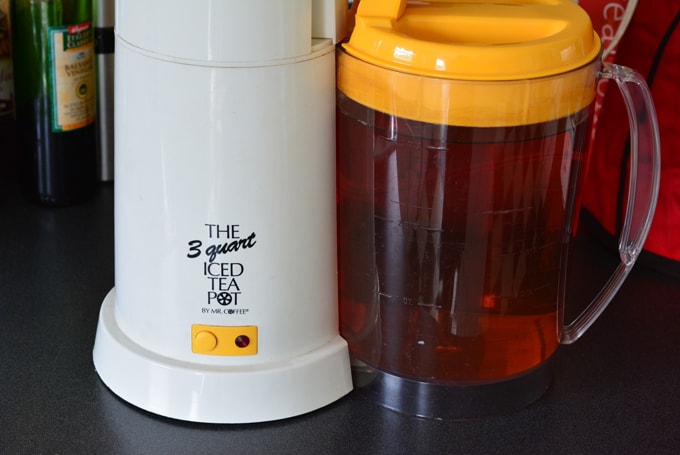 In my home now I brew iced tea once or twice a week.  My hubby and I drink tea usually with dinner.  I have never sweetened my tea with sugar.  I have used over the years whatever sugar substitute is popular at the time.  My best friend's mom sweetens her tea with sugar and it definitely tastes much better than any sugar substitute.  But, the calories can add up!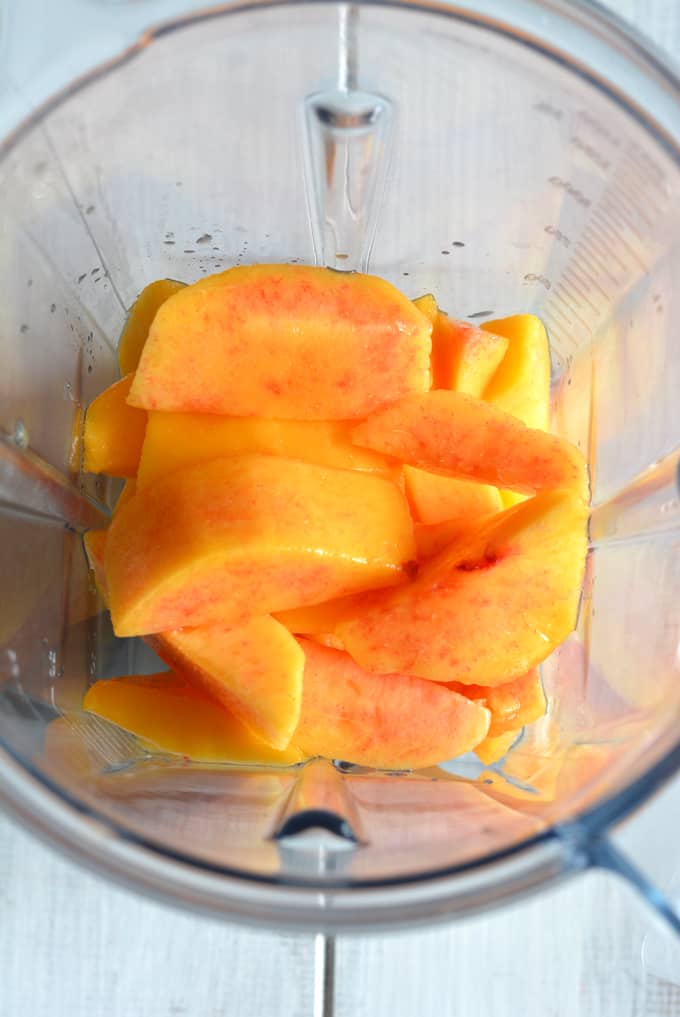 Adding fruit to tea is a great way to add a natural sweetness.  Depending on the fruit and taste you are looking for you can still add some sugar, but not nearly as much.  Peach iced tea is probably my favorite fruit-flavored tea. I use green tea, but you can use any tea to make this peach iced tea recipe.
[Tweet "Adding fruit to tea is a great way to add a natural sweetness."]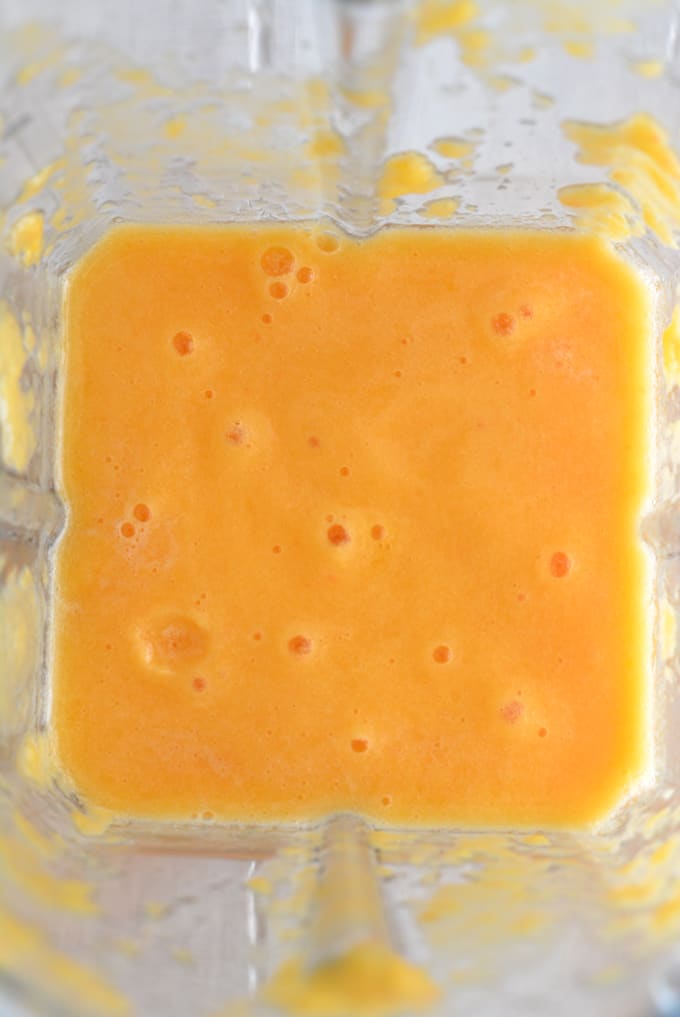 Green Tea
contains antioxidants and phytochemicals that have possible health benefits.  Green Tea
is a particularly rich source of polyphenols, such as flavonoids and catechins.  Some of the potential, but not proven health benefits include a lower risk of cardiovascular disease, cancer, diabetes, Alzheimer's disease, and infections.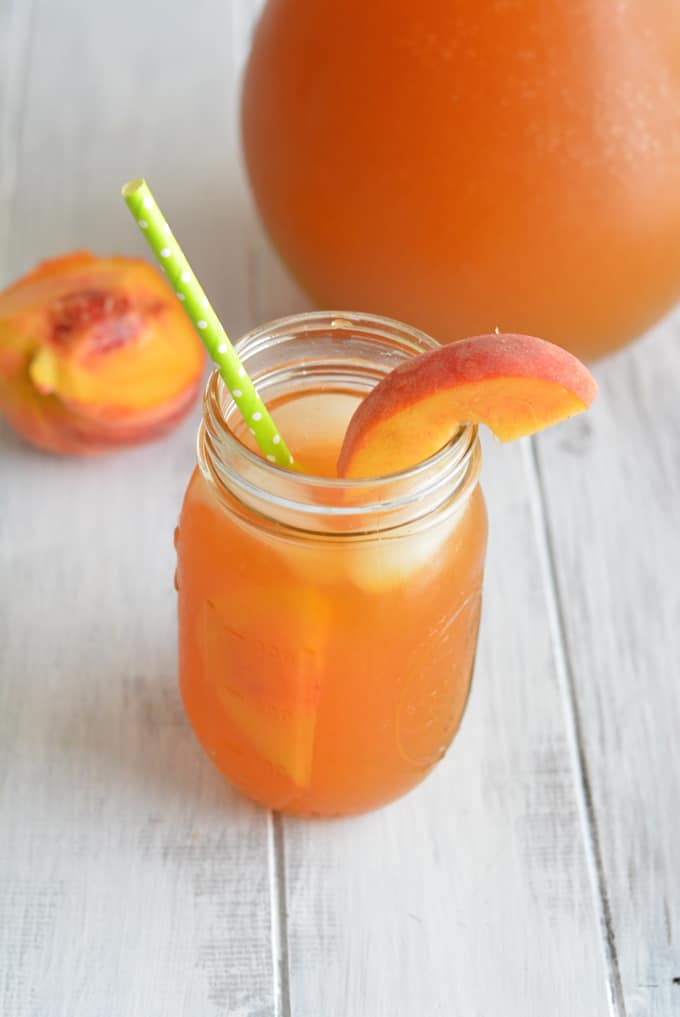 I have become addicted to Starbucks Peach Green Tea Lemonade.  So obsessed that I order the Trenta size.  I didn't even know they had that size until recently.  I won't get a smaller size unless of course, they run out of that size cup (which has happened).  This recipe is better (even without the lemonade) and most importantly cheaper.
Recipe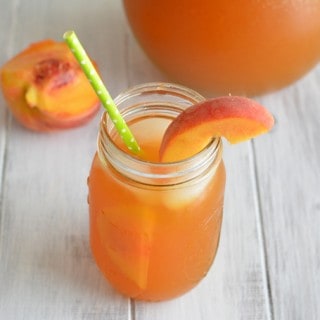 Peach Green Tea
This easy peach green tea uses fresh peaches and minimal sugar for a refreshing cool drink.
Ingredients
3

quarter water

5

green tea bags

4

peaches

½

cup

Simple Syrup

you can use Stevia if you wish instead of simply syrup
Instructions
Bring 3 quarts of water to a boil.

Add in green tea bags and steep for about 5 minutes.

Let tea cool to room temperature or place into the refrigerator to chill.

Peel and slice peaches.

Place peach slices into a food processor and blend until pureed.

Pour peach puree through a strainer.

Add strained peaches and simple syrup into tea and stir to combine.

Refrigerate and chill for at least 1 hour.

Serve over ice and garnish with additional peach slices if desired.
Nutrition
Serving:
8
ounces
Calories:
41
kcal
Carbohydrates:
10.7
g
Protein:
0.2
g
Fat:
0.1
g
Saturated Fat:
0
g
Polyunsaturated Fat:
0
g
Monounsaturated Fat:
0
g
Trans Fat:
0
g
Cholesterol:
0
mg
Sodium:
7
mg
Potassium:
0
mg
Fiber:
0
g
Sugar:
10.7
g
Vitamin A:
0
IU
Vitamin C:
0
mg
Calcium:
0
mg
Iron:
0
mg
Tried this recipe?
Mention @nourishedsimply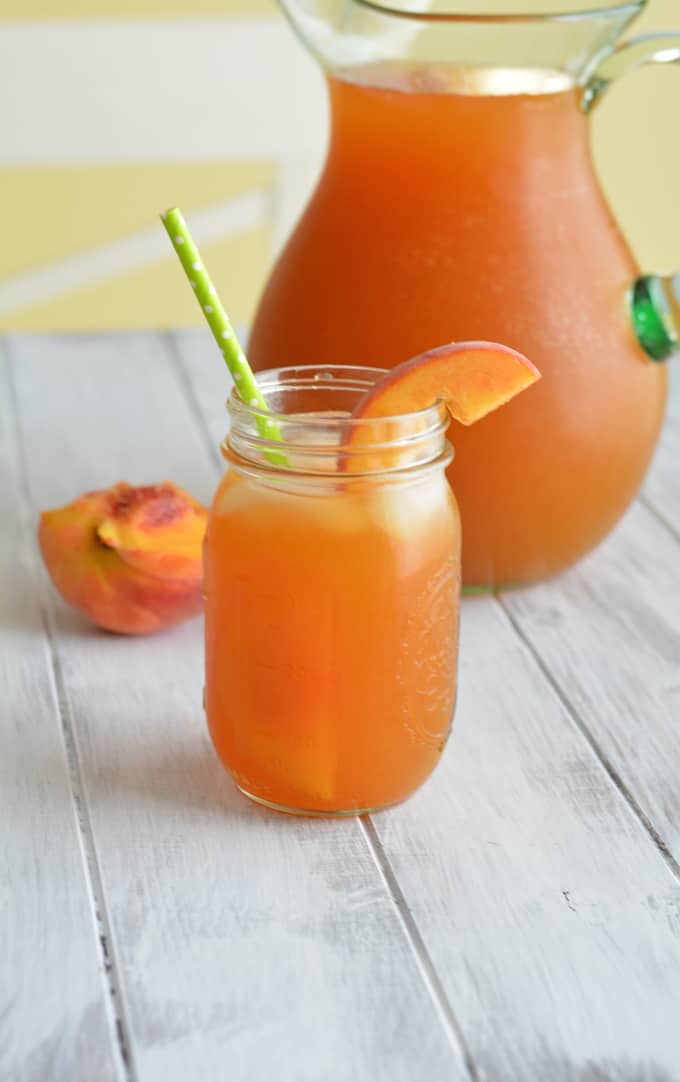 Make serving and drinking iced tea this summer fun with fun glasses, pretty straws
, and of course a great pitcher or serving container.  For entertaining, I love using my mason jar jug
 to store tea and other beverages in and of course small mason jar to
serve beverages.
Check out 10 Gifts for Tea Lovers!
What is your favorite Summer drink?  Let me know in the comments.