Kale is a hardy green leafy vegetable that can handle ahead of time prep. This Kale Apple Salad with Dijon Vinaigrette can be made in advance without the kale leaves wilting or getting soggy.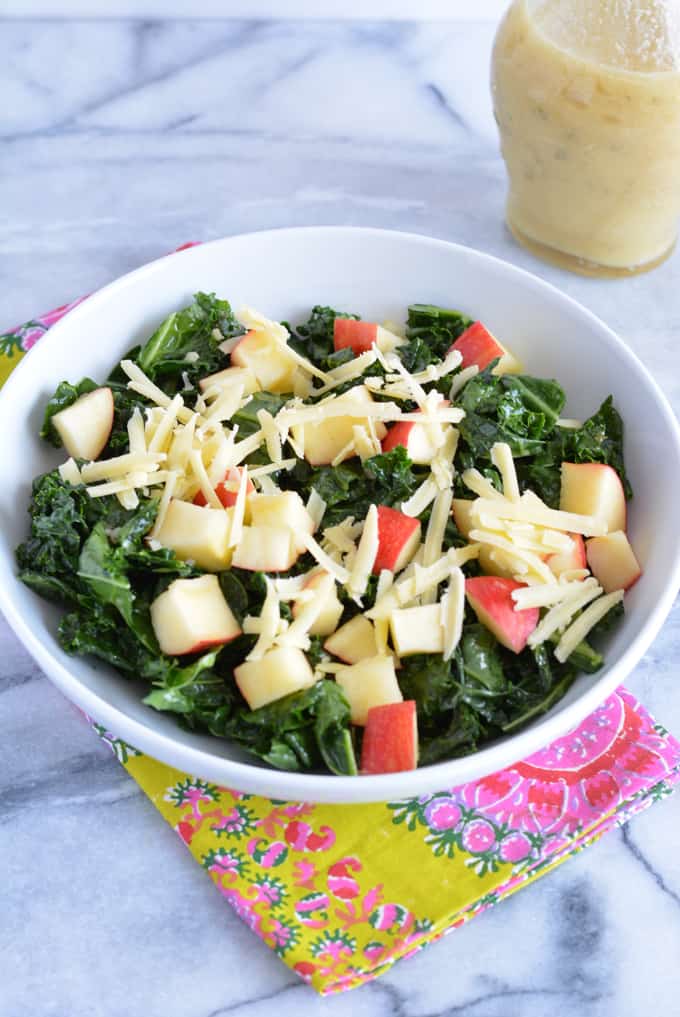 I don't regularly eat kale.  It's just not a veggie I crave or think about eating on a regular basis.  Up until recently, I considered kale just as a garnish. This summer I have received kale in two different CSA shares.  The first bunch I used to make a Kale and Cheddar Frittata and to experiment with this salad.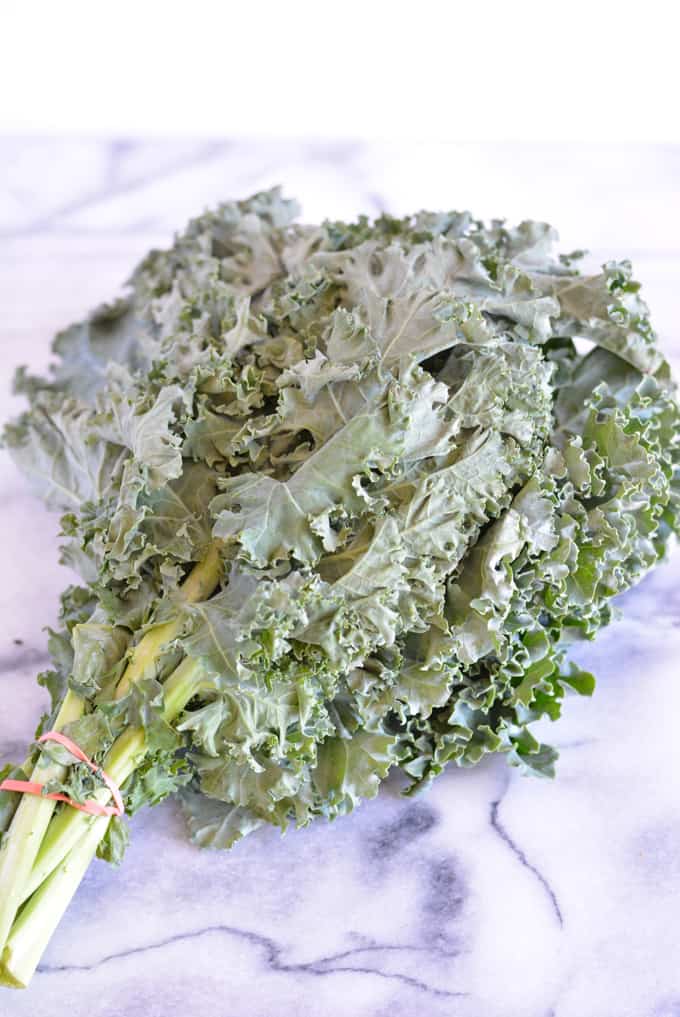 Kale Nutrition
Serving Size 1 cup
33 calories
6.7 gram Carbohydrates
1.3 gram Fiber
0.5 gram Fat
2.2 gram Protein
Kale is a rich source of Vitamins A and C.  Kale is also a super rich source of Vitamin K.  Kale and other green leafy vegetables need to be avoided by anyone taking Coumadin, which is a blood thinner.  Vitamin K helps our blood clot properly, but in individuals who may be at risk for abnormal blood clotting, it will counteract their medication.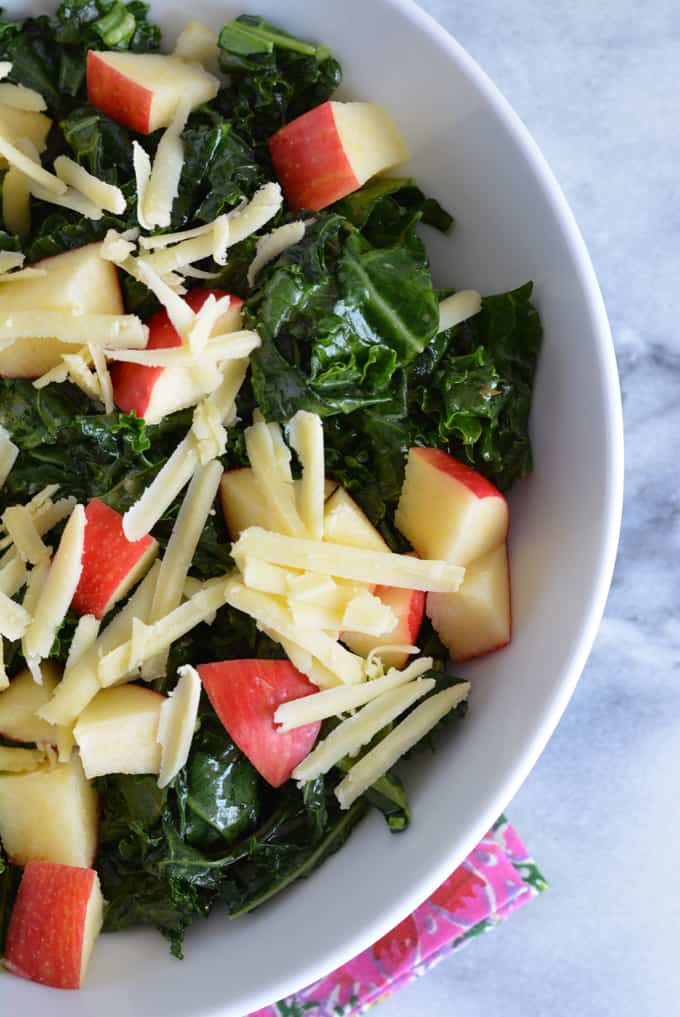 In preparing and experimenting with this salad I had to do a bit of research. In order to make kale less bitter to eat raw, you need to tenderize it almost like you would with meat.  There are two ways in order to do this.  The first, which I didn't care for, is to salt the leave and rub them.  This method made the kale too salty for my liking.  The second method is to add oil or your dressing to the kale and again rub the leaves for about 30 seconds.
I took this salad to work.  Usually, when I take salads to work I need to take all the individual ingredients and then assemble the salad there.  Lettuce does not hold up for a long time when you add dressing. I was able to make this salad in the morning before I left and it was perfect to eat at lunch time.
[Tweet "Kale is a veggie that can handle ahead of time prep."]
The Dijon vinaigrette is my mother-in-law's dressing.  I'm sure she wasn't the creator, but it's the only dressing she uses and makes from scratch.  The recipe is in her head. In our house, we always have the dressing ready to go in the refrigerator like she does.  We use the dressing of course on traditional salads and also as a marinade for salmon and chicken.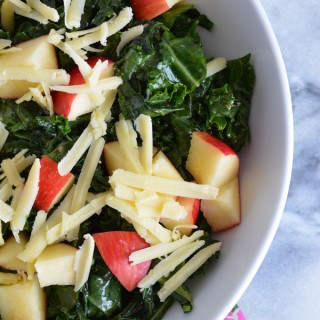 Kale Apple Salad with Dijon Vinaigrette
Ingredients
Dressing

½

cup

canola oil

¼

cup

apple cider vinegar

¼

cup

water

2

tablespoon

dijon mustard

1

teaspoon

garlic powder

1

tablespoon

dried parsley

Salad

3

cups

chopped kale

1

small apple cut into ½ pieces

½

cup

shredded cheddar cheese
Instructions
Combine all dressing ingredients and whisk together until combined or use a salad dressing bottle and shake until mixed.

In a large bowl drizzle about 1-2 tablespoons of dressing over kale.

Rub dressing into kale for about 30 seconds and then set aside.

Let kale absorb dressing while you prepare the apple and cheese.

Add apple and cheese to kale.

Add additional dressing as desired.

Serve immediately.
Nutrition
Calories:
0
kcal
Carbohydrates:
0
g
Protein:
0
g
Fat:
0
g
Saturated Fat:
0
g
Polyunsaturated Fat:
0
g
Monounsaturated Fat:
0
g
Trans Fat:
0
g
Cholesterol:
0
mg
Sodium:
0
mg
Potassium:
0
mg
Fiber:
0
g
Sugar:
0
g
Vitamin A:
0
IU
Vitamin C:
0
mg
Calcium:
0
mg
Iron:
0
mg
Tried this recipe?
Mention @nourishedsimply