How many times have you wanted just a cookie and were left with a few dozen after making a batch of homemade cookies? The recipe for Half Batch Triple Chocolate Cookies only makes 18 cookies.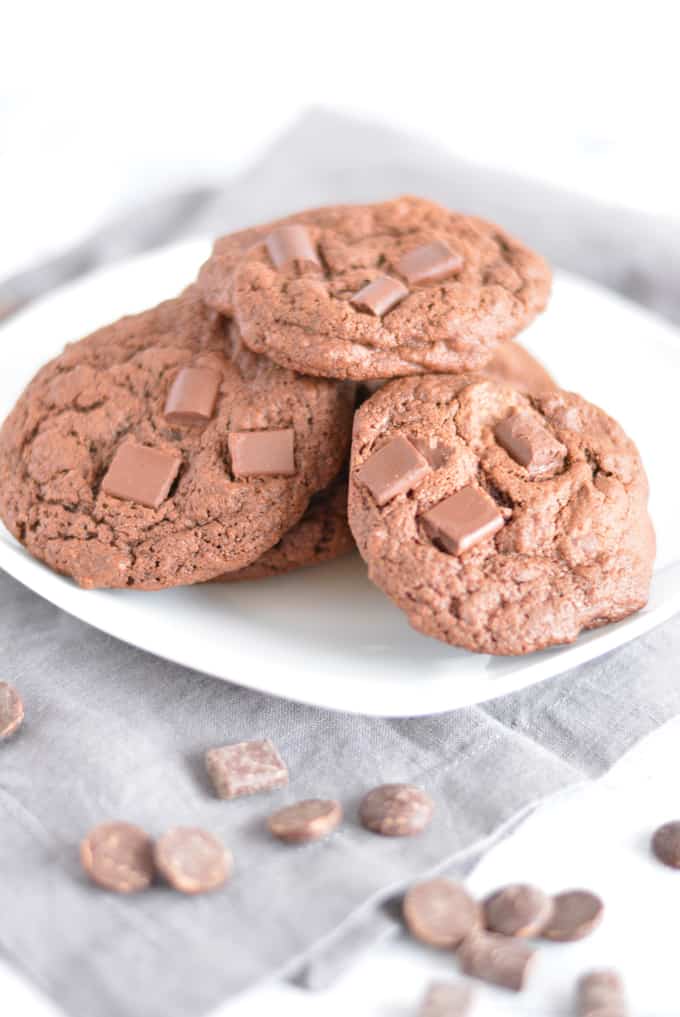 Homemade cookies are so much better than store bought, but a batch of homemade cookies makes generally 2-3 dozen cookies.  In my house, we end up having cookies go to waste because we get tired of them after a while.  You can freeze cookie dough and save it for another time, but I just like to bake them and get it over with.
[Tweet "Half Batch Triple Chocolate Cookies only makes 18 cookies.No need to make a full batch of cookies. Less cookies equals less calories!"]
Altering recipes to make smaller batches takes some brain power, which I don't always want to use.  Math skills from elementary school come into play when you have to work with fractions.  Sometimes measurements can not easily be cut in half.  For example, 1/3 cup of sugar can not be cut in half exactly, so then you need to play around with the recipe a bit.
Half Batch Triple Chocolate Cookies was pretty easy to create because it was a new recipe.  I have played with cutting my other favorite cookie recipe, Peanut Butter Chocolate Chip Oatmeal Cookies in half and you have to use half an egg!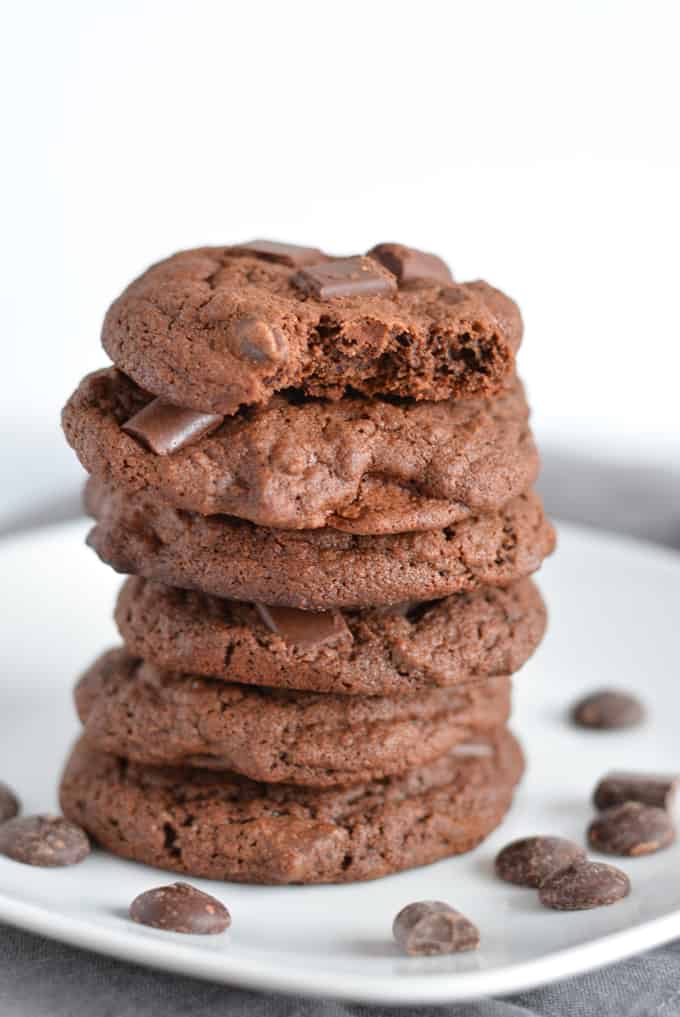 My 13-year-old son found the cookies and loved them, which of course made Momma happy.  My happiness disappeared quickly when I realized he didn't leave many for us!
Ingredients
1/2

cup

Whole Wheat Flour

1/2

cup

All-purpose flour

1/3

cup

Cocoa Powder

1/2

teaspoon

baking soda

1/2

teaspoon

baking powder

1/4

teaspoon

salt

1

stick of butter

1/3

cup

sugar

1/3

cup

packed brown sugar

1/2

teaspoon

vanilla extract

1

egg

1

cup

dark chocolate chips

1/2

cup

chocolate chunks
Instructions
Preheat oven to 350 degrees F.

Combine flours, cocoa powder, baking soda, baking powder, and salt in a medium bowl.

Beat together butter, sugar, brown sugar, and vanilla until creamy. Add in egg and beat well.

Gradually beat in flour mixture. Blend until well combined.

Stir in dark chocolate chips.

Drop rounded tablespoons of dough onto a cookie sheet.

Press 2-3 chocolate chunks into the top of each cookie.

Bake for 8-10 minutes or until cookies are set.

Cool on the baking sheet for 3-5 minutes, then remove them and transfer cookies to a wire rack to completely cool.
Nutrition
Serving:
1
cookie
|
Calories:
175
kcal
|
Carbohydrates:
22.9
g
|
Protein:
2.1
g
|
Fat:
10
g
|
Saturated Fat:
6
g
|
Polyunsaturated Fat:
3.3
g
|
Monounsaturated Fat:
0
g
|
Trans Fat:
0.2
g
|
Cholesterol:
22.4
mg
|
Sodium:
84.7
mg
|
Potassium:
0
mg
|
Fiber:
1.9
g
|
Sugar:
15.6
g
|
Vitamin A:
0
IU
|
Vitamin C:
0
mg
|
Calcium:
0
mg
|
Iron:
0
mg