Meal prep is important for busy families.  These grilled maple dijon chicken thighs can not only be used as a main dish but for meal prep. These chicken thighs are perfect for on top of a salad or on a sandwich.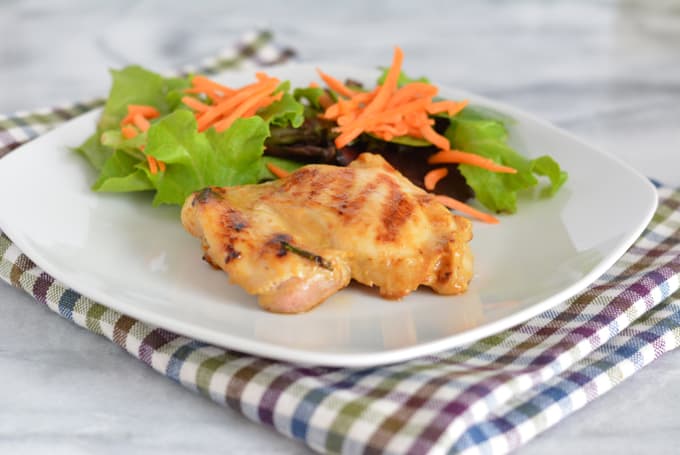 This is a sponsored conversation written by me on behalf of ABSCos. The opinions and text are mine.
I prep chicken just about every week to use in salads and sandwiches. My son takes chicken sandwiches (usually wraps) to school for lunch. I'm always looking for different ways to prepare chicken so none of us get bored. I chose from various types of chicken depending on what other dishes are on my menu for the week. Chicken breast is probably the most often purchased because I can get more servings out of a breast than other cuts. So, I use breast meat when I am prepping a chicken salad or chicken for sandwiches. My taste preference though if for thigh meat. Breast meat can be tough and if you aren't careful pretty dry. Breasts also are too big for me to eat. I'm lucky if I can eat half of a breast. Thighs are a smaller portion. I think a perfect portion and much more tender than breast meat.
What about the difference in fat between chicken breast and chicken thighs?
A 3 ounce portion of chicken breast contains 130 calories, 3 grams of Fat, and 1 gram of saturated fat. The same size portion of thigh meat contains 170 calories, 9 grams of Fat, and 3 grams of saturated fat. Yes, thighs have 3 times the amount of fat, however, both are considered lean meat. I don't feel as a dietitian that the difference is significant enough to avoid thigh meat altogether.
Organic vs Non-Organic Chicken
I try to buy organic chicken when the budget allows. There isn't much of a difference in basic nutritional content, however, organic chicken often contains more Omega-3 Fatty acids, which has been shown to be beneficial for brain health and heart health. Organic chicken is free of antibiotics and other chemicals. I especially enjoy O Organics® Air Chilled Chicken and Open Nature® Air Chilled Chicken which is available in the Philadelphia area exclusively at ACME Markets. If you live outside of the Philadelphia area you can also find it at some of the Albertsons Companies family of stores including Shaw's, Star Market, Jewel-Osco, Tom Thumb or Randalls. Visit ACME Markets to find a store near you and discover more recipe ideas."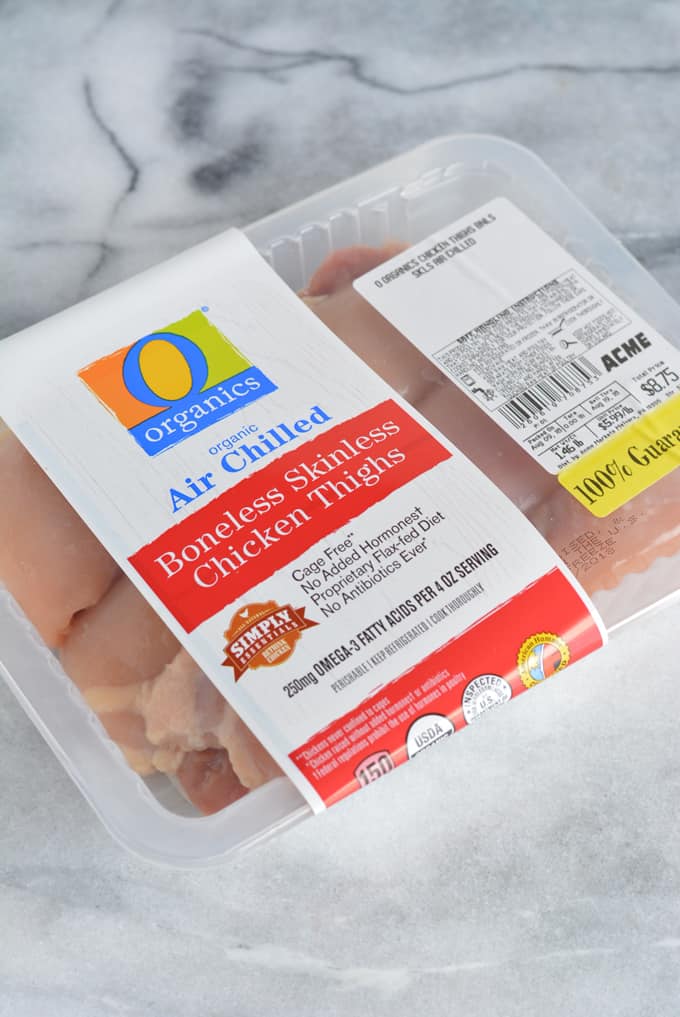 Open Nature® Air Chilled and O Organics® Air Chilled Chicken facts:
Individually processed with purified air for 100% more natural flavor*
The chicken meat is higher in highly desirable Omega-3 Fatty acids due to a proprietary flaxseed-enriched feed (meat contains up to 3x more omega-3s than conventional vegetarian-fed chicken). **
Up to 40% Lower in dietary cholesterol due to a proprietary flaxseed-enriched feed (contains up to 21% less cholesterol (will vary by cut) than conventionally-fed chicken)
Lower in saturated fat (vs. conventional vegetarian-fed chicken), a fact that many health organizations advise Americans to eat less of
Cage-free and American Humane Association certified
Naturally moist, even when skinless
O Organics Air Chilled Chicken are fed a 100% organic vegetarian diet
* Air-chilled chickens are individually processed in cold chambers with purified air. The result is intensely flavored chicken and 100% mouth-watering chicken flavor. **The proprietary flaxseed diet boosts the Omega-3's by up to 350% and lowers cholesterol level of the meat by as much as 40% versus conventional chicken. The diet the chickens receive still contains corn and other nutritious vegetables that are needed for a balanced diet.
Tips to make the perfect grilled maple dijon chicken thighs:
Marinated the thighs for at least 30 minutes. If you want to prep the recipe earlier you can marinate longer.
Use pure maple syrup, not pancake syrup.
If you don't have sherry wine vinegar (or can't find it) you can use red wine vinegar.
If you don't have fresh herbs don't buy them unless you have another recipe to use them up. You can you dried rosemary and thyme (about 1/2 teaspoon each) or just omit them both. The herbs are a nice touch, but I never want anyone to spend money on something that might go to waste.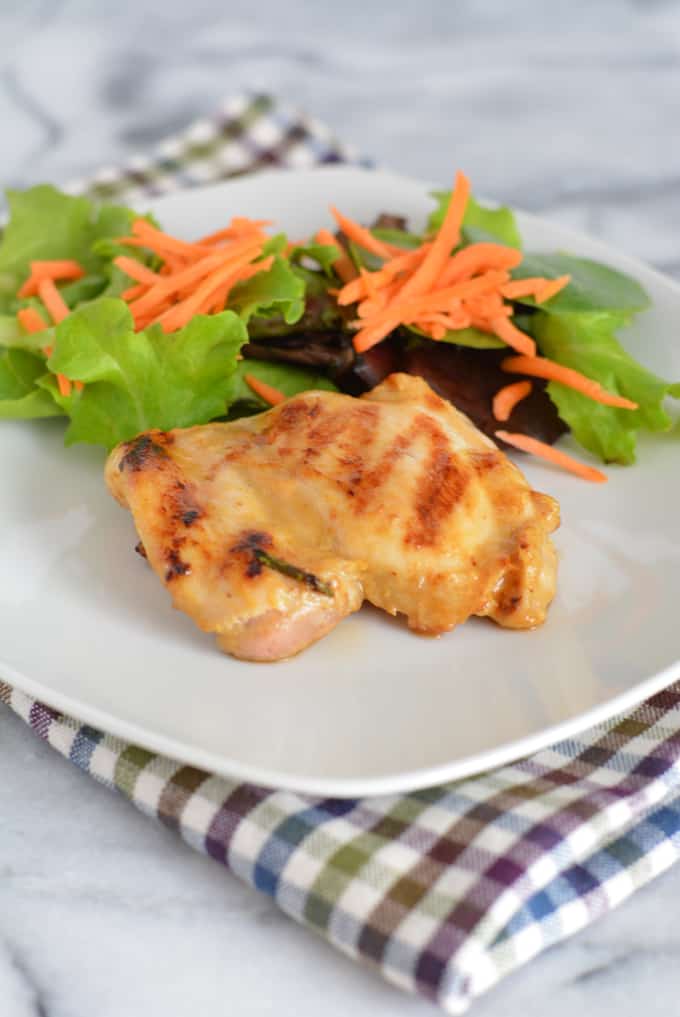 Grilled Maple Dijon Chicken Thighs
This simple recipe on contains 4 ingredients. You can whip up these grilled maple dijon chicken thighs for a main dish or for meal prep to top salads.
Instructions
In a small bowl whisk together Dijon mustard, maple syrup, vinegar, and garlic.

Place chicken thighs in a shallow baking dish.

Pour 3/4 of the marinade over the chicken thighs.

Place extra marinade in the refrigerator.

Sprinkle rosemary and thyme leaves over chicken.

Cover chicken and refrigerate for 30 minutes or overnight.


When ready to cook chicken heat spray a griddle or grill pan with olive oil spray.

Heat the grill over medium-high heat.

Place chicken thighs on the grill pan and grill for about 5 minutes per side.

During grilling baste with extra marinade.
Nutrition Facts
Grilled Maple Dijon Chicken Thighs
Amount Per Serving (1 thigh)
Calories 193
Calories from Fat 117
% Daily Value*
Fat 13g20%
Cholesterol 74mg25%
Sodium 176mg8%
Potassium 191mg5%
Carbohydrates 5g2%
Protein 12g24%
Vitamin A 115IU2%
Vitamin C 2.1mg3%
Calcium 24mg2%
Iron 0.9mg5%
* Percent Daily Values are based on a 2000 calorie diet.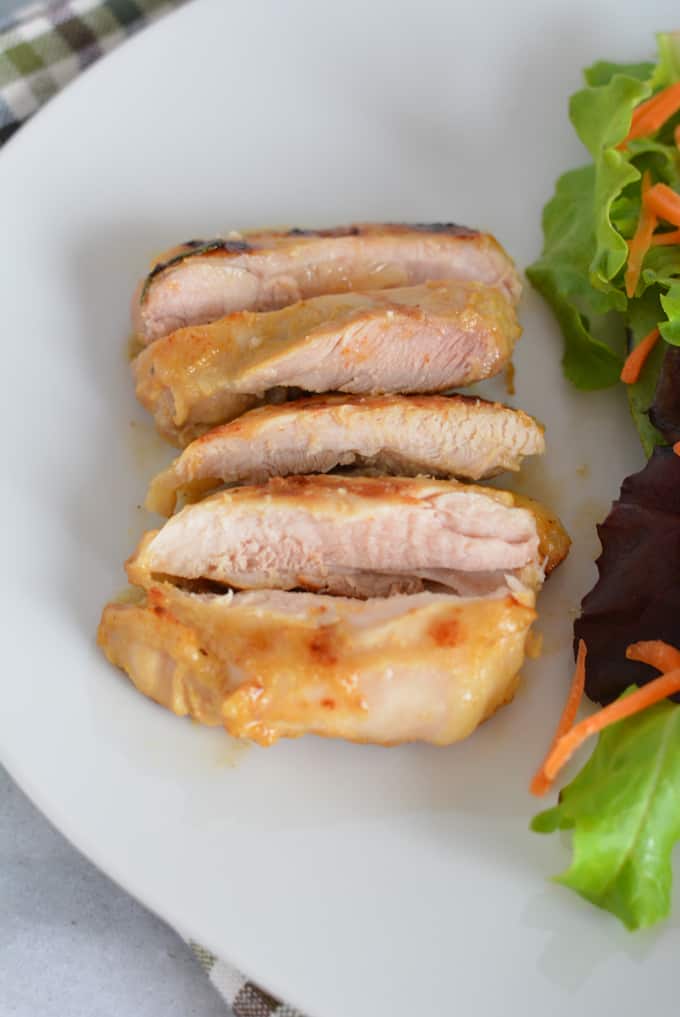 Items you might need to make grilled maple dijon chicken thighs: (affiliate links)
Other Recipes you may like:
Grilled Rosemary Lemon Chicken Breast
Low Sodium Sheet Pan Chicken Fajitas
Slow Cooker Chicken Verde Chili