This year I attempted to grow eggplant.  I grew about a half dozen small eggplants from two plants.  That's not too bad for a first attempt.  I usually make eggplant roll ups, however the variety I grew was much smaller and difficult to roll up!  So, I decided to grill the eggplant for a meatless, Grilled Eggplant Sandwich.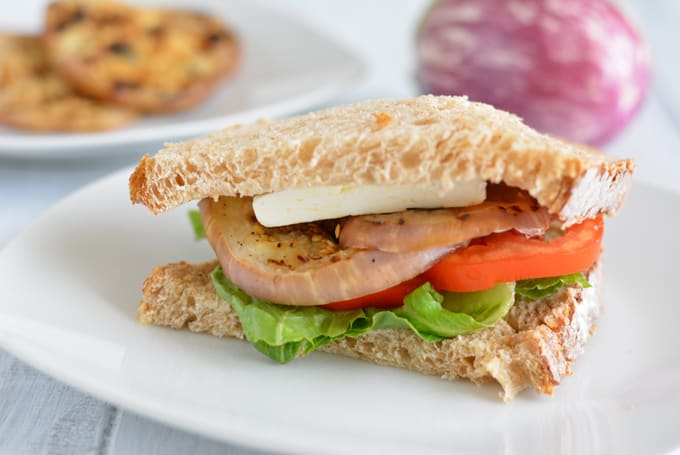 I grew a small Asian style eggplant, called Calliope.  I actually forgot what I planted, so was waiting for the eggplant to get bigger.  When I noticed the first two vegetables were turning yellow I realized they were not getting any bigger. I think they are kind of cute. What do you think?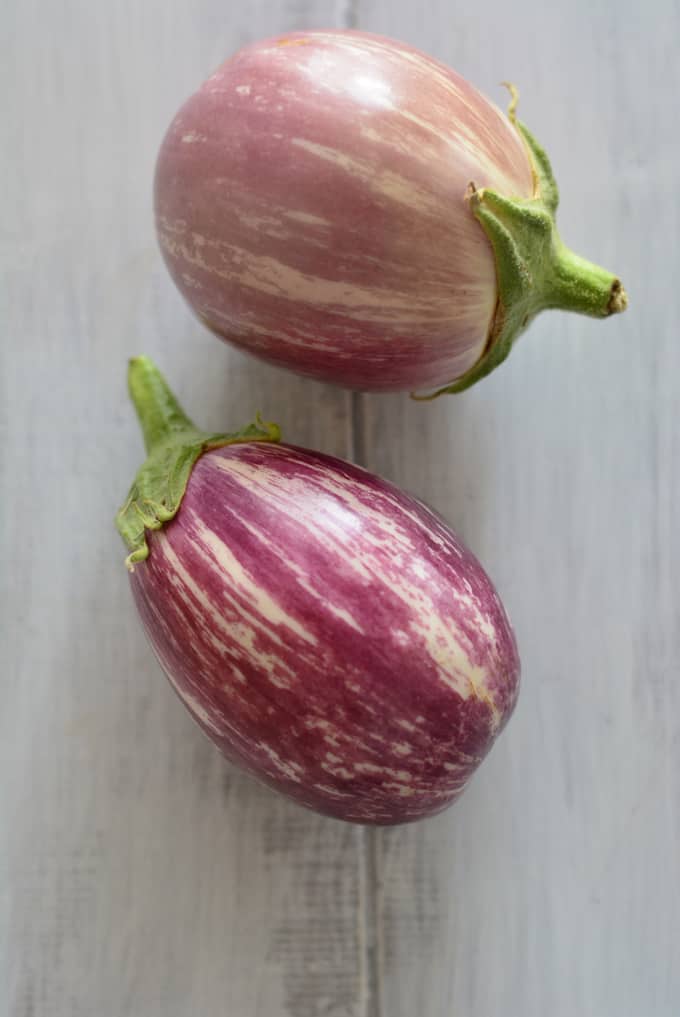 I don't really think that eggplant has much of a flavor.  Before grilling the eggplant slices I added some fresh herbs from my garden and olive oil and let the eggplant marinate for a bit.  Some of the herbs were also grilled with the eggplant as well.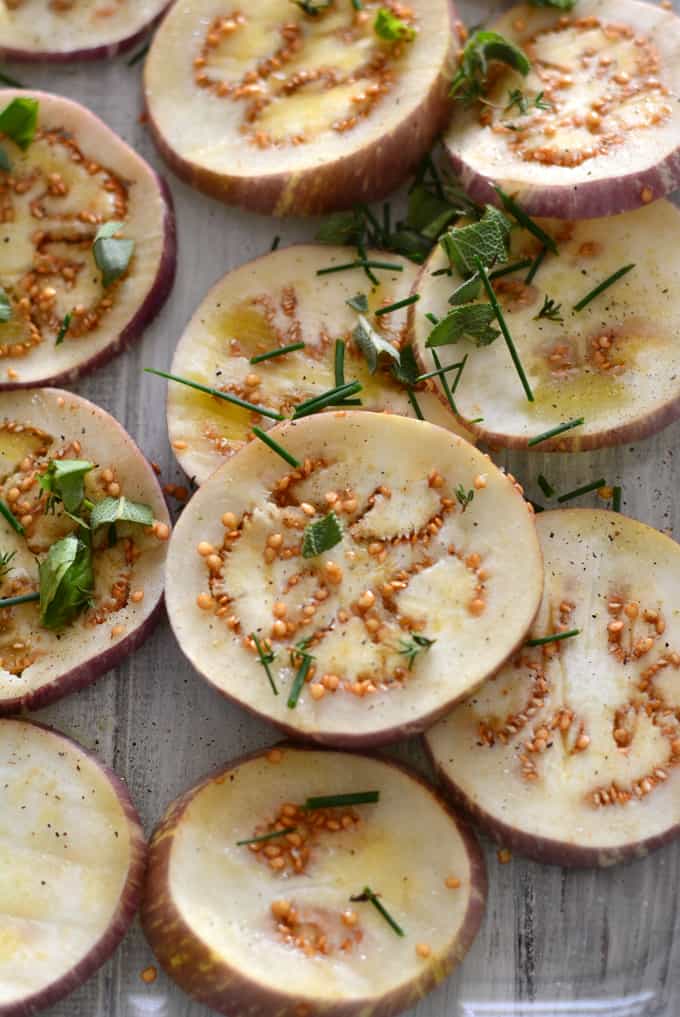 I don't consider myself a vegetarian, but I can do without meat.  I need to be in the mood to eat meat.  Sandwiches most commonly contain some sort of meat to make them more filling to me.  This grilled eggplant sandwich is just as filling, but meat free.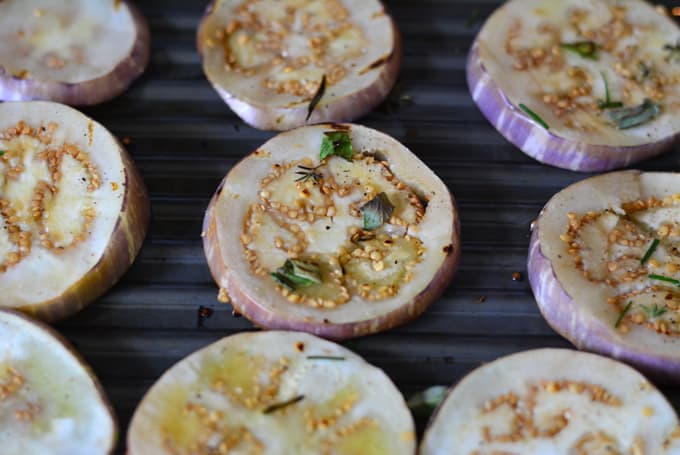 I stay away from our outdoor grill.  My husband it in charge of the grill.  He has showed me many times how to operate it, but I never remember.  I just don't want to be bother with it, so I really don't listen when he gives me instructions.  My kids do the same to me when they don't want to do something!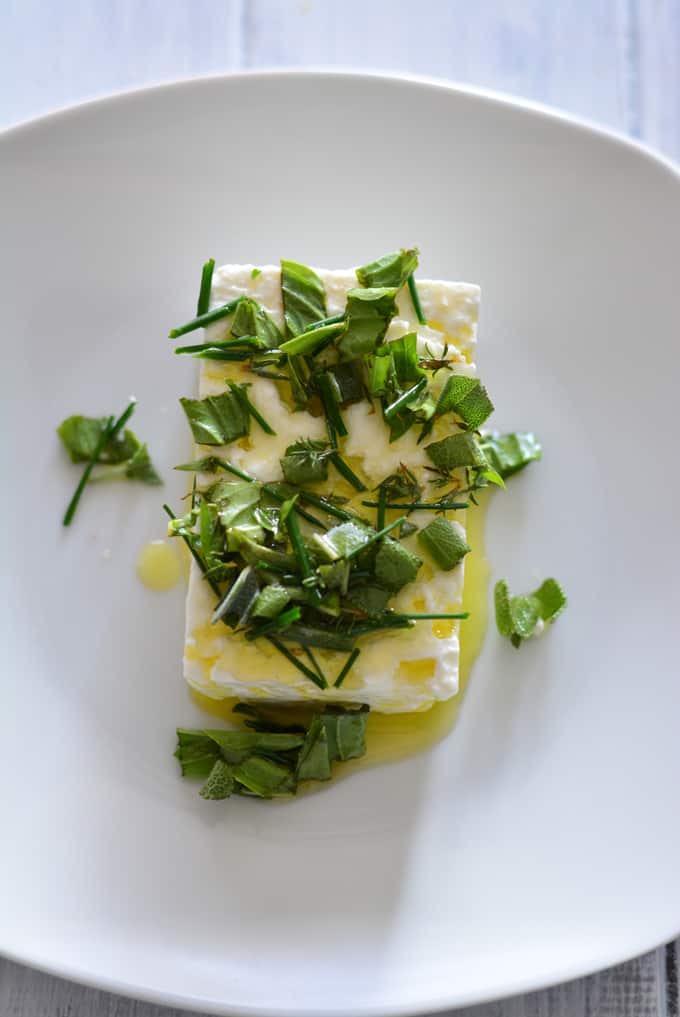 A meal should contain both protein and carbohydrates.  This is optimal for satiety and blood sugar regulation.  (This is your nutrition lesson for the day!).  Any cheese would taste great in this sandwich, but I chose Feta to give the sandwich a Mediterranean flavor.  I had extra cut herbs, so I marinated the feta in a bit of olive oil an herbs too. Adding cheese still makes this a vegetarian sandwich, but not a vegan sandwich.
You can grill the eggplant ahead of time and keep the grilled eggplant in the refrigerator for quicker meal prep throughout the week.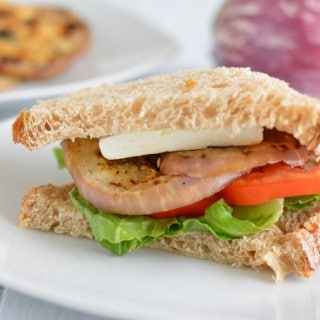 Grilled Eggplant Sandwich
Ingredients
2

small eggplants

sliced (¼ inch each)

4

ounce

feta cheese

½

cup

fresh herbs of your choice

minced (I used basil, sage, and thyme)

2

tablespoon

plus 1 teaspoon Olive Oil

divided

Salt and pepper to taste

4

large crusty bread slices

1 to

mato

sliced

4

Romaine lettuce leaves

4

tablespoons

hummus
Instructions
Place eggplant slices in a shallow dish.

Coat eggplant with 1 tablespoon of olive oil and toss to coat.

Sprinkle half the herbs over the eggplant,

Let stand for 20 minutes.

Drizzle remaining tablespoon of olive oil over feta cheese.

Top feta with remaining herbs.

Let stand in the refrigerator for 20-30 minutes.

Heat a grill pan brushed with olive oil over medium heat.

Add slices of eggplant to grill pan.

Cook eggplant 3-5 minutes on each side or until cooked through.

Cut each slice of bread in half.

To build your sandwich: top one half of bread with 1 lettuce leaf, 1 slice of tomato, 2 slices of eggplant, and 1 ounce of feta.

Spread 1 tablespoon of hummus of the other bread half and place on top of sandwich.
Nutrition
Calories:
0
kcal
Carbohydrates:
0
g
Protein:
0
g
Fat:
0
g
Saturated Fat:
0
g
Polyunsaturated Fat:
0
g
Monounsaturated Fat:
0
g
Trans Fat:
0
g
Cholesterol:
0
mg
Sodium:
0
mg
Potassium:
0
mg
Fiber:
0
g
Sugar:
0
g
Vitamin A:
0
IU
Vitamin C:
0
mg
Calcium:
0
mg
Iron:
0
mg
Tried this recipe?
Mention @nourishedsimply