I have talked about my garden several times this summer. We grew zucchini, peppers, eggplant, and tomatoes. Our tomato plants have done so well that we are swimming in tomatoes. In fact we can not eat them fast enough.  One way my husband and I love to eat tomatoes is in a Caprese Salad.  This salad is so simple, but yet so flavorful. It's really easy to make too.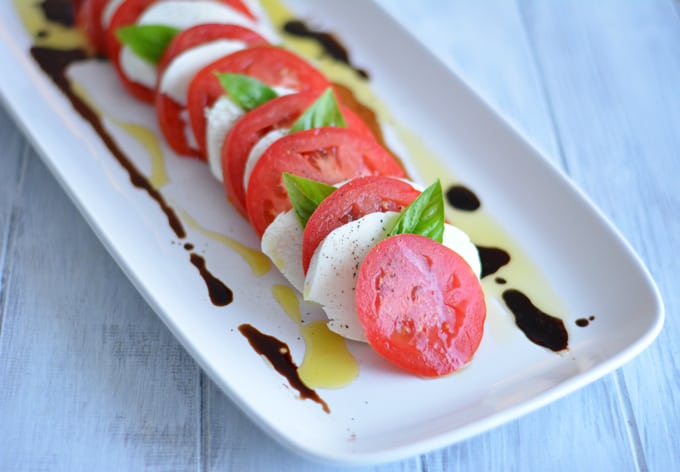 Last year our summer harvest was not so great.  I have not idea why.  However this year we have a lot of raspberries, zucchini, eggplant, and tomatoes.  I planted cherry tomatoes, pear tomatoes, Roma (my favorite), and beef steak (hubbies favorite).  All the plants have done really well without the need for me to do a lot of maintenance on the garden. Thank goodness!
I am sort of a lazy gardener.  Our property is full of perennial plants.  Perennial plants are those that come back every year.  When my husband and I were first married I planted annuals the first two summers. I got tired of having to start all over the next year, so I moved to perennials.
Planting a vegetable garden is tough for me. Don't get me wrong I love having home grown veggies, but I hate doing the work.  Vegetable plants are annual plants.  They don't come back every year! My hubby is usually the one encouraging me to plant the garden.  This year I flat out told him that I was not going to do it unless he helped.  He of course promised to help, so I gave in.  Guess how many times he has helped??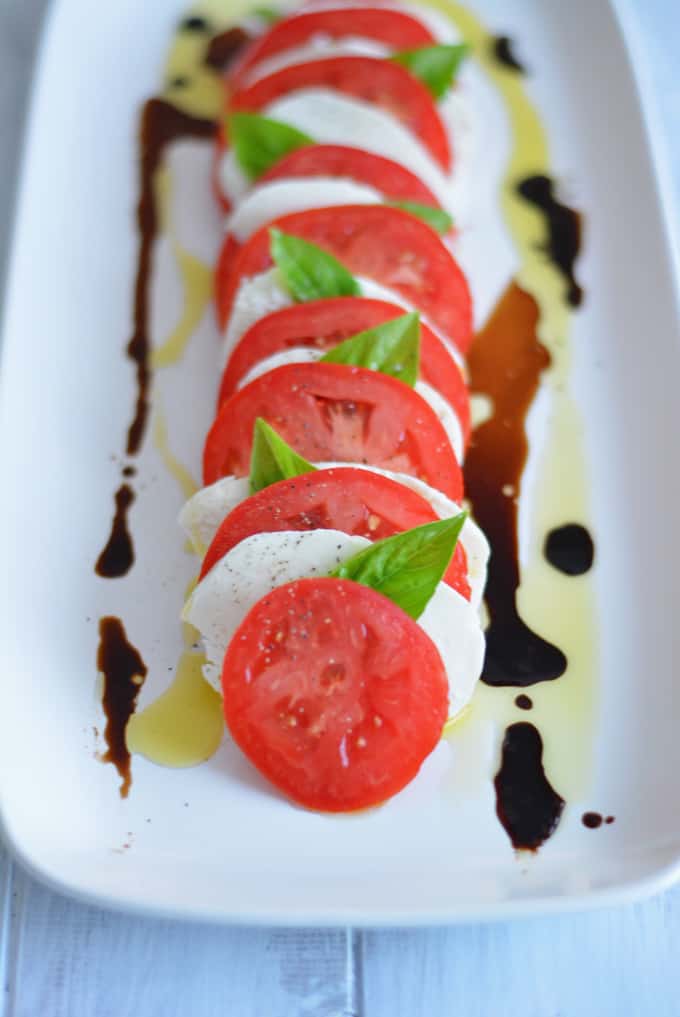 We have had so many tomatoes that unfortunately I had to trash some because they went bad before I could use them.  Thank goodness we love Caprese Salad, because it has been the most common use for our crop this summer.
Caprese Salad is so easy to make.  You just need tomato and fresh mozzarella cheese.  Basil that is fresh is definitely prettier, but in a pinch dried basil would work.  Simply add salt and pepper.  Drizzle with olive oil and balsamic vinegar.
Recipe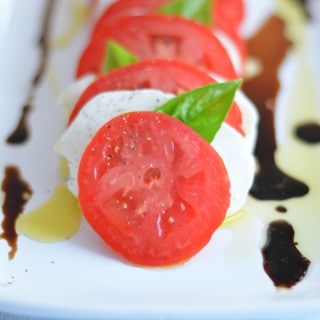 Caprese Salad
Ingredients
2

large tomatoes

8

ounce

fresh mozzarella

Salt and pepper to taste

Extra Virgin Olive Oil

Balsamic Vinegar
Instructions
Cut tomatoes in to ½ inch slices.

Cut mozzarella into ½ inch slices.

Place mozzarella slices onto tomato slices.

Season with salt and pepper.

Drizzle with olive oil and balsamic vinegar.
Nutrition
Calories:
0
kcal
Carbohydrates:
0
g
Protein:
0
g
Fat:
0
g
Saturated Fat:
0
g
Polyunsaturated Fat:
0
g
Monounsaturated Fat:
0
g
Trans Fat:
0
g
Cholesterol:
0
mg
Sodium:
0
mg
Potassium:
0
mg
Fiber:
0
g
Sugar:
0
g
Vitamin A:
0
IU
Vitamin C:
0
mg
Calcium:
0
mg
Iron:
0
mg
Tried this recipe?
Mention @nourishedsimply