There are many nights where we need a really quick dinner. Dealing with work and school activities leaves me with little time to make dinner every night. That's why in our house we tend to make a lot of quick under 30 minute dinners with few ingredients.  This 30 Minute Garden Chicken with Linguine recipe only requires 7 ingredients!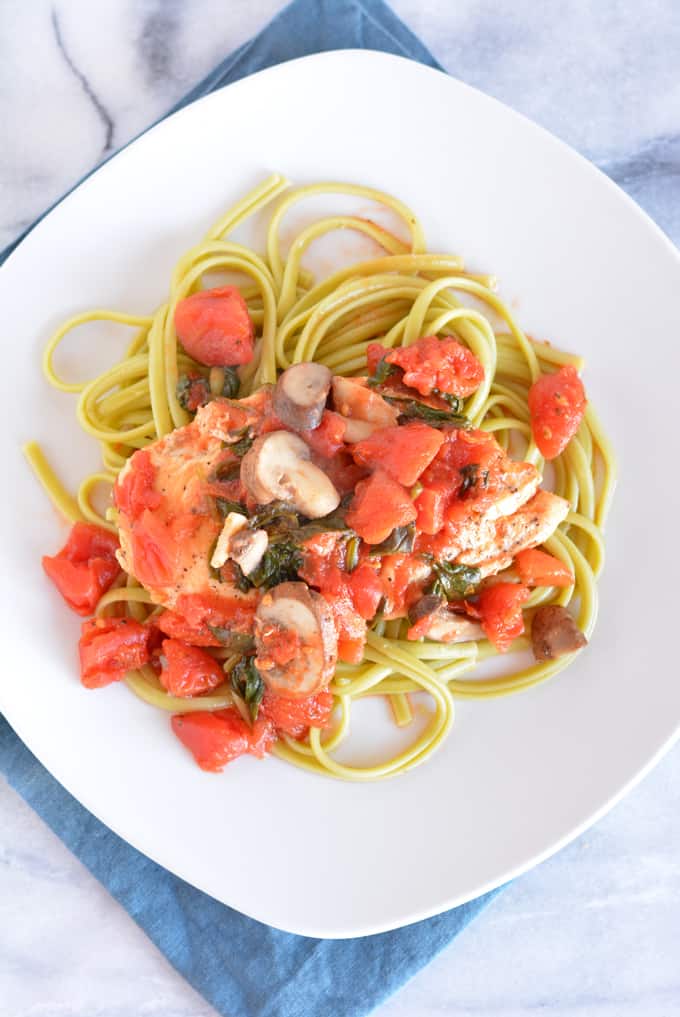 It has been many years since I have actually made this recipe. I made it quite a few times when I was living at the beach when I was in college (many moons ago).  When the topic for this months Recipe Redux came out, this recipe was first on my list.
7-Ingredient (Or Less) Recipes
It's Income Tax Season, so our brains could use some easy arithmetic; as in seven-ingredient-or-less recipes. Show us the healthy, no-brainer dish you fix for breakfast, lunch or dinner. Think beyond smoothies or drinks, please. (And for those of you living in countries where it's not Tax Season – we're pretty sure you and your readers would still love doing the math for seven-ingredient-recipes!)
I don't remember exactly where this recipe came from, but I think it was out of a magazine or the coupon section of the newspaper.  The basic recipe was simply chicken with linguine and diced tomatoes.  The recipe has of course evolved and I have added my own twist to it.
It is a very simple recipe that can be put together quickly, especially if you use a few shortcuts. To speed up cooking time I purchase mushrooms are already sliced and baby spinach that ha smaller leaves that don't need to be chopped up.  The little prep the veggies require can be done as soon as you start to cook the chicken. When the chicken is done you can add the veggies and tomatoes and dinner is done!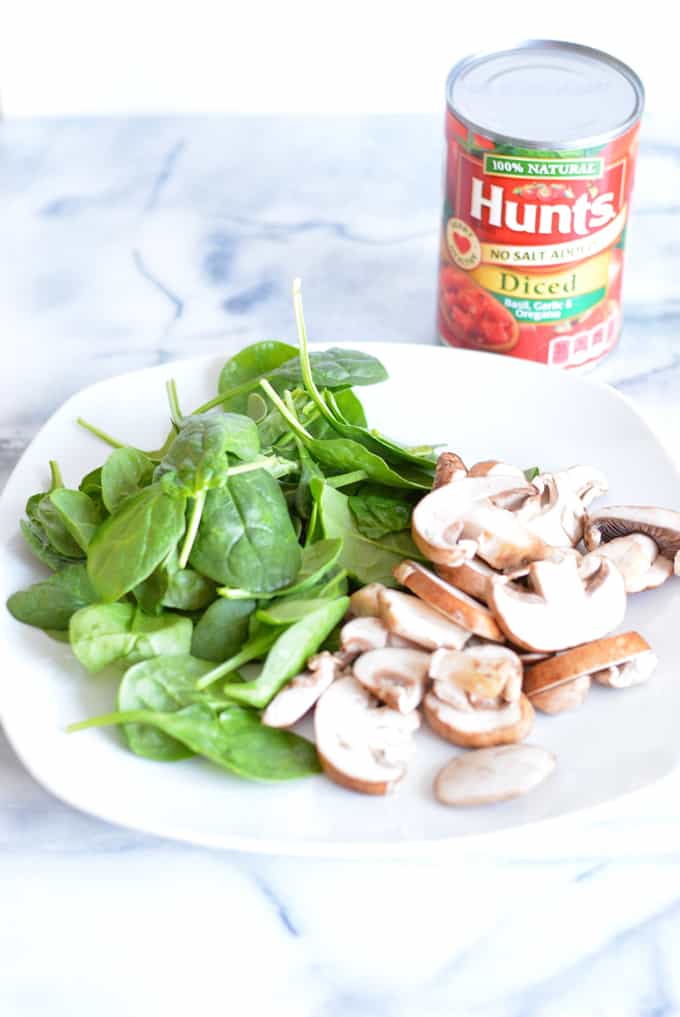 This is a perfect recipe to add lots of extra veggies to. A lot of my clients have difficulty trying to fit in veggies.  Recipes like this are really simple ways to incorporate lots of different vegetables in one dish.
I think what takes the longest in this recipe is for my water to boil for my pasta. The first thing I do to begin this recipe is always to fill up my pasta pot with water and start to heat it up. While the water is boiling I'll heat up a tablespoon of olive oil so I can begin to cook the chicken.
You can use chicken breast,s but I think it's a little bit easier and quicker to use chicken cutlets. Chicken cutlets are much thinner than chicken breast, so the cook faster. If you have chicken breasts I would recommend cutting them in half to make them a little bit smaller. Once the chicken is cooked the recipe comes together fairly quickly.
I try to use vegetables that cook fairly quickly. For example, my favorite veggies to use are Portabella mushrooms and spinach. Both veggies only take only a few minutes to cook. I can usually have this recipe cooked and on the table in under 30 minutes.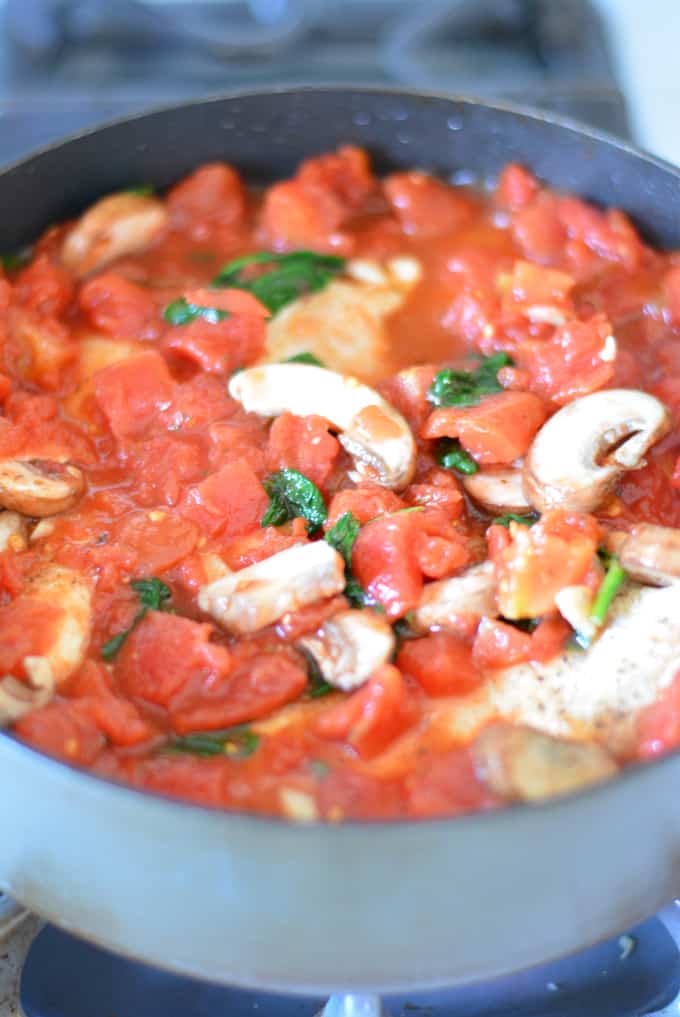 If your stoves a little bit better than mine and you can get water to boil a tad bit faster you can probably get this recipe on the table in 20 minutes or less. Do you get the idea that I need a new stove?! When we move six years ago I left my brand-new stove behind. The stove had a turbo boil setting, so I didn't have to wait long for water to boil  
For the past six years I've been using the stove that came with our house, which is about 15 years old. We've been slowly switching out appliances. This year we had to buy a new refrigerator. Then my husband decided to replace the dishwasher, so it would match the refrigerator. Then our microwave broke, so that's been replaced.  All that is left is the stove!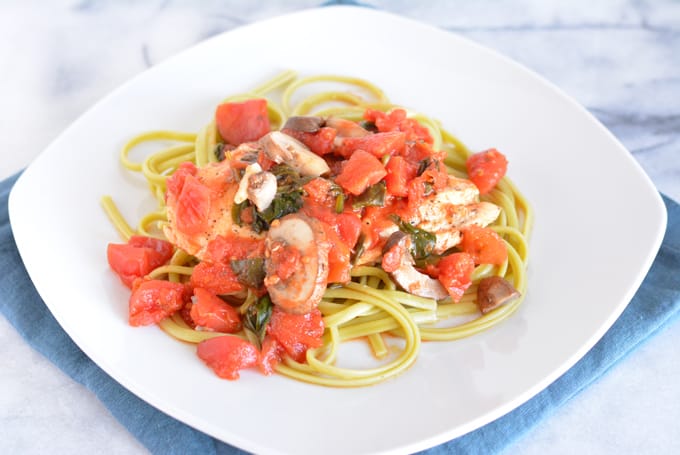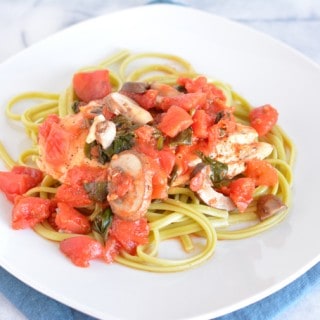 Garden Chicken with Linguine
A quick chicken recipe that only has 7 ingredients.
Ingredients
1

tablespoon

olive oil

1

pound

chicken cutlets

6

ounce

linguine

½ box - I used Spinach Linguine

1

glove garlic

minced

2

cups

baby spinach

8

ounce

sliced portobella mushrooms

2

can

15 ounce cans diced tomatoes (I used no added salt seasoned with herbs)
Instructions
Bring water for pasta to a boil.

Cook linguine according to package directions.

While water is coming to a boil, heat olive oil in a skillet over medium high heat.

Place chicken into skillet, browning 4-5 minutes on each side.

Remove chicken from skillet and keep warm.

Place minced garlic into skillet and cook for 1-2 minutes.

Add to skillet spinach and mushrooms cooking for 3-4 minutes.

Place chicken back into the skillet and top with diced tomatoes.

Cover and cook on medium heat 5 minutes or until chicken is cooked through and tomatoes are heated.

Serve with prepared linguine.
Nutrition
Calories:
0
kcal
Carbohydrates:
0
g
Protein:
0
g
Fat:
0
g
Saturated Fat:
0
g
Polyunsaturated Fat:
0
g
Monounsaturated Fat:
0
g
Trans Fat:
0
g
Cholesterol:
0
mg
Sodium:
0
mg
Potassium:
0
mg
Fiber:
0
g
Sugar:
0
g
Vitamin A:
0
IU
Vitamin C:
0
mg
Calcium:
0
mg
Iron:
0
mg
Tried this recipe?
Mention @nourishedsimply
Don't forget to share any recipes you make from Nourished Simply with me on Facebook or Instagram with the hashtag #nourishedsimply.