The holiday season in our house usually involves a lot of cookie baking. Every year I say that I am not going to go crazy and bake all the cookies we usually do. Then the season comes and I go crazy baking. I usually bake chocolate chip cookies, oatmeal cookies, crescent cookies, butter cookies, and peanut butter blossoms. So what happens to all these cookies? We eat them, ugh. I added a new cookie into our rotation this year: Chocolate Iced Thumbprint Cookies just like you purchase in your local bakery!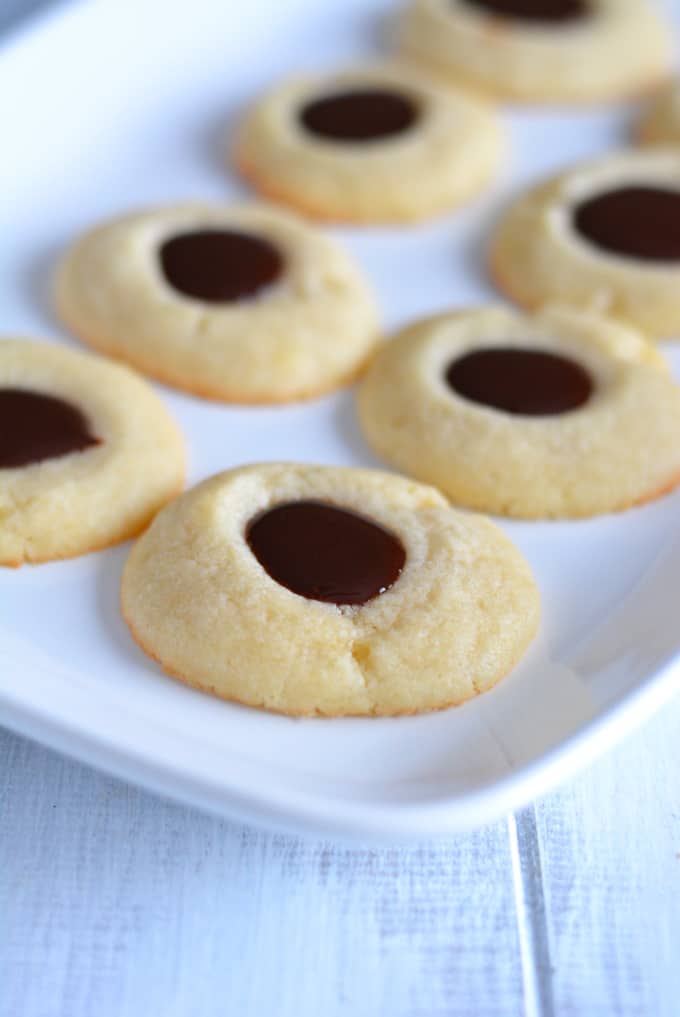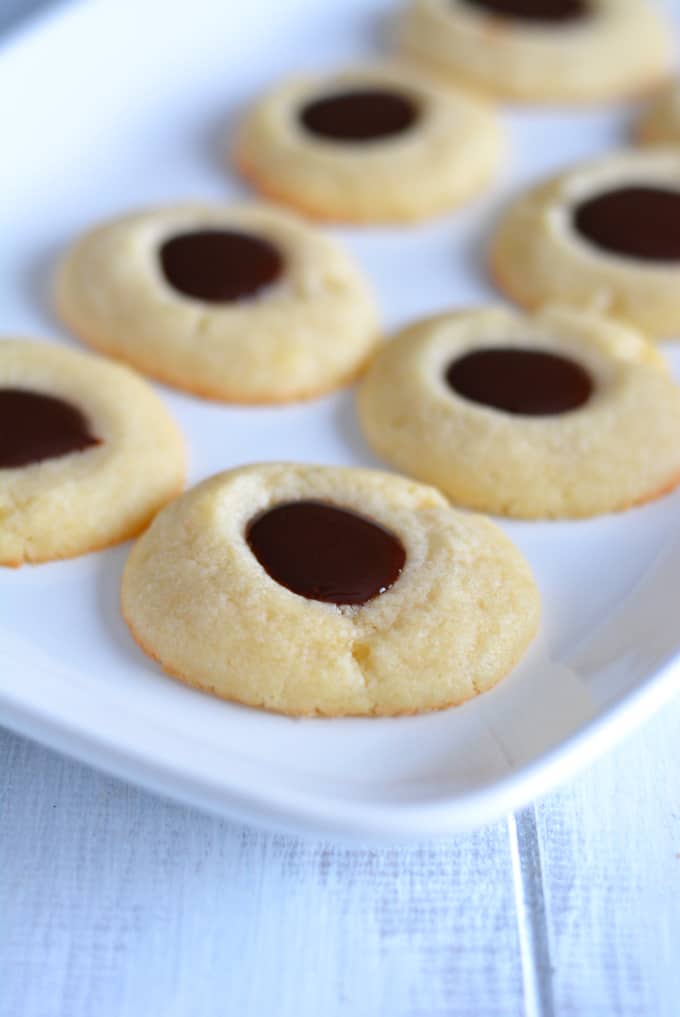 I can't resist a cookie.  If I have all these cookies in the house I am going to eat them. This year I finally decided to listen to myself and I only baked cookies that everyone in our house really likes.  So far we only have peanut butter blossoms and these thumb print cookies in our house.
I bake every once in a while throughout the year.  Chocolate chip and oatmeal are usually the cookies that I make during the rest of the year, so I decided that these could be cut from the holiday list.  Crescent cookies, which are my favorite, got cut from the list because I am the only one in the house that eats them.  They would be too much of a temptation!
This year I made room for a new cookie. I have always wanted to make thumbprint cookies.  Thumbprints with some kind of icing are my favorite bakery type cookie.  This type of cookie is definitely versatile.  You can see from Pinterest just how many different variations you can create.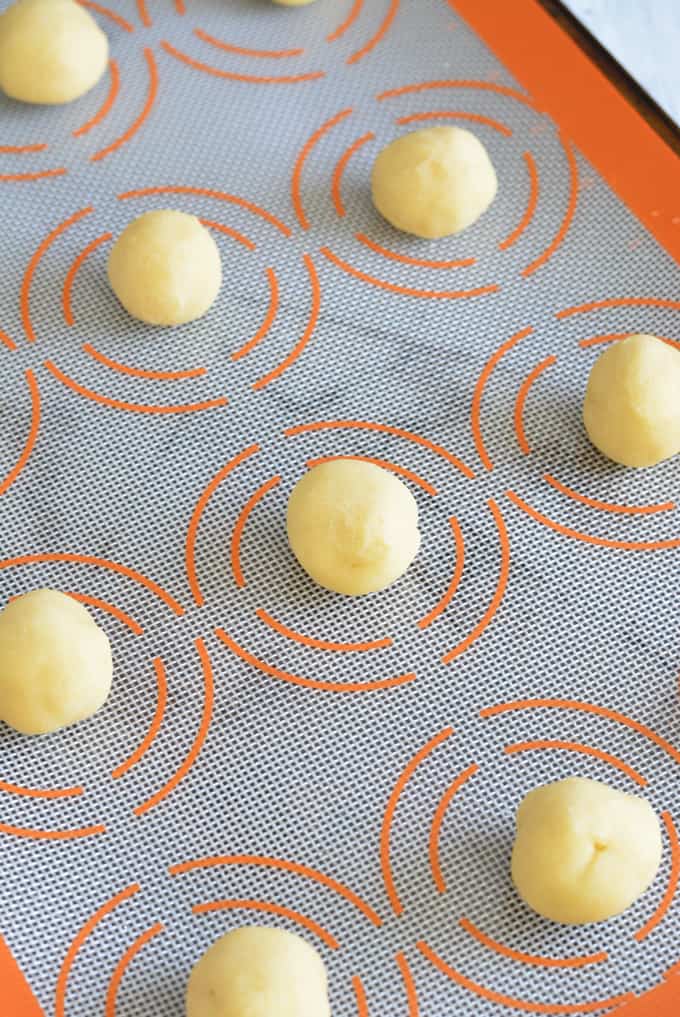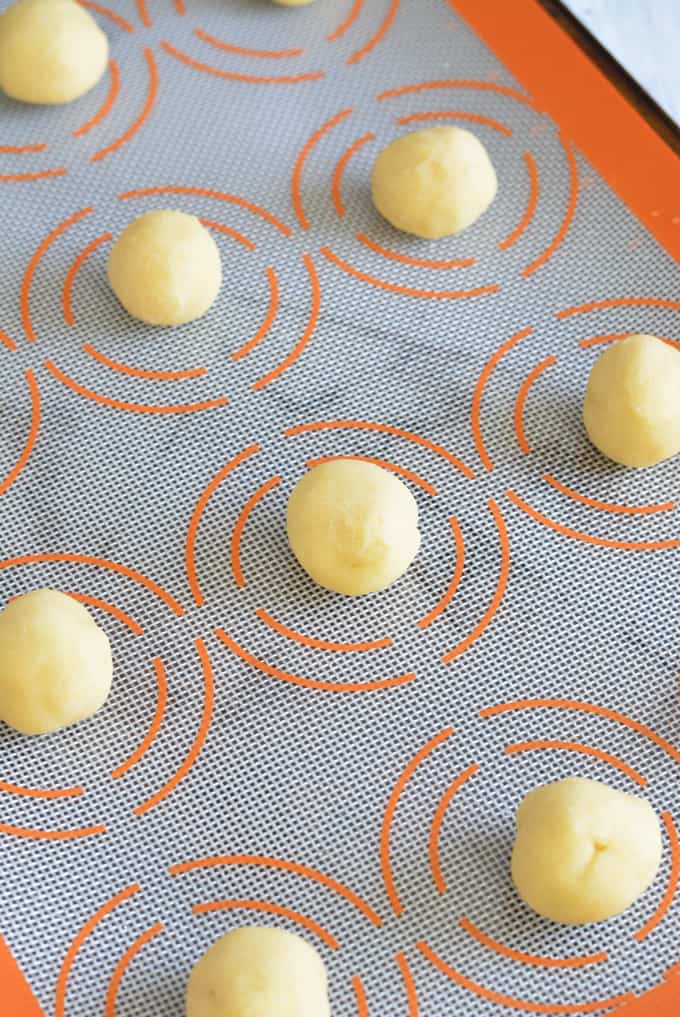 Thumbprint cookies can be a bit challenging when it comes to making the actual thumb print.  If the dough is too soft then the cookie will spread and the thumb print may need to be fixed.  If the dough is too cold the dough may be too hard to make a thumb print without the dough breaking a bit.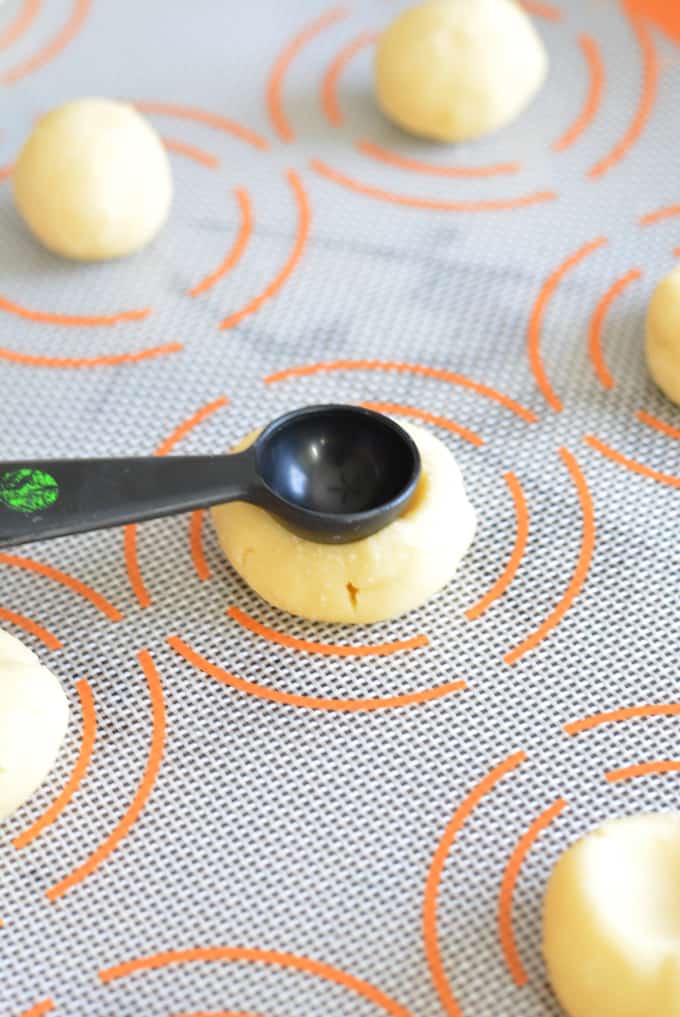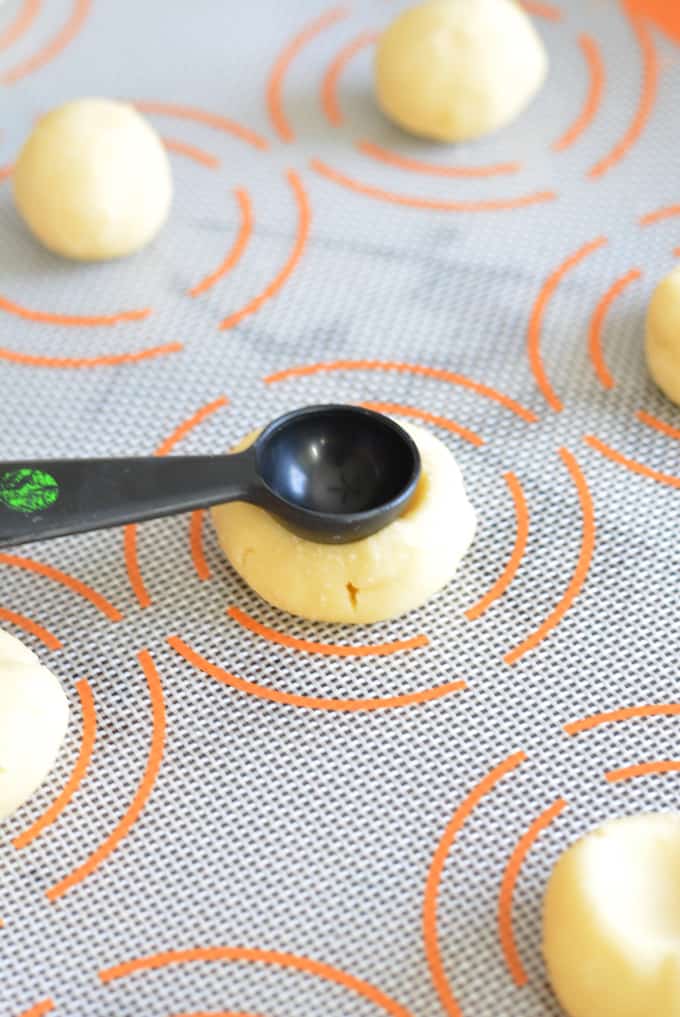 I placed the dough in the refrigerator to chill. My intention was to just leave the dough to chill for a few hours, but life happened and the dough chilled for about 24 hours.  You don't need to leave the cookie dough in the refrigerator that long. A few hours would be sufficient.
When the dough comes out of the refrigerator it may be too hard to work with at first.  I left the cookie dough sit for about 10 minutes before I started working with it.  I used a cookie scoop, which is about 1 tablespoon to scoop the dough out of the bowl.  I rolled the dough into a ball and placed the dough onto a cookie sheet.
You can simply use your thumb to make the thumbprint mark, hence why these are called thumbprint cookies.  I wanted the well to be more uniform, so I used a 1 teaspoon measuring spoon.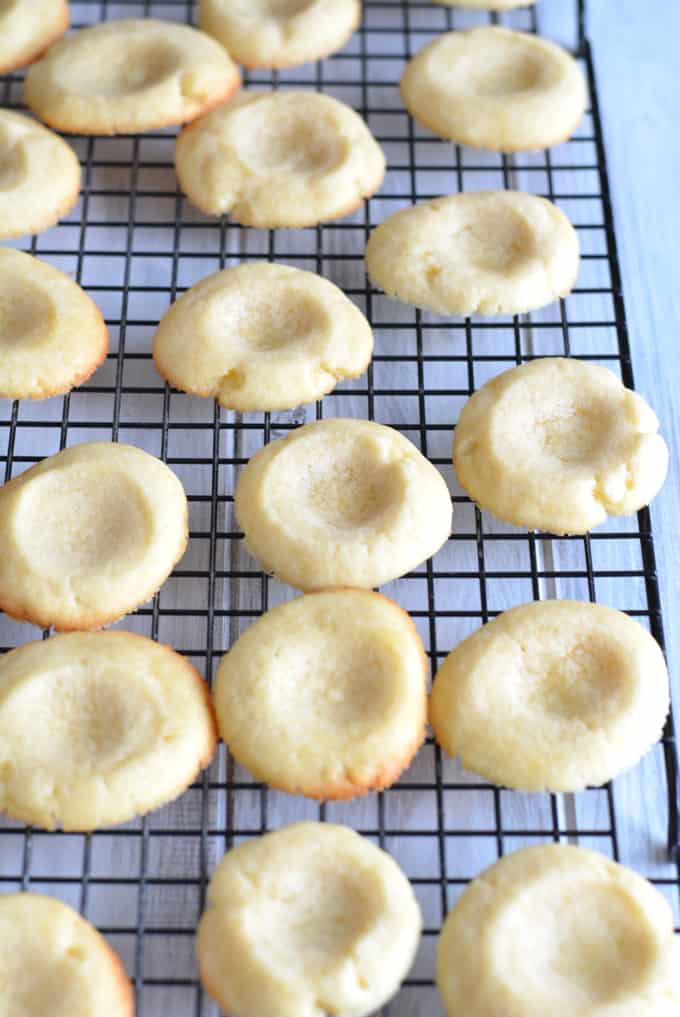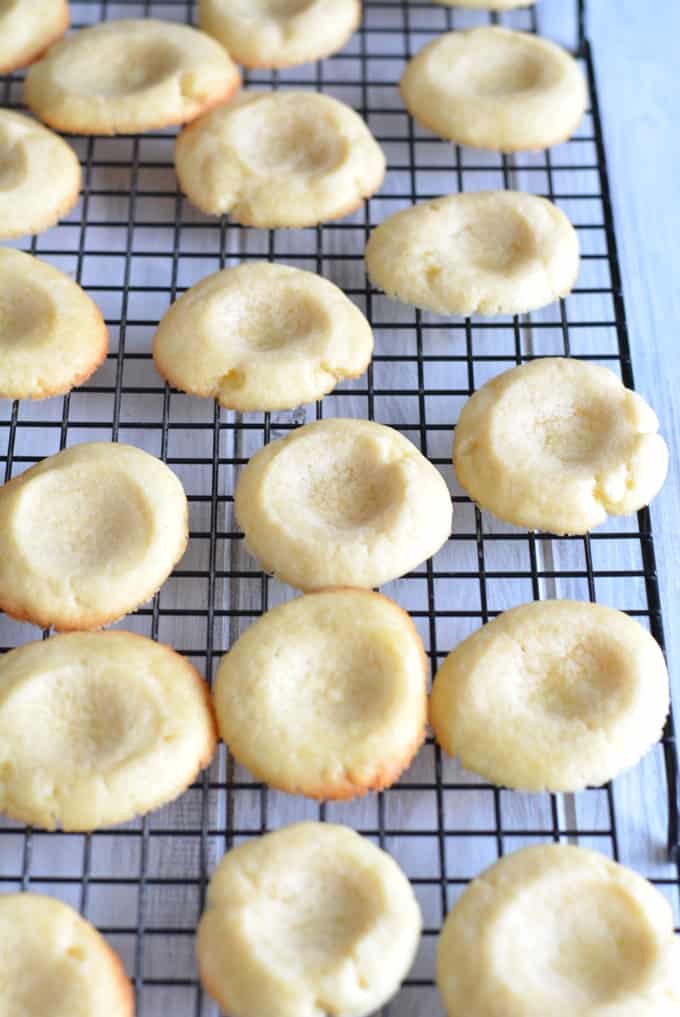 You can see that in some of the cookies the well expanded a bit.  I fixed the thumbprint about ¾ths of the way through the baking process, otherwise, the cookies would have been flatter.  I needed to do this regardless of the temperature of the dough prior to baking. In other words, it did not matter whether the dough was really cold or warm, the cookies still spread enough to require me to fix the thumb print.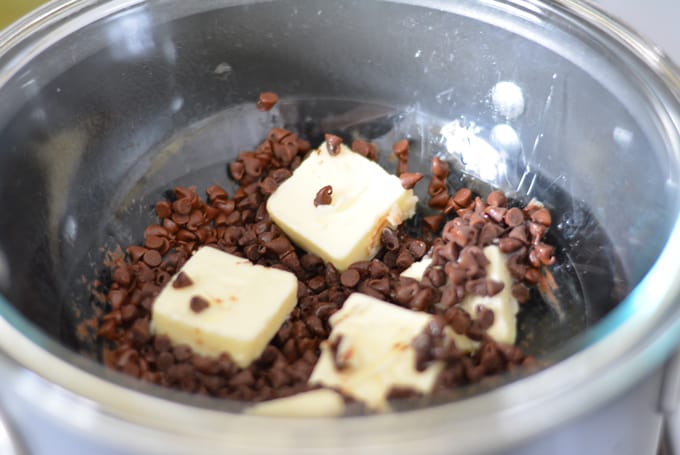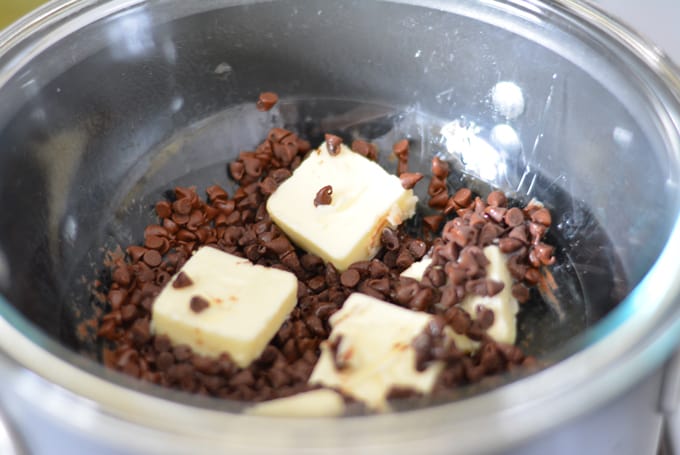 Like I said earlier thumb print cookies can be made is so many different varieties. I chose chocolate icing because that was always from favorite choice when my mom would buy thumbprint cookies at the local bakery.  Whenever I try something new I'm not sure how my family members will react.  These cookies got the thumbs up from my daughter.
Have you tried any new cookie recipes this year? Let me know in the comments.
Get the Recipe!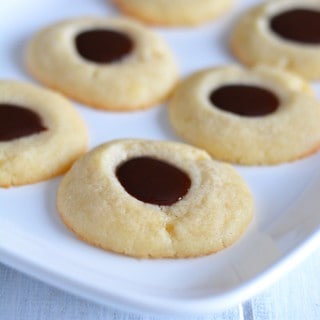 Chocolate Iced Thumbprint Cookies
Easy thumbprint cookies can be topped with any icing.
Ingredients
Cookies

1

cup

unsalted butter

softened to room temperature

1

cup

sugar

1

teaspoon

vanilla extract

1

egg

2

cups

all-purpose flour

1

Tablespoon

cornstarch

¼

teaspoon

salt

4

ounces

semi sweet chocolate

4

Tablespoons

butter softened

2

teaspoons

corn starch
Instructions
Preheat oven to 350 degrees F.

In a mixing bowl combine butter and sugar.

Beat until creamy.

Add in vanilla and egg and mix until well blended.

In a separate bowl combine flour, cornstarch, and salt.

Slowly add flour mixture in batches into butter mixture.

Mix until well incorporated.

Place cookie dough info the refrigerator and cool overnight.

When ready to bake take 1 tablespoon of dough and form into a ball.

Place dough on a cookie sheet.

Make a small well in the center of each cookie using either your thumb or the back of a 1 teaspoon measuring spoon. (you may need to redo the well after baking.

Place cookies in the oven and bake for 12-15 minutes or until edges are brown.

Remove cookie from oven and let cool for about a minute on baking sheet before transferring to cooling rack.

Place a glass bowl over a pot of boiling water.

Melt chocolate with butter and corn syrup.

Remove from heat and let cool for about 10 minutes.

Place cooled chocolate into well of each cookie (about 1 teaspoon) and let set.
Nutrition
Serving:
1
cookie
Calories:
124
kcal
Carbohydrates:
12
g
Protein:
1
g
Fat:
7
g
Saturated Fat:
4
g
Cholesterol:
21
mg
Sodium:
30
mg
Potassium:
28
mg
Fiber:
0
g
Sugar:
6
g
Vitamin A:
205
IU
Calcium:
6
mg
Iron:
0.5
mg
Tried this recipe?
Mention @nourishedsimply