Breakfast cookie recipes are popping up all over Pinterest. Who knew it was now o.k to eat cookies for breakfast?! This peanut butter oatmeal breakfast cookie is a perfect start to your morning.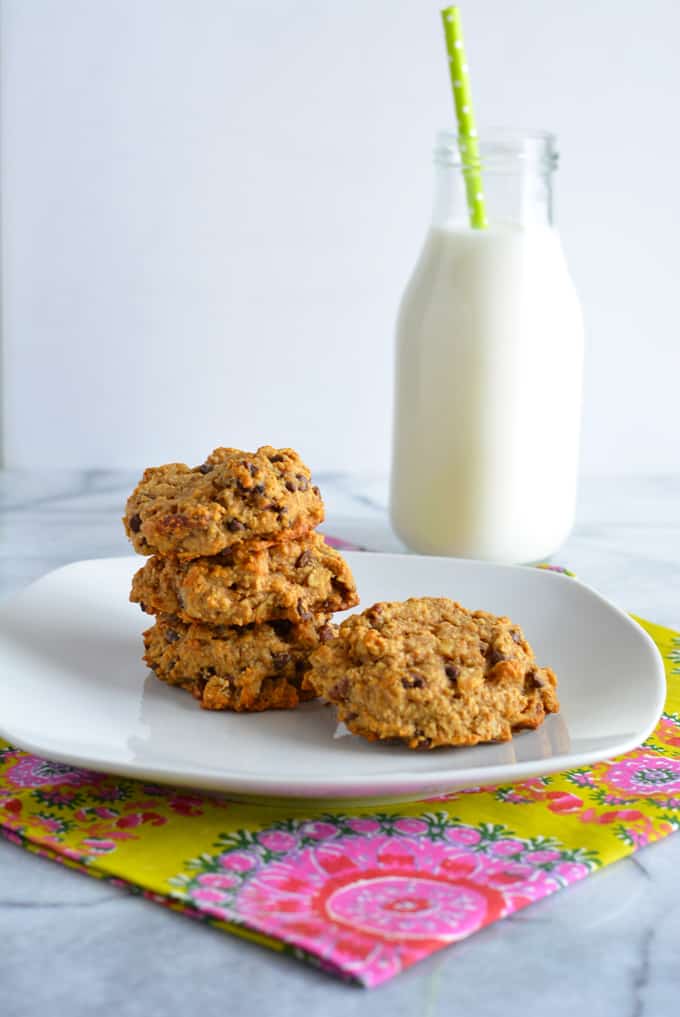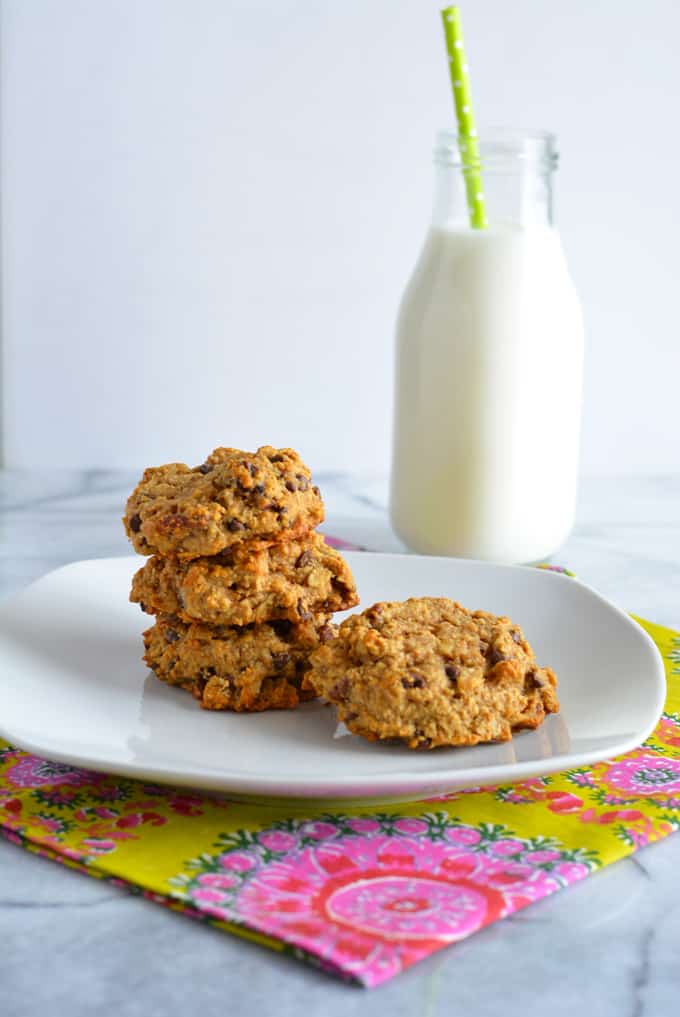 It's time again for the monthly Recipe Redux challenge.  This month's theme is  Break Out of Breakfast Boredom!
Cooks aren't always pressed for time in the mornings – they just need new ideas. Think mug cakes, smoothie bowls, breakfast cookies and more. Show us the healthy way you wake up your breakfast – or wake up just for breakfast!
Many of my clients skip breakfast because they either run out of ideas for breakfast or don't have the time on a busy morning to prepare breakfast.  This months challenge is a great way for you to get some new and interesting ideas from participants.  Check out the links at the bottom of this post to see all the recipes from today.  Another batch of recipes will be published tomorrow, so don't forget to check those out too!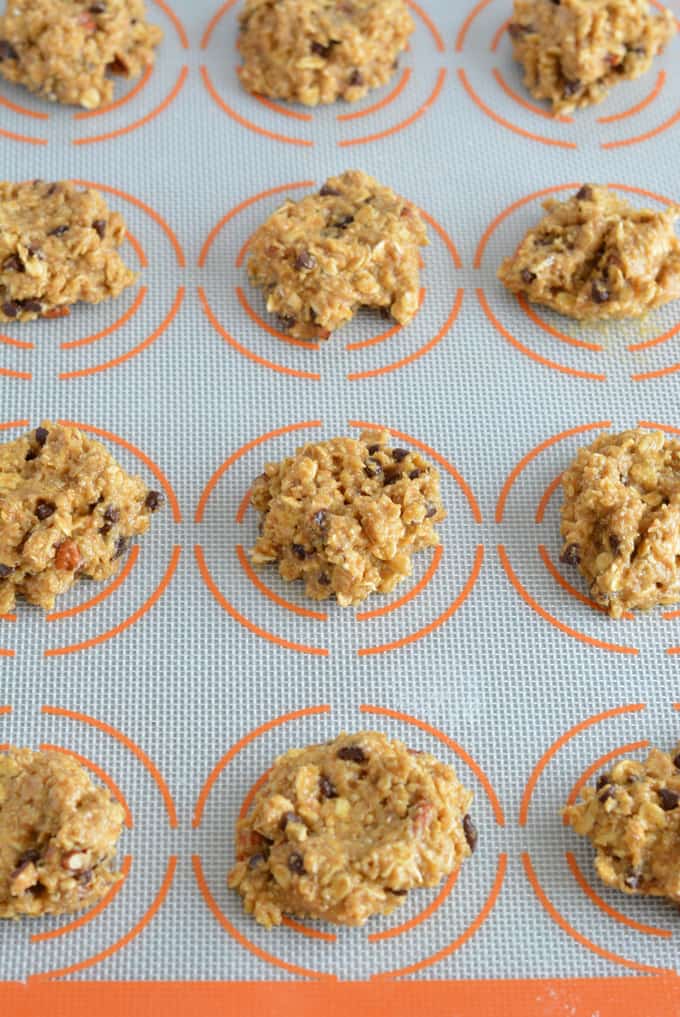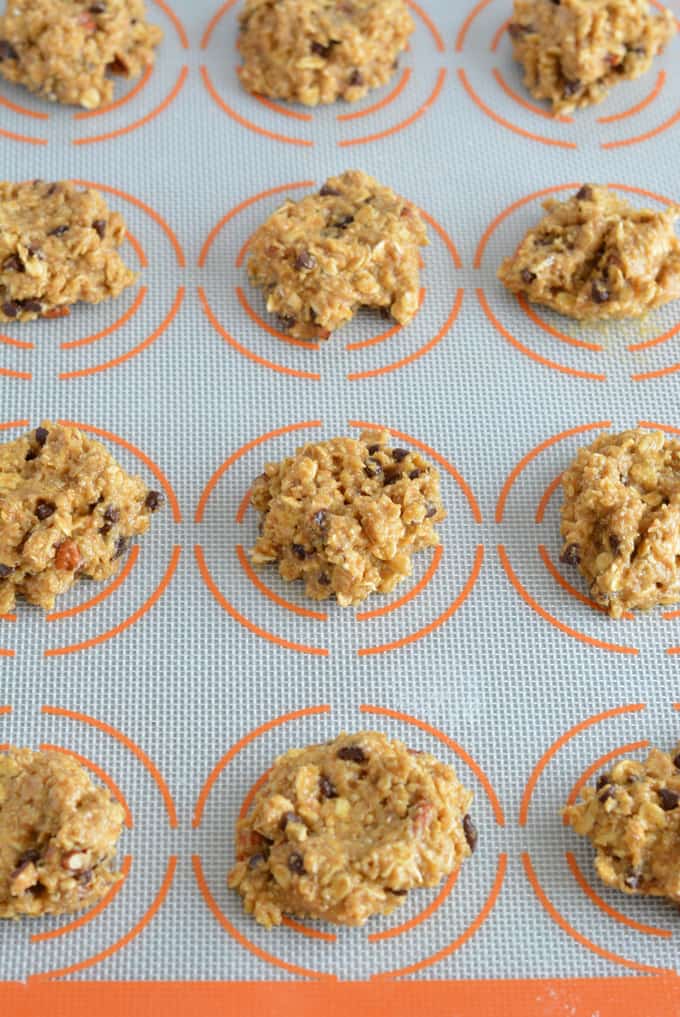 For this challenge, I chose to make a breakfast cookie.  When I was a kid we would eat cookies for breakfast, especially during the holiday's when we were swimming in Christmas cookies.  Even now if I have homemade cookies in the house I might sneak one in the morning.  Don't judge me! Of course, I feel guilty for eating a cookie for breakfast, but I know I am not the only person to do it!
My grandfather used to eat cake for breakfast.  He always purchased a crumb cake and called it breakfast cake.  I guess he thought that adding the word breakfast made it o.k. Breakfast cookies are a bit different. These cookies are made with better ingredients, are higher in fiber, contain healthy fats, and are free of heavily refined sugar. Eating a "better for you" cookie for breakfast then the high sugar/ high-fat traditional cookies is a healthier way to start the day and definitely will make me feel less guilty!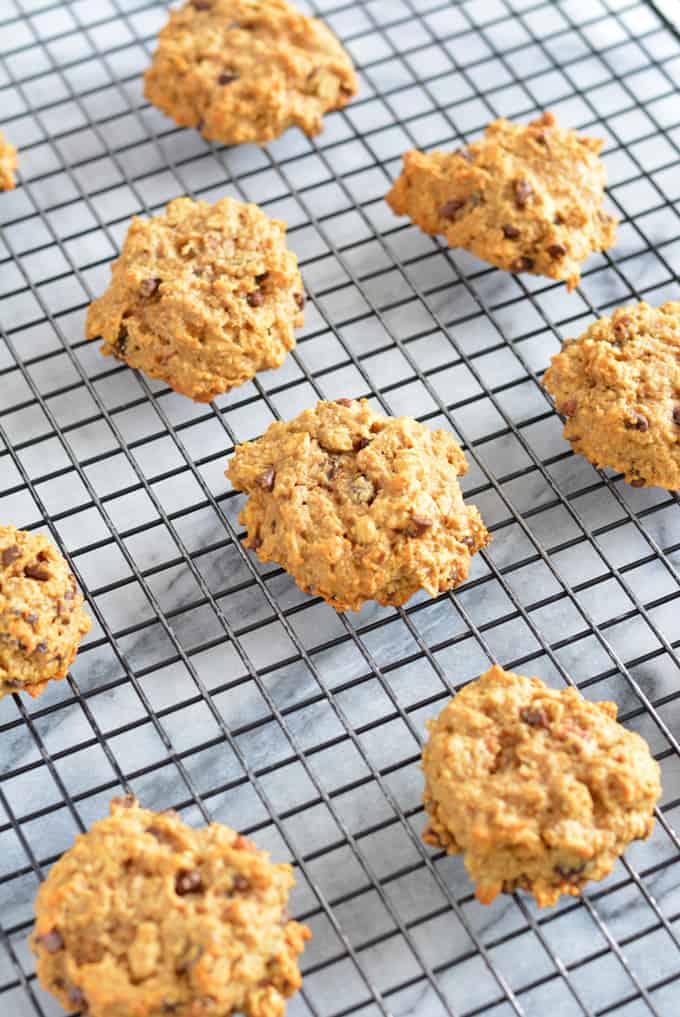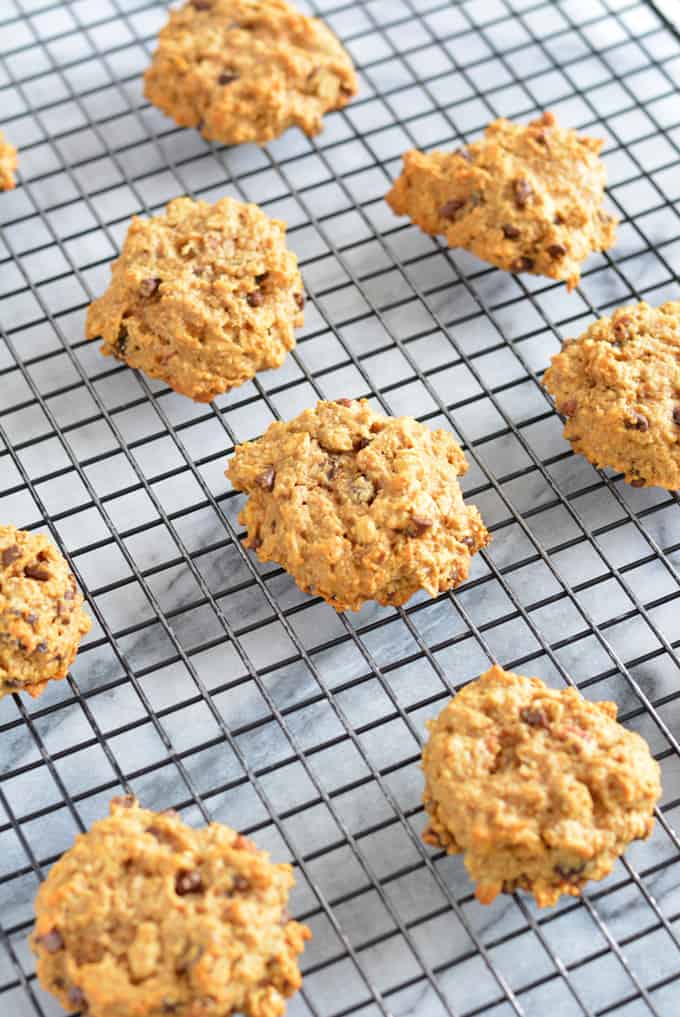 Just scroll through Pinterest and you will see tons of breakfast cookie recipes.  I really didn't know what made a cookie a "breakfast" cookie until I looked through a bunch of different recipes.
What makes a cookie and breakfast cookie?
Whole grains:  Most cookie recipes use whole wheat flour and rolled oats.  You may also see flax and chia seeds.
Healthy fats: Common fat sources are coconut oil or avocado. Some recipes use butter, but not many.
Little refined sugar:  Breakfast cookies are sweetened with honey and fruit, such as mashed banana or applesauce.  You won't see granulated sugar or brown sugar in most breakfast cookie recipes.
Lots of added ingredients:  Breakfast cookie recipes have a wide array of additional ingredients, which makes this type of cookie really fun to make.  The possibilities are endless! Examples of common ingredients include dried fruit, nuts, chocolate chips, carrots, zucchini, and pumpkin.
[Tweet "Breakfast cookies are fun to make. The ingredient possibilities are endless! #nourishedsimply #breakfast #thereciperedux"]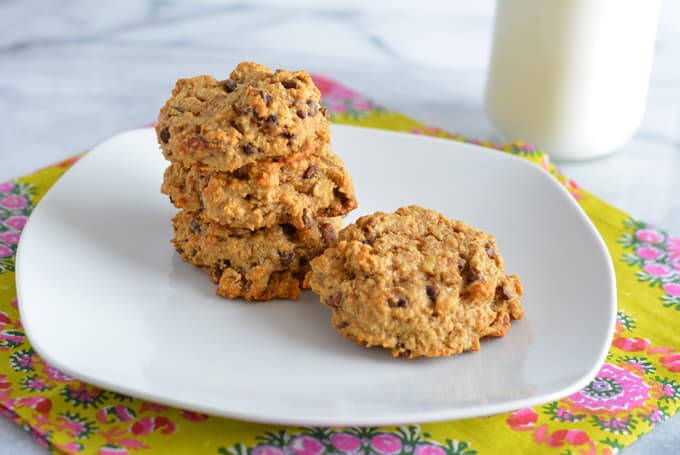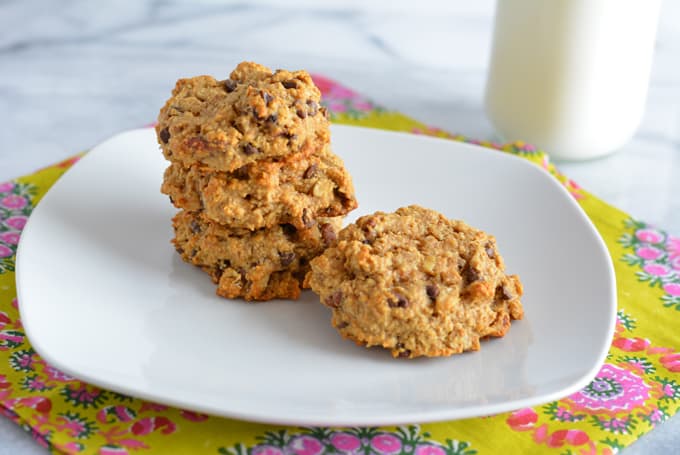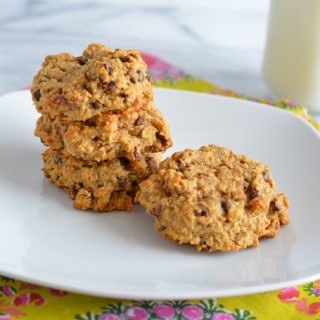 Peanut Butter Oatmeal Breakfast Cookie
Yes, you can eat cookies for breakfast! These peanut butter oatmeal breakfast cookies are a quick grab and go breakfast choice.
Ingredients
1

cup

whole wheat flour

1

cup

rolled oats

½

cup

oat bran

1

teaspoon

baking soda

½

teaspoon

salt

¼

cup

coconut oil

½

cup

peanut butter

½

cup

honey

½

cup

apple sauce

1

teaspoon

vanilla extract

1

egg

slightly beaten

6

dates

diced

⅓

cup

pecans

chopped

⅓

cup

mini chocolate chips
Instructions
Preheat oven to 350 degrees F.

In a medium sized bowl stir together flour, oats, oat bran, baking soda, and salt.

In a microwave safe bowl heat together coconut oil, peanut butter, and honey on high for 30 seconds, then stir to combine.

Add apple sauce, vanilla, and egg to peanut butter mixture, stirring to combine.

Slowly add the dry ingredients in small batches into the peanut butter mixture, stir to thoroughly combine all ingredients.

Stir in dates, pecan, and chocolate chips.

Drop tablespoon sized balls of dough onto a cookie sheet lined with parchment paper or a baking mat.

Slightly flatten cookie.

Bake cookies for 8-10 minutes until slightly browned.

Cool for 3-5 minutes on the baking sheet, then transfer cookie to a cooling rack.
Nutrition
Serving:
1
g
Calories:
191
kcal
Carbohydrates:
27.3
g
Protein:
4
g
Fat:
8.9
g
Saturated Fat:
3.8
g
Polyunsaturated Fat:
0
g
Monounsaturated Fat:
0
g
Trans Fat:
0
g
Cholesterol:
9.9
mg
Sodium:
129.2
mg
Potassium:
0
mg
Fiber:
2.7
g
Sugar:
16.7
g
Vitamin A:
0
IU
Vitamin C:
0
mg
Calcium:
0
mg
Iron:
0
mg
Tried this recipe?
Mention @nourishedsimply
This Peanut Butter Oatmeal Breakfast cookie is really great sources of fiber.  Many people don't get enough fiber, especially now with the popularity of gluten free and grain free diets.  Fiber is essential to our gut health. Fiber helps to naturally remove waste from our body. High fiber diets have been shown to lower cholesterol levels (cholesterol gets removed from the body along with fiber), improves blood sugar levels (delays the absorptions of sugar), decreases the risk of some cancers (colon), and helps us feel fuller longer.
I recommend pairing breakfast cookies with a serving of milk or yogurt and of course fresh fruit! Tell me, have you ever enjoyed a cookie for breakfast?