Squash is so abundant throughout the Fall season, especially butternut squash. You can enjoy butternut squash in many different recipes from soups, sides dishes, salads, and sauces. This three-cheese butternut squash lasagna puts a Fall twist on a classic Italian recipe. The butternut squash blends perfectly with the creamy cheese layers of the lasagna making this a perfect Fall comfort food.
This post was originally posted on November 20, 2014. It has been updated.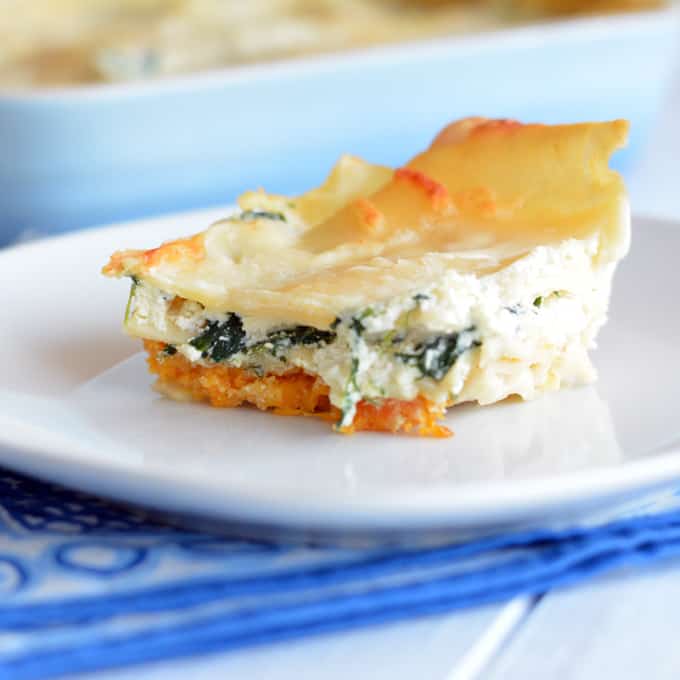 I am very traditional and cook many traditional recipes.  I save all sorts of unusual looking recipes of Pinterest but am reluctant to give these recipes a try.  This time I went a bit out of my comfort zone and made changes my traditional lasagna recipe to be more representative of Fall.
Don't get me wrong I love traditional lasagna, but sometimes I want a change!  It is also important to me to incorporate a few meatless meals into our diet throughout the week.  I haven't found a vegetarian lasagna that I liked until now. This recipe is not vegan, because it contains cheese, but is classified as vegetarian.
Even though this butternut squash lasagna recipe is meat-free it is still rich in protein, providing 14 grams of protein per serving.  For meat-eaters trust me, you won't miss the meat at all.  Finally, you will still be able to get your iron dose from fresh spinach instead of red meat, which is better for heart health.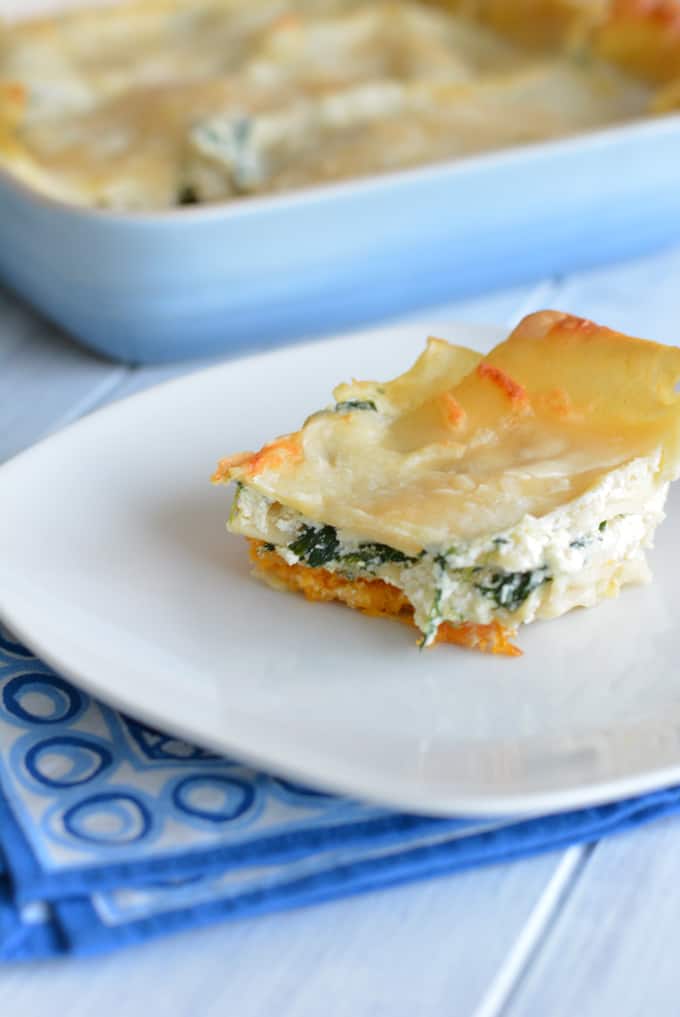 Tips for Three-Cheese Butternut Squash Lasagna
You can use store prepared butternut squash. There is no shame in letting someone else cut it up.
If you do buy a whole butternut squash microwave the squash for 3-31/2 minute to soften it before you attempt to peel and chop up the squash. This will make the job a lot easier (and safer).
To speed up cooking time you can prep the butternut squash the night before. In a pinch, you could you frozen butternut squash and skip the roasting step.
You don't have to use butternut squash: acorn squash and delicata would be great substitutions.
You can add any veggie you want. If you don't like spinach add in another veggie or eliminate it altogether.
You May Need….
The following are affiliate links. I participate in the Amazon Services LLC Associations Program, an affiliate advertising program that is designed to allow me to earn fees by linking to Amazon.com products.
This Le Creuset Stoneware Dish is my favorite baking dish. I love the color and ease of cleaning.
Three-Cheese Butternut Squash Lasagna
Ingredients
9

lasagna noodles

3

cups

butternut squash chunks

5

ounce

packages of baby spinach

4

tablespoon

Mascarpone Cheese

1/2

cup

shredded Mozzarella Cheese

1

cup

Ricotta Cheese

4

ounces

shaved or shredded Parmesan Cheese

1

cup

skim milk

1

clove

garlic

minced

1

Tablespoon

flour

4

teaspoons

olive oil

will use separately
Instructions
Squash Mixture:
Toss butternut squash chunks with 2 teaspoons olive oil.

Place butternut squash in a 375 degree F oven to roast for 45 minutes or until soft.

Meanwhile, cook lasagna noodles according to package directions.

When the butternut squash is soft ( you get easily put a fork through it) remove from the squash from the oven and let cool.

When squash is cooled mash with a potato masher and add Mascarpone Cheese and mix well.
Spinach:
In a sauté pan heat 1 teaspoon of olive oil of medium heat.

Add washed and dried spinach to the sauté pan.

Cook spinach until wilted, remove from heat.

Stir spinach into ricotta cheese.
Parmesan Cheese Sauce:
Heat 1 teaspoon olive oil over medium heat.

Add in 1 clove garlic minced and cook for 1-2 minutes.

Slowly add in flour, stirring to make a roux.

Slowly whisk in milk, heat until scalded.

Remove from heat and slowly add in 1/4 cup (2 ounces) of Parmesan Cheese and stir until melted.
Assemble Lasagna:
In a 9x9 inch baking pan spread about 1/4 cup of Parmesan Cheese sauce to coat pan.

Place three noodles on the bottom of the pan, trim to fit pan.

Spread butternut squash mixture on the noodles.

Add another layer of noodles.

Next spread in ricotta/spinach mixture.

Add the last layer of noodles.

Pour remaining parmesan cheese sauce over the top layer of noodles.

Add mozzarella cheese and remaining parmesan cheese to the top.

Bake in a preheated 350 degree F oven for 20-30 minutes or until cheese melts and is bubbly.
Nutrition Facts
Three-Cheese Butternut Squash Lasagna
Amount Per Serving (1 g)
Calories 280
Calories from Fat 112
% Daily Value*
Fat 12.4g19%
Cholesterol 33.5mg11%
Sodium 286.9mg12%
Carbohydrates 28.4g9%
Protein 14.1g28%
* Percent Daily Values are based on a 2000 calorie diet.
You may also like these squash recipes:
Alfredo Butternut Squash Stuffed Shells
Vegan Roasted Acorn Squash Soup
30-Minute Leftover Turkey Pot Pie
Other tools you may need….