I love banana nut muffins.  An indulgence of mine is to pick up a Banana Nut Muffin from Wawa every once in a while.  The Wawa muffins are delicious, but have a bit of an artificial taste.  Who knows what's in them!  I have not been able to find a recipe though that I really liked until now.  My inspiration came from a number of recipes including my mother-in-laws recipe for banana nut bread, which we like.
I love streusel toppings.  I thought this would work really well with the walnuts in this recipe.  The topping is a bit sweet, so you can easily eliminate this step.  Make sure you use really ripe banana for the most intense flavor.  Whenever we have banana's turn brown I know it's time to bake!
The muffins are really moist.  I prefer to freeze muffins, so I'm not tempted to eat them all before they go stale.  To protect the topping wrap each muffin individually in plastic wrap.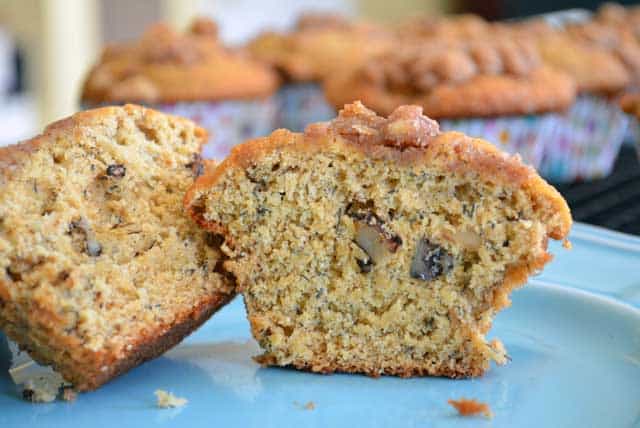 Ingredients
1 1/2

cup

whole wheat flour

1/2

cup

oat bran

1

teaspoon

baking powder

1

teaspoon

baking soda

1/2

teaspoon

salt

1/2

cup

brown sugar

1/4

cup

white sugar

4

tablespoons

coconut oil

1

egg

1

egg white

4

small bananas

1

teaspoon

vanilla extract

3

tablespoons

skim milk

3/4

cup

chopped walnuts

For Topping

1/2

cup

chopped walnuts

1/4

cup

brown sugar

2

tablespoons

whole wheat flour

1/4

teaspoon

cinnamon

2

tablespoons

butter
Instructions
Preheat over to 350 degrees.

Cream together sugars and coconut oil.

Add in egg, egg white, and banana.

Mix until combined.

Add in milk and vanilla.

In a seperate bowl sift together flour, baking powder, baking soda, and salt.

Add to wet mixture in small batches.

Mix until combined.

Stir in walnuts.

Spoon into prepared muffin pan. Use muffin cups or grease and flour pan.

Fill muffin cups 2/3 full.

For topping.

Combine walnuts, flour, sugar, and cinnamon. Cut in butter until mixture crumbles.

Add topping mixture to tops of muffin batter.

Bake muffins for 20 minutes or until a toothpick inserted into the center of a muffin comes out clean.
Notes
If you fill the muffin cups 2/3 full you would get about 16 muffins. I don't like to use more than one pan (more to clean!) so I fill the cups up and get 12 muffins.
Nutrition
Calories:
0
kcal
|
Carbohydrates:
0
g
|
Protein:
0
g
|
Fat:
0
g
|
Saturated Fat:
0
g
|
Polyunsaturated Fat:
0
g
|
Monounsaturated Fat:
0
g
|
Trans Fat:
0
g
|
Cholesterol:
0
mg
|
Sodium:
0
mg
|
Potassium:
0
mg
|
Fiber:
0
g
|
Sugar:
0
g
|
Vitamin A:
0
IU
|
Vitamin C:
0
mg
|
Calcium:
0
mg
|
Iron:
0
mg