Mulligatawny soup is a classic Indian soup made with curry, rice, and coconut milk. This is soup is a wonderful blend of sweet and spicey.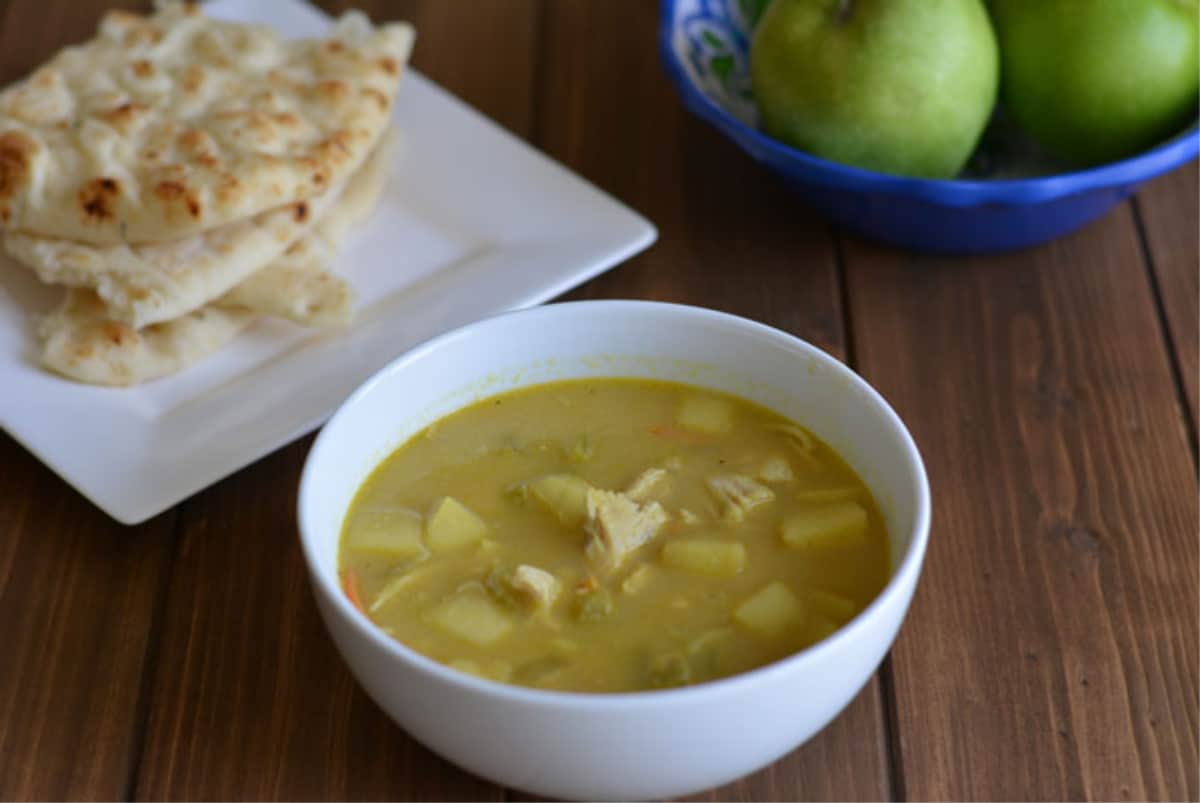 It is time again for the Recipe Redux recipe of the month. This month's Recipe Redux is frightening!
Spooky Spices: You know they are lurking there: Way in the back of your spice drawer. There lie the herbs, spices, or rubs that are getting dusty because you're afraid to use them… you simply don't know what to do with them! Well, pull them out and show us a recipe you created to deliciously conquer that fearful spice. (Or maybe the recipe was a flop – and the spice still give you nightmares?!)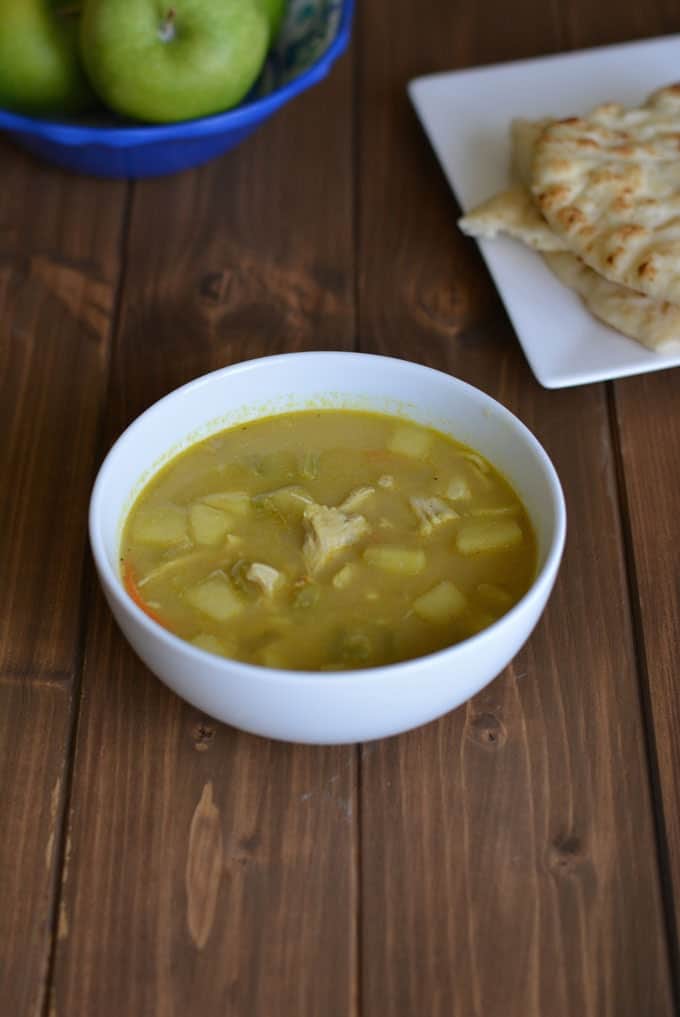 The spooky, scary spice in our house is curry. The mention of the word curry makes my husband cringe and appear to be ill.
I have never cooked with it and rarely order anything with curry because of his reaction to the spice. I have wanted to try the Indian restaurant near our home for a long time, but I don't want to go alone.
I finally tried Indian food for the first time in March when I was with a group of dietitians. Scott certainly won't try Indian food, because he mistakenly thinks everything has curry in it.
A few years ago the hospital cafeteria served Mulligatawny soup. I had never heard of it and had no idea what ingredients it contained.
Of course, I looked the recipe up as soon as I had the chance. Any nutritionist would! I was a bit sad when I saw curry as an ingredient because I knew I would never be able to make the soup.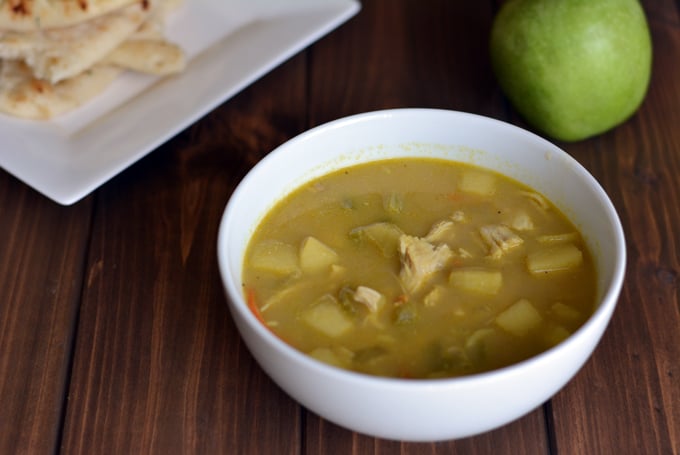 This month's Recipe Redux challenge was my ticket to finally attempting Mulligatawny Soup. The soup also fits into this month's theme on Nourished Simply - Apples.
Mulligatawny soup includes apples, particularly Granny Smith, in the recipe. I prepared my recipe during the day when Scott was at work.
I thought I might be able to trick him into trying the soup. As soon as he came home he asked what smelled.
Then he opened the refrigerator and wanted to know what the green soup was. Before I could tell him, he said "You used curry, didn't you?"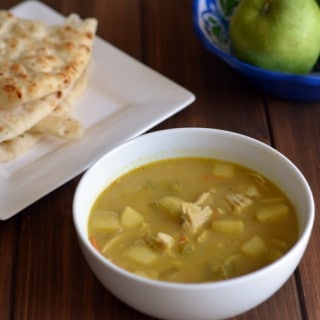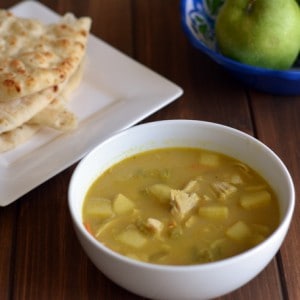 Mulligatawny Soup with Chicken
A healthy lower fat version of the classic Indian soup mulligatawny with lean chicken breast.
Ingredients
1

tablespoon

olive oil

1

cup

onion

diced

1

cup

carrots

shredded

1

cup

celery

diced

3

cloves of garlic

minced

3

Granny Smith Apples

peeled and cubed

2

teaspoons

curry powder

1

teaspoon

ground ginger

5

cups

Low Sodium Chicken Broth

¾

cup

Rice

can use white, brown, Jasmine or Basmati

2

Large Boneless Skinless Chicken Breasts cooked and shredded

2

cups

Unsweetened Coconut Milk Beverage

Salt and Pepper to taste
Instructions
In a large stockpot heat olive oil over medium-high heat.

Add onion, garlic, celery, and carrots, cook until soft.

Add apples, curry, and ginger, cooking until apples soften.

Add chicken stock and rice, heat to a boil.

Reduce heat to low and simmer for about 10 minutes.

Add in cooked chicken and cook for another 5 minutes.

Slowly stir in coconut milk, heat for an additional 5-10 minutes.
Notes
Do not use canned coconut milk. The fat content is too high. Use an unsweetened coconut milk beverage.
If you wish to lower the salt content of this soup, even more, use my recipes for no added salt chicken broth.
Nutrition
Serving:
1
cup
Calories:
319
kcal
Carbohydrates:
42
g
Protein:
23
g
Fat:
7
g
Saturated Fat:
3
g
Cholesterol:
48
mg
Sodium:
178
mg
Potassium:
733
mg
Fiber:
4
g
Sugar:
15
g
Vitamin A:
3711
IU
Vitamin C:
9
mg
Calcium:
79
mg
Iron:
1
mg
Tried this recipe?
Mention @nourishedsimply
Soup is pretty high in salt even with a low salt chicken broth. If you want to lower the salt content, even more, use my no added salt chicken broth!
I love this soup. I made it extra hearty with lots of veggies and shredded chicken. I had a huge bowl the day I made this recipe to be photographed and continued to eat it for lunch the next few days. Scott doesn't know what he is missing!
Tips to make mulligatawny soup:
If you wish to keep this soup vegetarian you can eliminate the chicken and use vegetable broth instead of chicken stock.
Use unsweetened coconut milk drink NOT canned coconut milk in order to lower the fat and sugar content.
If you are following a low carb diet you can leave out the rice.
If you want to lower the salt content ever more use my no added salt chicken broth recipe!