I have to admit I really don't love pie, at least traditional fruit pies.  I love fresh fruit, but dislike the texture of most cooked fruits.  So the only two pies I will actually eat are pecan pie and chocolate cream pie.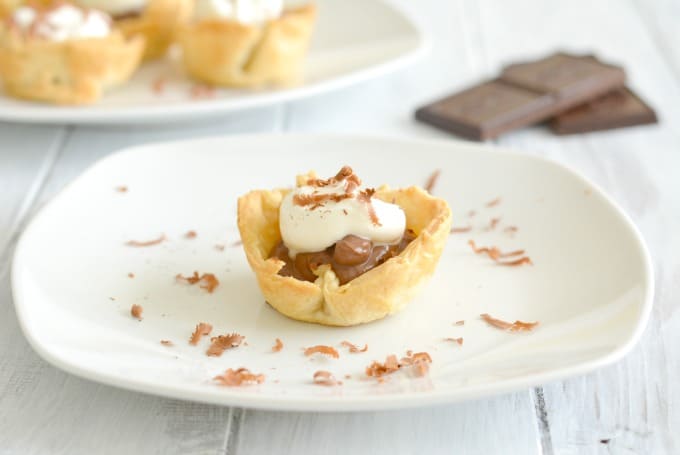 Just about anything chocolate is ok with me.  I even put chocolate in my pecan pies! Pie, like all desserts, are pretty high in the calorie department.
The serving sizes of many pies and cakes cause you to consume 500 calories easily.  The chocolate cream pie recipe that I love and have used for years yields a 525 calorie slice! OMG!
To help reduce the calorie impact of my own sweet tooth I have begun to make desserts in smaller forms, hence these Mini Chocolate Cream Pies.  Using a refrigerated pie crust you can whip this recipe up and be ready to eat pie in less than an hour.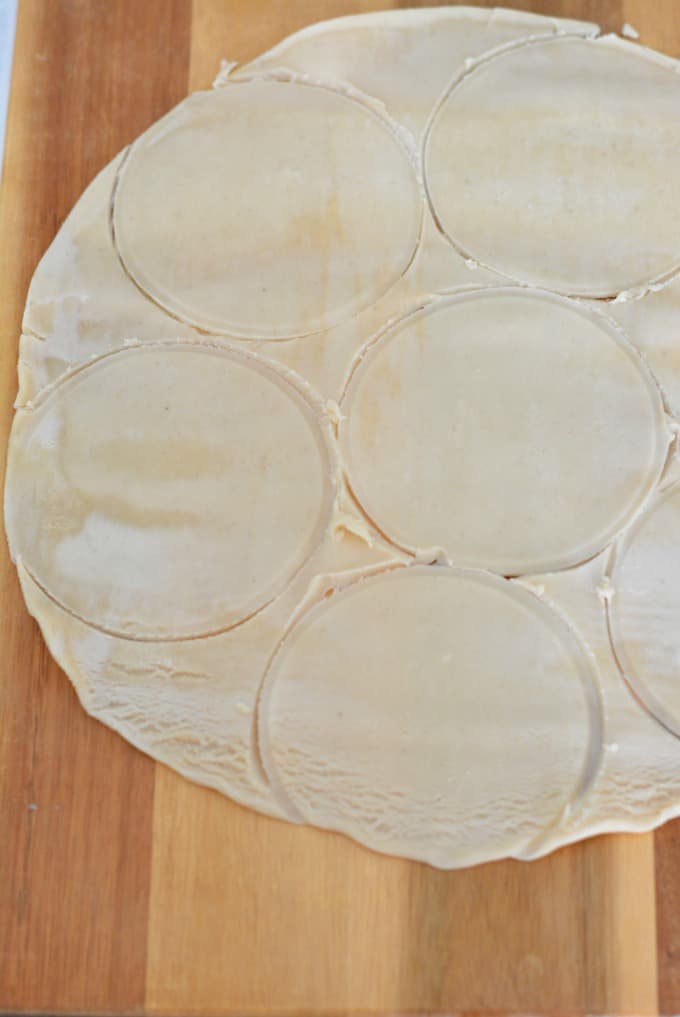 You simply cut out smaller circles from the pie crust dough.  Unfortunately, I do not have a round cookie cutter.  I only own holiday, flower, and dinosaur-shaped cookie cutters!  So I improvised and grabbed a disposable cup to use as my guide.
Who says you need fancy tools!!  I was able to get 6 smaller circles.  There is a bit of dough let. You could make a 7th mini crust, but I prefer even numbers.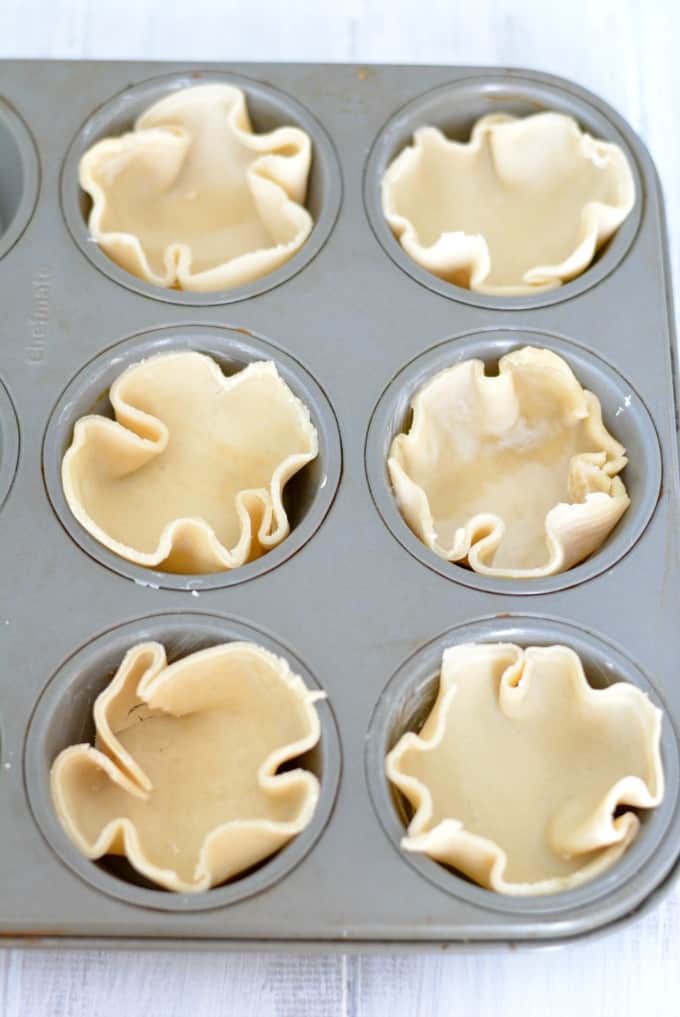 Tips to make your one mini chocolate cream pies!
When using the refrigerated pie crust you do need to grease the pie plate, because we generally slice the pie and eat it from the pie plate.  Since these mini pie cups need to be removed from the cupcake pan you need to grease the cupcake cups.
Prior to baking prick the crust several times with a fork all around the cup.  This prevents bubbles from forming and lets the crust cook evenly.
The chocolate cream takes the longest to prepare.  The ingredients need to be heated slowly or else you will end up with cooked egg pieces in your cream (which I have done) or you may burn the milk and or chocolate (I did this too!).
I am not a patient person, so constantly stirring the cream until it thickens (about 15 minutes) is a bit frustrating. So worth it in the end though!
After the cream has chilled for about 30 minutes you can assemble the mini pies.  Many pie recipes tell you to allow the cream to set in the pie crust.  I don't do this, but this is just my preference.  This is a good idea if you are like me and often have imperfect pie cups.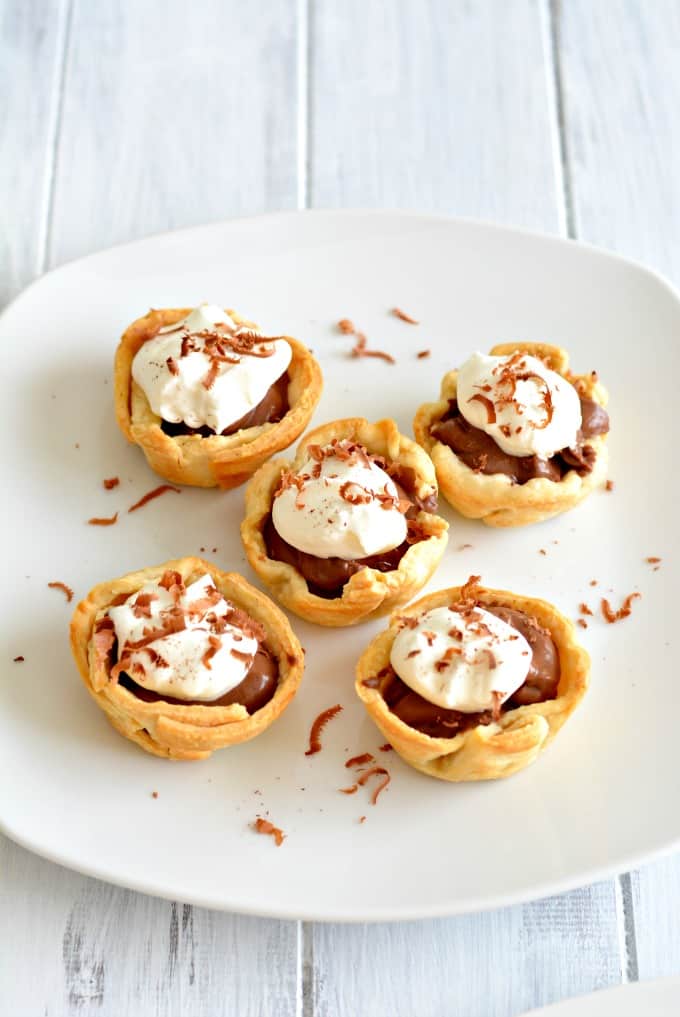 The whipped cream only takes a few minutes to prepare.  I love fresh whipped cream, so I wait until we are ready to serve the mini pies.  This recipe only makes 6 pies.  Like I said earlier you can probably squeeze about 7 crust cups if you need to.
You will also likely have left over chocolate cream and whipped cream.  Most refrigerated pie crusts come with two crusts per package, so doubling this recipe makes sense.  I like to make a few at a time so I am not tempted to eat too many!
Side note:  I experimented with Stevia in the Raw with this recipe, but felt that the pies had an after taste that I was not fond of.  The calorie and sugar difference between the recipe with Stevia and without was not that significant, so I prefer this recipe with sugar.  Yes, white sugar!
Recipe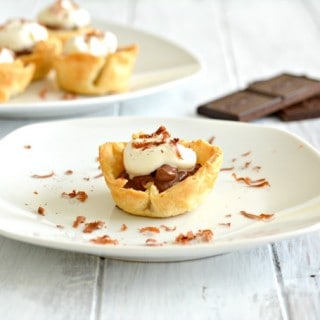 Mini Chocolate Cream Pies
Ingredients
1

refrigerated prepared pie crust

3

tablespoons

sugar

Pinch

of sea salt

1

Tablespoon

corn starch

1

cup

low fat milk

1

egg yolk

beaten

1

ounce

unsweetened chocolate

1

ounce

semi sweet chocolate

1

teaspoon

butter

½

teaspoon

vanilla

⅓

cup

heavy whipping cream

1

teaspoon

confectioners sugar
Instructions
Roll out pie crust and cut out 6 circles (I used a cup as a guide)

Grease 6 cups of a cupcake baking pan.

Place dough into each of the 6 prepared cups.

Prick the sides and bottom of dough in each cup.

Bake according to package directions.

While pie cups are baking prepare chocolate cream.

In a saucepan combine sugar, salt, and corn starch.

Slowly whisk in milk, egg yolk, and chocolates.

Stir continually until cream thickens (coats a spoon).

Remove from heat and stir in butter and vanilla.

Place chocolate cream into the refrigerator and chill for thirty minutes.

Prior to assembling the mini pies prepare the whipped cream.

In a medium bowl combine heavy cream and confectioners sugar.

Beat on high with a hand mixer until stiff peaks form.

Divide chocolate cream into the mini pie shells.

Top with whipped cream.

Garnish with shaved chocolate.
Notes
When I make whipped cream I usually make an entire cup, however this recipe only uses about a third of the prepared whipped cream. If you want left over whipped cream increase the heavy cream to 1 cup and the confectioners sugar to 1 tablespoon.
Nutrition
Serving:
1
g
Calories:
176
kcal
Carbohydrates:
17.9
g
Protein:
2.6
g
Fat:
11.2
g
Saturated Fat:
5.3
g
Polyunsaturated Fat:
0
g
Monounsaturated Fat:
0
g
Trans Fat:
0
g
Cholesterol:
36
mg
Sodium:
122
mg
Potassium:
0
mg
Fiber:
0
g
Sugar:
8.8
g
Vitamin A:
0
IU
Vitamin C:
0
mg
Calcium:
0
mg
Iron:
0
mg
Tried this recipe?
Mention @nourishedsimply