No one can resist a moist lemon cake topped with a creamy lemon frosting. This lightened up glazed lemon loaf is lower in sugar and calories than traditional recipes. A perfectly refreshing dessert that can be enjoyed by anyone worried about their sugar intake.
I received free samples of Swerve mentioned in this post. By posting this recipe I am entering a recipe contest sponsored by Swerve and am eligible to win prizes associated with the contest. I was not compensated for my time.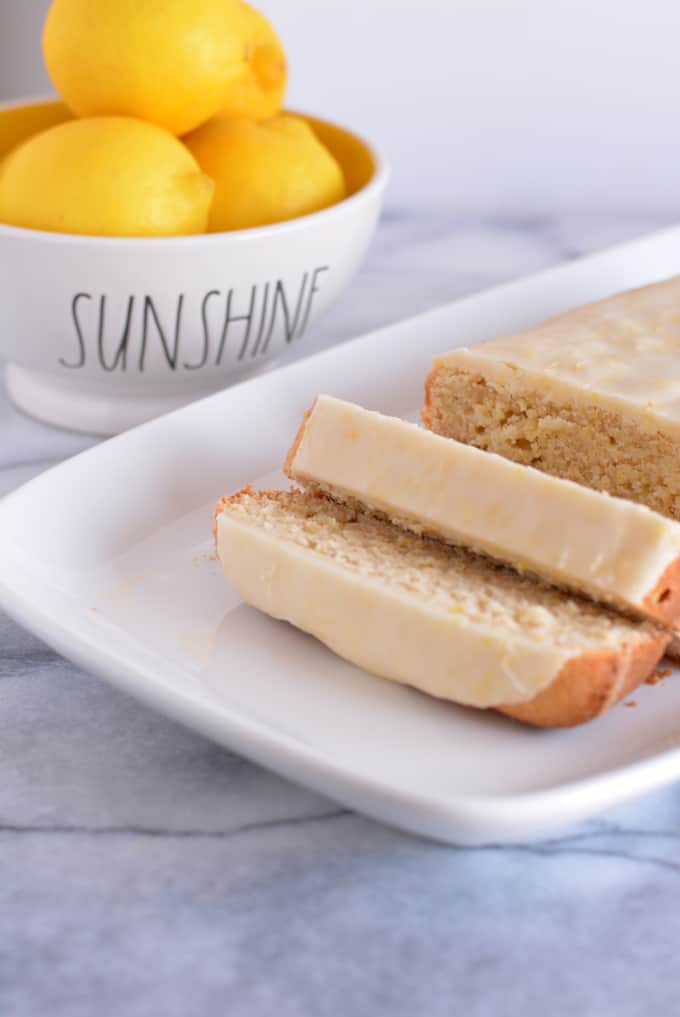 Desserts are one of the first things to go when people are trying to lose weight. Many of my diabetic and bariatric surgery patients have to give them up too. By using a non-calorie sweetener like Swerve, either in combination with regular sugar or in place of sugar, you can have your cake and eat it too!
I couldn't wait to try out Swerve. As a weight loss dietitian who works primarily with individuals who are diabetic and or struggle with obesity, I have many conversations about sugar substitutes.  Everyone is looking for natural sweeteners that free from chemicals.  Swerve is a natural sweeter that can be used in place of sugar in any recipe.
Swerve Facts
Swerve tastes, bakes, and measures just like sugar.
Swerve contains zero calories and does not affect blood sugar, making it a great choice for diabetics.
Swerve is made from all-natural ingredients and does not contain any artificial ingredients, preservatives, or flavors.
The main ingredient in Swerve, Erythritol, has a high gastrointestinal tolerance and does not cause the digestive issues commonly associated with other sugar alcohols.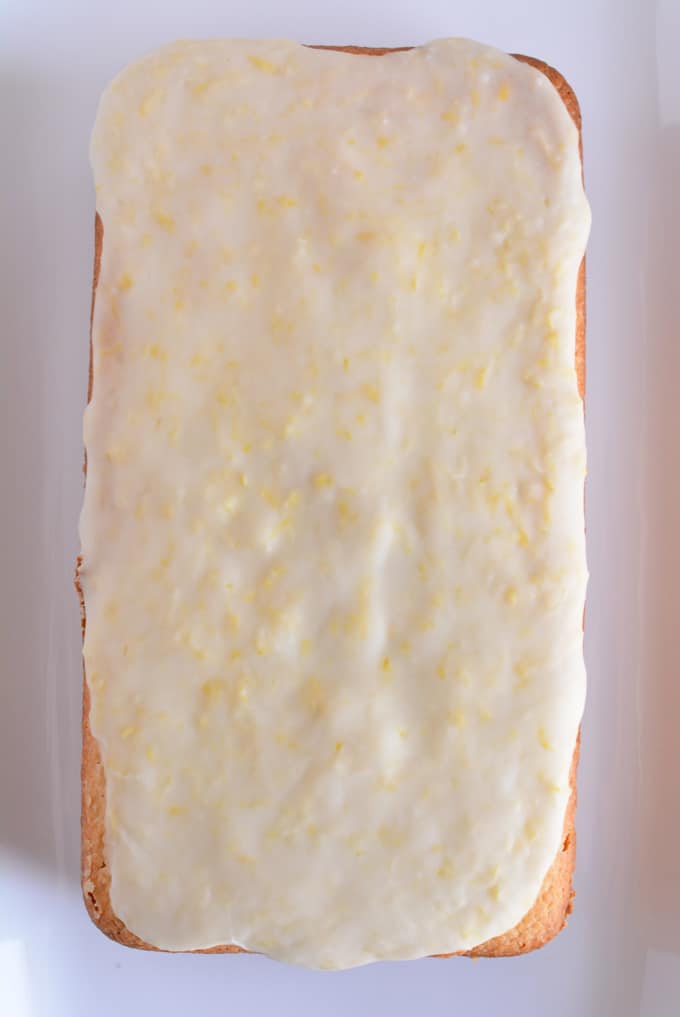 When it comes to desserts I am generally a chocolate gal.  Two different co-workers at the hospital have made lemon loaves that were unaltered (meaning rich in fat and sugar) and unbelievably yummy. I don't think that anyone should feel guilty about their food choices, but it's only human to feel a bit bad about eating a lot of sugar. I love altering recipes to make them a bit better.
This glazed lemon loaf is not only lower is sugar, but is also lower in fat and cholesterol. Using egg whites and yogurt results is less total fat and cholesterol in the recipe. How great is that?
Tips For a Perfect Lemon Loaf
Use fresh lemon juice instead of bottled juice.
Make sure all your ingredients are at room temperature.
You can use only all-purpose flour if you wish.
Cover the loaf about halfway through baking to prevent over-browning. This is recommended by Swerve.
You can replace just 1/2 of the sugar if you wish.
You can use a whole egg in place of the two egg whites.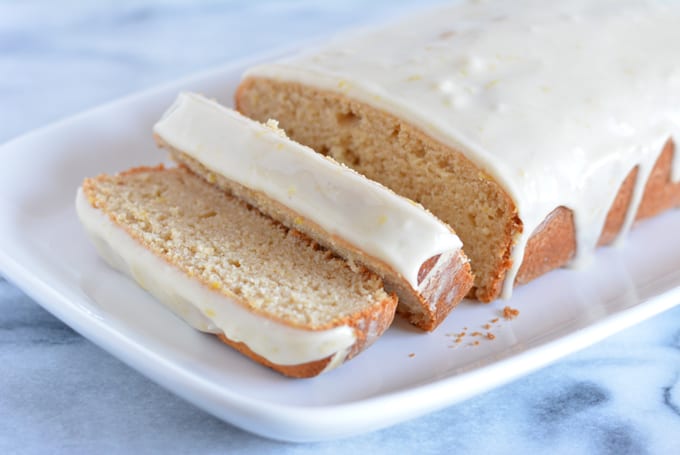 You May Need…
The following are affiliate links. I participate in the Amazon Services LLC Associates Program, an affiliate program the provides a way for me to earn fees by linking to Amazon.com and affiliated sites. This helps me continue my work.
A Microplane zester is helpful for grating the lemon zest. I also use my Microplane to grate cheese and fresh ginger.
A lemon squeezer is helpful for obtaining fresh lemon juice. Before I had a lemon squeezer I would just squeeze the lemons over a bowl to collect the juice. I know I always left juice behind. I just couldn't squeeze the fruit enough to extract all the juice.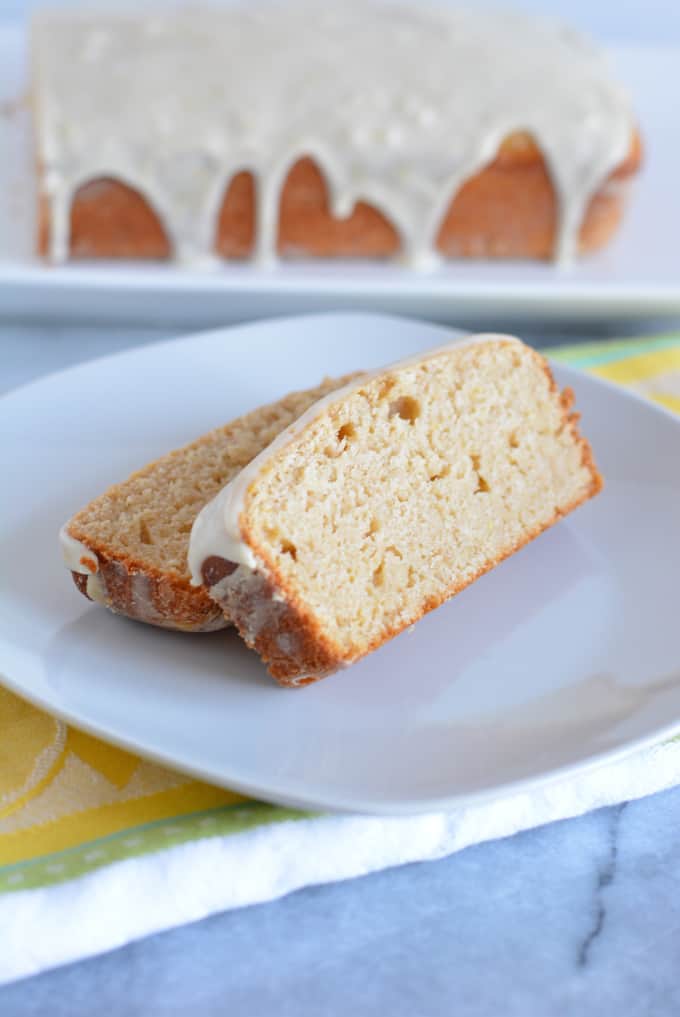 How to Make a Healthier Glazed Lemon Loaf
Lightened Up Glazed Lemon Loaf
This lightened up glazed lemon loaf is perfectly flavored with fresh lemon and lemon zest. Swerve decreases the sugar content of this lemon loaf, which is also lower in fat and cholesterol than other recipes.
If you like this recipe please give it a 5 star rating!
Ingredients
Loaf Ingredients
1/2

cup

butter

1

cup

Swerve Granular

you may use 1/2 sugar and 1/2 Swerve granular if you wish

1

egg

2

egg whites

1

teaspoon

vanilla extract

Juice and zest of 1 lemon

1/2

cup

milk

1/4

cup

vanilla yogurt

1

cup

all-purpose flour

1

cup

white whole wheat flour

1

teaspoon

baking soda

1/2

teaspoon

salt
Lemon Glaze Ingredients
1/2

cup

Swerve Confectioners

you can use 1/4 cup Swerve and 1/4 cup confectioners sugar instead

1

teaspoon

lemon zest

1

tablespoon

lemon juice

1-2

tablespoons

skim milk

more if needed
Instructions
Preheat oven to 350 degrees F.

Grease and lightly flour an 8 1/2 x 4 1/2 inch loaf pan.

In a large bowl of an electric mixer beat together butter and Swerve granular.

Add the whole egg and egg whites one at a time, beating well after each addition.

Beat in lemon zest, lemon juice, vanilla, and yogurt.

In a separate bowl sift together the flours, baking powder, and salt.

Add 1/2 the flour and 1/2 the milk to the butter mixer and stir on low speed.

Add in the remaining flour and milk and continue to stir on low speed until combined.

Pour batter into prepared loaf pan and tap pan to level the batter.

Bake lemon loaf for about 1 hour, or until a cake tester inserted into the center of the loaf comes out clean.

Cover the lemon loaf with aluminum foil 1/2 way through the baking process.

Cool loaf for 30 minutes.

Remove lemon loaf from the loaf pan. You may need to run a knife along the edge of the loaf to safely remove it from the pan.

Prepare the glaze. You can glaze the lemon loaf while it is still warm or after the loaf has cooled. 

Allow the glaze to harden before slicing.
Recipe Notes
You may use 1/2 sugar and 1/2 Swerve if you wish.
If you don't have white whole wheat flour you may double the all-purpose flour.
If you need gluten free simply substitute a flour of your choice, however, the recipe has not been tested with alternative flours.
Nutrition Facts
Lightened Up Glazed Lemon Loaf
Amount Per Serving (1 slice)
Calories 141
Calories from Fat 76
% Daily Value*
Fat 8.4g13%
Cholesterol 36.2mg12%
Sodium 286mg12%
Carbohydrates 36.2g12%
Protein 3.3g7%
* Percent Daily Values are based on a 2000 calorie diet.
Nutrition information if using 1/2 sugar and 1/2 Swerve
Other items you may need….