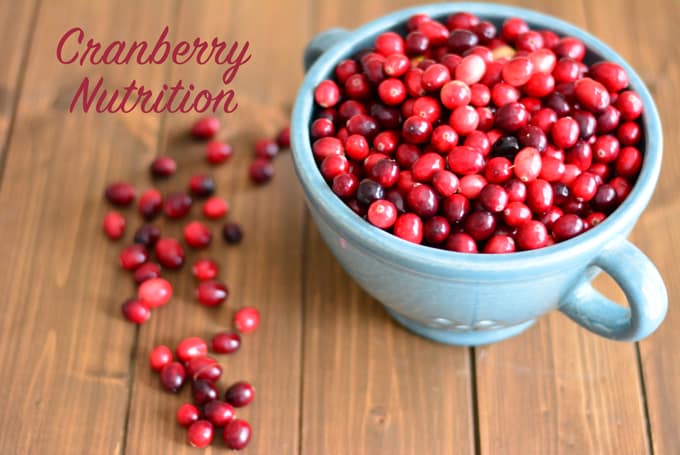 It's cranberry month on Nourished Simply!  Cranberries tend to be a common fruit used during the holidays, so I thought this would be a great food to talk about this month.
Cranberries are a major crop grown in the US and Canada.  In the US, cranberries are grown in Massachusetts, New Jersey, Oregon, Washington, and Wisconsin.  Native American used cranberries for food and dyes and may have introduced them to settlers.
Cranberries grow on low shrubs or vines.  You often see pictures of cranberry farms under water.  Bed are flooded in the autum to facilitate harvest and again in winter to protect the crops.
Most of the cranberries grown and harvested are used to make cranberry juice and sauce.  Cranberries are also dried and sweetened.  Cranberries are bitter and tart so are usually sweetened or combined with other sweet fruits to be make them more palatable.  Cranberry juice is either sweetened with sugar or other juices. Cranberries are also made into jelly or sauce and sweetened again with sugar or other fruits.  Baked into muffins, cakes, and other baked goods cranberries are often combined with oranges.
Nutrition
Cranberries contain moderate amounts of vitamin C, fiber, and manganese.  Raw cranberries also contain phytochemicals, polyphenols, which may have benefits to the cardiovascular system, immune system, and act as anti-cancer agents. Cranberry is often used to treat and prevent urinary tract infections.  Evidence to support this use in more anecdotal.  Scientific evidence is mixed and inconclusive.
Cranberries, like all fruit and vegetables, provide essential nutrients that benefit our bodies in many ways. Find different ways to incorporate cranberries into your diet.  Watch for several ideas coming up this month.