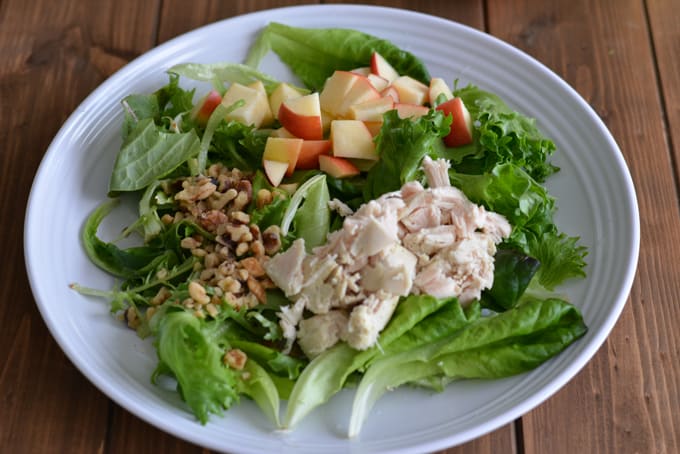 Happy Halloween everyone!  I get so excited on Halloween.  I love to dress up more than the kids!  This year I am wearing the Maleficent costume my mother made for me when I was about 12 years old.  Yes, it still fits.  I will try to post pictures on twitter and Facebook, so be sure to follow me.
For the last apple recipe of this month I thought I would bring out one of my favorite salads.  We all know we will be eating some candy later.  If those of you who swear you will only eat one piece and then put the rest away are not fooling anyone!  Why not make sure that most of your day's food choices are as healthy as they can be?  Salads are a great way to eat your veggies for the day.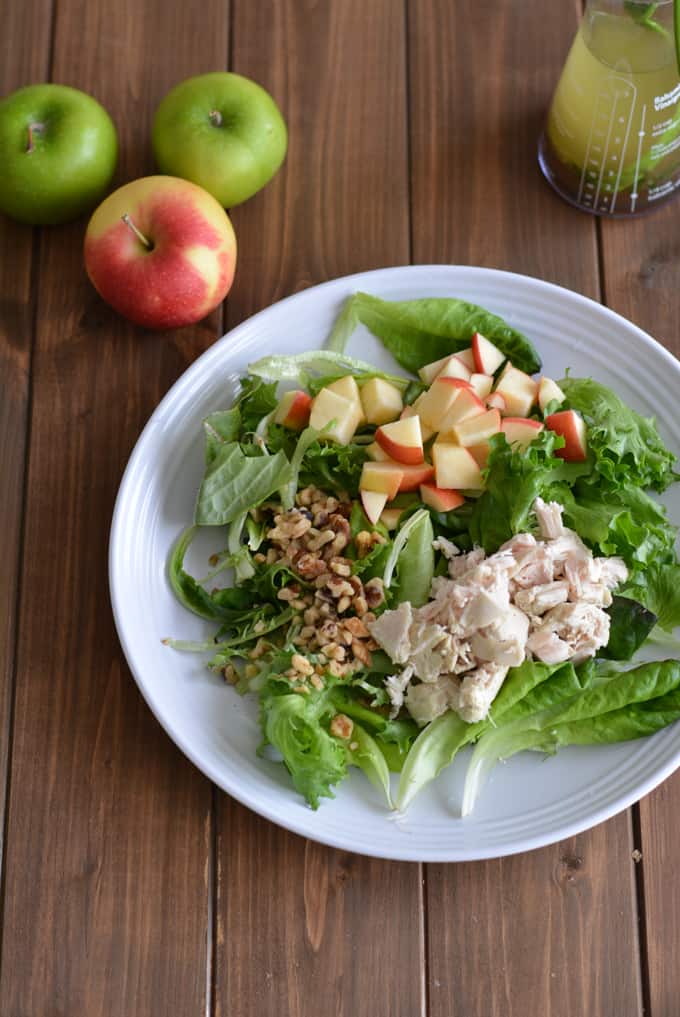 I really feel that you need to add some protein to salads to increase your satiety level.  Either animal based or plant based protein will help fill you up more so than just vegetables.  The protein will also help keep you fuller longer.  I find that a lot of my clients who just eat vegetables salad are hungry within an hour of eating and start looking for something else to eat.  This often leads to grabbing something that is not always the best choice.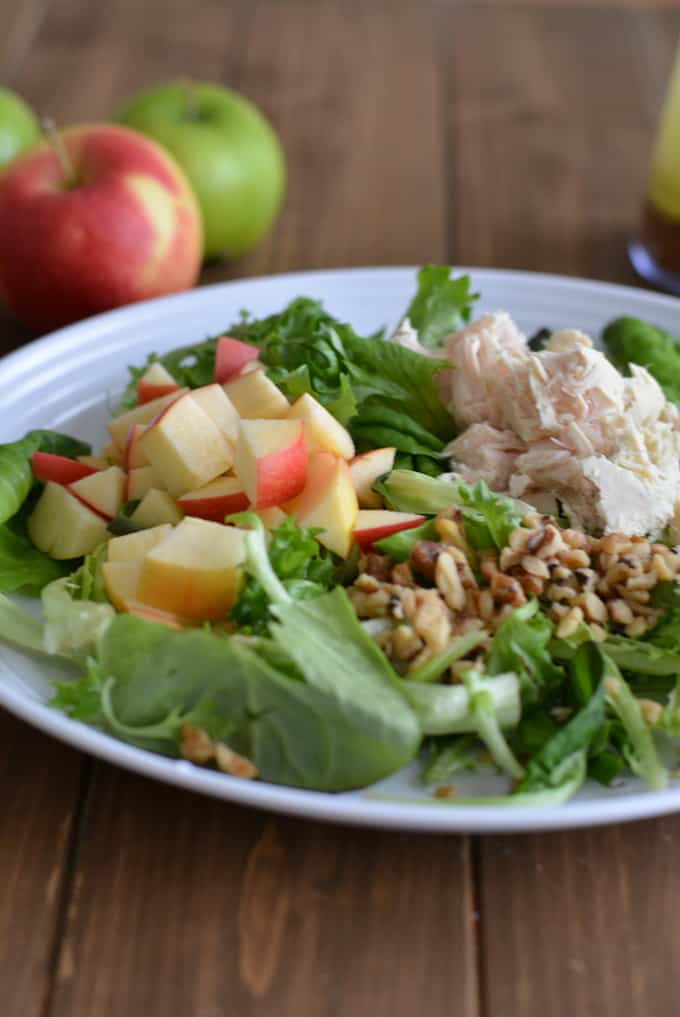 Do not go crazy with protein though.  Salads that have meat, eggs, cheese, beans, and nuts and just loaded with calories and more protein than you may need. Stick with 3-4 ounces of your favorite proteins.  I love either chicken or tuna.  I may instead use egg and cheese.  This just depends on my mood or what I have available at the time.
I have also come to enjoy adding fruit to my salads, such as apples, grapes, pears, and mandarin oranges.  My husband loves walnuts in his salad, so this particular recipe is a winner for both of us.  My sister and her mother-in-law make a walnut apple salad much like this, which I love.  I added chicken and changed the dressing to continue the apple flavor.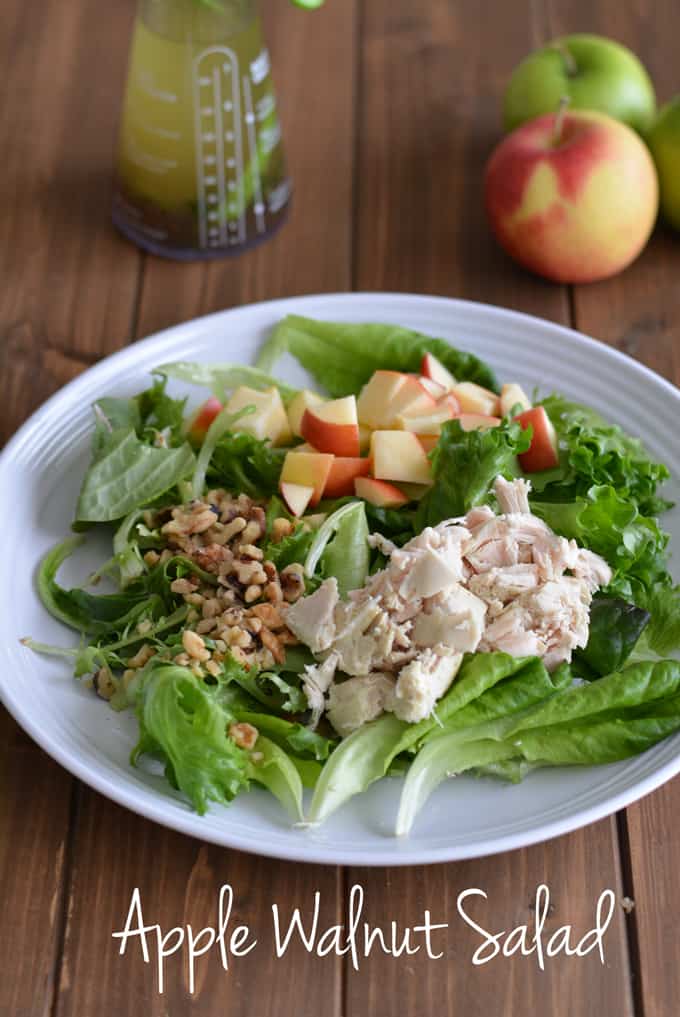 Recipe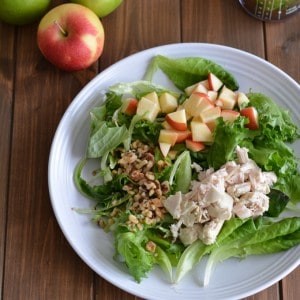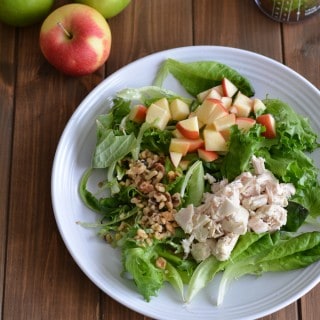 Apple Walnut Salad with Apple Rosemary Vinaigrette
Ingredients
½

sweet apple cubed

2

Tablespoons

chopped walnuts

3

ounce

chicken breast cooked

2-3

cups

salad greens

washed

Dressing

⅛

cup

apple cider vinegar

⅛

cup

apple cider

½

cup

grapeseed oil

1

tablespoon

chopped fresh rosemary
Instructions
Combine salad ingredients in a medium sized bowl or large plate.

Whisk together vinegar, cider, grapeseed oil, and rosemary. Let sit for about 30 minutes until flavors combine.

Pour 1-2 tablespoons of dressing over salad.
Nutrition
Calories:
0
kcal
Carbohydrates:
0
g
Protein:
0
g
Fat:
0
g
Saturated Fat:
0
g
Polyunsaturated Fat:
0
g
Monounsaturated Fat:
0
g
Trans Fat:
0
g
Cholesterol:
0
mg
Sodium:
0
mg
Potassium:
0
mg
Fiber:
0
g
Sugar:
0
g
Vitamin A:
0
IU
Vitamin C:
0
mg
Calcium:
0
mg
Iron:
0
mg
Tried this recipe?
Mention @nourishedsimply
Apple Rosemary Vinaigrette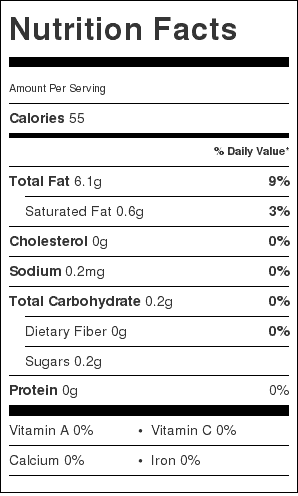 Apple Walnut Salad with Chicken