Kids are headed back to school!  The start of the school year brings with it the start of after-school activities. From sports practices to ballet classes kids and their parents will become super busy once again. Family meals will get harder and harder to figure out. Here are 5 tips to make family meals easier this school year.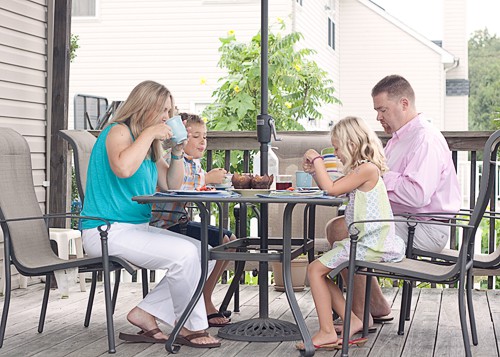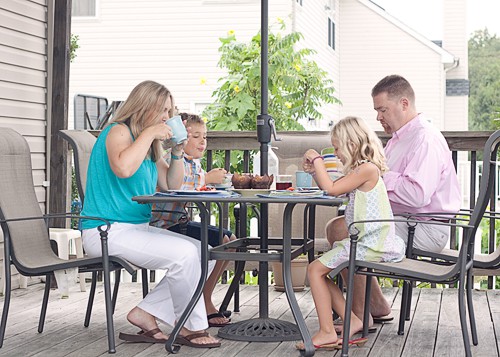 Parents spend much of their time acting like their kids Uber or Lyft drivers.  One of the hardest things to fit into a family's busy schedule is home-cooked family meals.  According to the American College of Pediatricians, a healthier eating pattern among children is just one of the many benefits of family meals.
Hectic schedules make family meals very difficult. Many families end up relying on take-out food and frozen meals.  Will a few simple tricks families meals can still fit into a busy schedule.
5 Tips to Make Family Meals Easier
1: Plan Ahead
Before you embark on your grocery shopping trip pull out your calendar and see what lies ahead for the week. Consider using recipes that can be made on your lighter activity days and used for leftovers on your busy days. You can also designate quick-cooking meals for your busy days as well.
Slow Cooker Turkey Breast: can be used as the protein for your dinner meal or used as leftovers to prep sandwiches for lunch.
Lasagna: this recipe can be made ahead of time and then baked when you get home. We always get leftovers from this meal.
2: Prep Ingredients
When possible prep as much of your dinner recipe ahead of time. Cut up veggies. Prepare meats. Have as many of your ingredients ready to grab when you get home. I have even pulled out ingredients from the pantry that I need to use for a recipe and placed them on the kitchen counter ahead of time. By doing this I don't have to waste time hunting for them when I'm trying to cook in a hurry. 
Rosemary Chicken: the chicken in this recipe is marinated. You can prep this the night before or in the morning and then the chicken will be ready to grill when you get home. Add some veggies or salad on the side to complete the meal.
3: Gift of gadgets: slow cookers and instant pots
There are a lot of nice kitchen appliances available to help you spend less time in front of your stove. Slow cookers allow you to cook your dinner during the day while you are at work and or running around with your kids. Your meals are done when you get home. 
Instant pots cut down cooking times tremendously and allow you to cook using frozen meat (if you forgot to defrost them ahead of time). I do not own an Instant Pot simply because I don't want to add another appliance to my kitchen, however, I have heard nothing but praise from friends and clients.
Slow Cooker Chicken Noodle Soup: This soup is perfect for chilly days. Put all the ingredients into the slow cooker and the work is done.
Chicken Verde Chili: this recipe can be made in a slow cooker as well. Just add the ingredients and walk away.
4: The Power of Leftovers
I know not everyone enjoys eating leftovers. My teenage son really dislikes leftover meals. He would rather eat a bowl of cereal than eat a leftover meal! We keep telling him that he will change his tune in a few years when he has to feed himself!
Using leftovers will tremendously help you get dinner on the table more often throughout the week, decrease the time you need to spend cooking, save money, and decrease waste. 
Leftover Turkey Chili: the slow cooker turkey I talked about earlier is a perfect way to prepare the turkey for this recipe. After Thanksgiving, you can also make this recipe to use up leftover turkey.
Turkey Salad: this recipe just like the chili recipe can use the slow cooker turkey as well.
5: One Pan Meals
One-pot or sheet pan recipes are the new way to get meals on the table quicker. Many of these recipes are quick cooking.  More importantly by decreasing the number of pots and pans you decrease the steps you need to take for recipes and decrease clean-up time.
These recipes will help you get dinner on the table quicker!
Low Sodium Sheet Pan Chicken Fajitas: one-pan meals reduce clean-up time for sure. Place the ingredients onto your sheet pan and let your oven do the rest of the work.
One-Pot Chicken Florentine: a one-pot meal that has everything you need - protein, starch, and a vegetable!