Trying to lose weight? You don't need to completely change the way you eat. You can simply make a few small changes to your lifestyle in order to see the scale move in the direction you want. Find out how you can easily lose weight with 4 simple changes.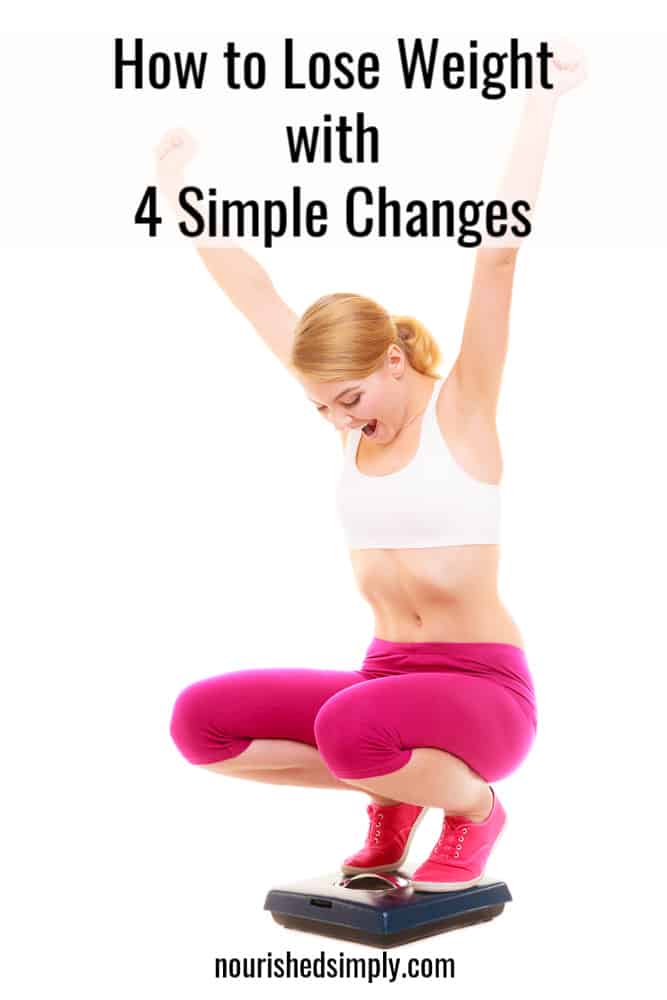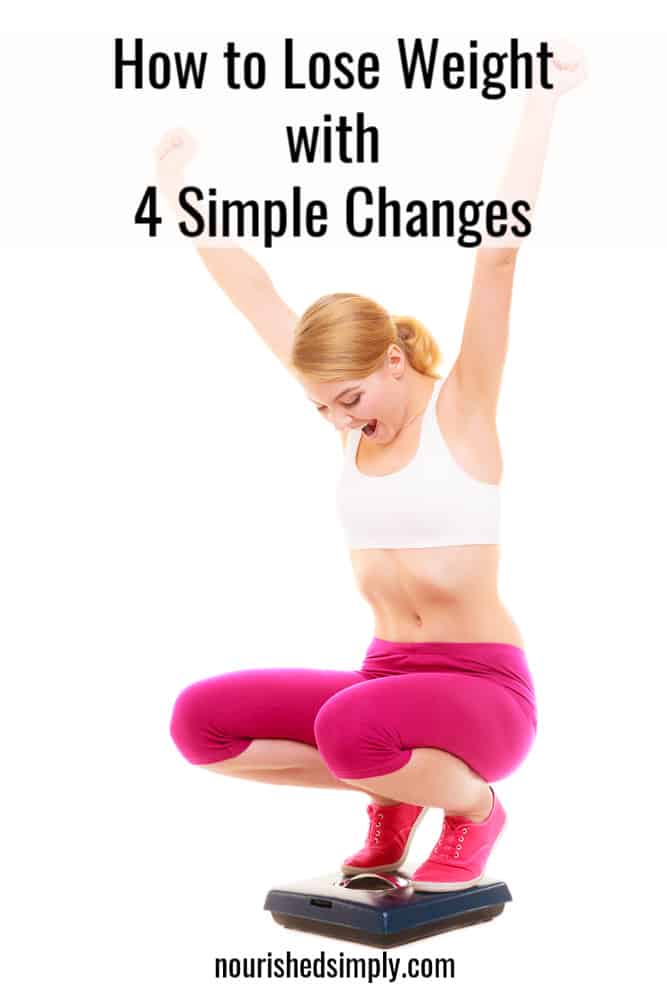 Having you been struggling with your weight and can't stand the idea of another diet? I don't want you to go on a "diet" either. Most diets that promote weight loss are about restriction and following crazy rules. What if I told you that you didn't have to overhaul your whole diet, but just make a few changes in order to lose weight?
The first thing you need to do is take a step back and examine your life. Make a list of what you are currently eating, when you eat, and how much you eat. Also, take a look at how active you are. Below are a few questions to ask yourself to get you started:
What are you drinking?
Do you eat between meals? If the answer is yes, what are you eating?
Do you skip meals?
Do you eat meals or graze throughout the day?
Do you consider yourself physically active? Are you active at work, during your daily routine, or do you engage in physical activity beyond your daily routine?
Paying attention or being mindful is an easy way to see where exactly your diet has gone off track!
Lose Weight Easily with These 4 Changes!
Eat regular meals:
Many times clients tell me that they don't eat a lot. People who don't sit down to eat real meals, but pick throughout the day think they are not consuming a lot of calories. This could be true but in most cases, this is not true. Most people who graze pick on high-calorie snack foods and their snacks end up providing more calories than an actual meal.
When you skip meals you often are not saving calories. Most people are so hungry for the next meal that they make up for the calories they missed plus more at the next meal.
There is no strong evidence that says you need to eat 6 times a day to achieve a healthier weight. You should do whatever works for you, but I have found that eating at least 3 times per day will help decrease snacking and help provide sufficient calories and nutrients.
Snack only if you're hungry and make sure it's real food:
Little snacks can add up in calories, for example, 1 oz Almonds = 180 calories, ½ cup ice cream 120 calories, 13 potato chips = 140 calories
I am not against snacks. If you are truly hungry you should eat food (real food). Chips, cookies, candy etc are not good choices. A snack that includes carbohydrates, protein a little fat will be more satisfying. A great example would be an apple with peanut butter. Finally, consider that when snacking occurs because you are bored or stressed you are ignoring your hunger cues and using food for the wrong reasons.
Stay hydrated and drink mostly water:
What you drink can have a big impact on your calorie intake for the day for example 8 oz of 100% Juice = 110 calories, 12 oz Coke = 140 calories, 1 cup Lemonade = 100 calories, 8 oz glass of wine = 150 calories
What about your morning coffee? What are you adding to it? 1 pkg sugar = 23 calories, 1 Tb coffee creamer = 35 calories
There are no definitive studies that say how much we should drink each day. The go-to answer has always been 64 ounces then folks starting advocating ½ your weight or 1 gallon a day. The amount of fluid needed will vary from person to person. If your urine is clear to pale yellow you have consumed enough fluid. If your urine is dark yellow or looks like apple juice you better drink up!
What should you drink? I say water, but I know a lot of people want more flavor. Drink what you wish, but make sure the beverage is low-calorie or calorie-free. I have seen far too many people gain weight because they started drinking a super fancy sugar filled coffee each morning! Two of my favorite drinks are fruit-infused water and sugar-free lemonade.
Move!
Patients/clients tell me that they are very active in their profession or are active in their daily routine (walking the dog or running after their kids, etc). Guess what? Your body is used to this. You need to go above and beyond this activity to have a significant impact on your health.
Find an activity that you can do almost daily to increase your physical fitness. Too many people spend their days sitting. We need to exercise simply because it's good for us.
Exercise isn't the end all be all of weight loss. You CAN NOT outrun a crappy diet. What exercise does is it helps you build muscle mass. Muscle mass is metabolically active meaning that muscle tissue requires energy and will help you burn more calories even while sitting.
If you dislike exercising in a gym setting or can't afford a gym membership no worries. There are plenty of free workout videos you can use online and walking, of course, is always free!
Lastly, I make sure you are losing weight for the right reasons. Be kind to your body. Lose weight to make yourself healthier not to attempt to look or feel a certain way. Weight loss can certainly improve or prevent many health issues but it won't fix everything. Weight loss may not make you happier. You may be smaller after you lose weight, but you will have the same spouse, same kids, same home, same job.
This post was originally published in 2013, but has been updated as of January 2019.