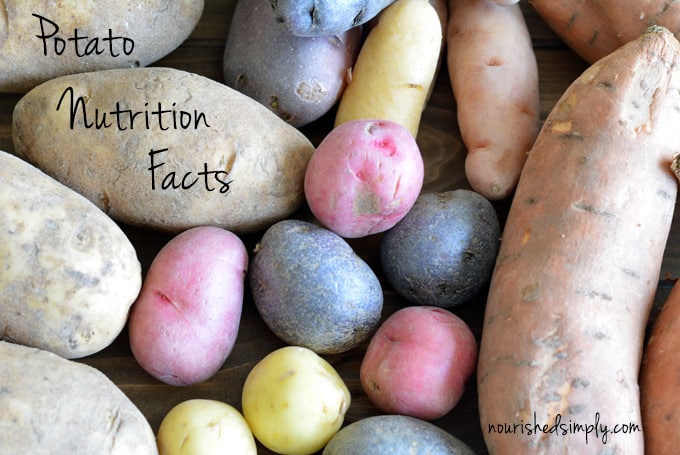 Potatoes are another misunderstood vegetable. So many of my clients and patients have told me at sometime that they avoid potatoes because they are fattening. Potatoes themselves are a rather low calorie food. What we often add to potatoes: sour cream, butter, cheese, oil, is what increases the calorie load.
Potato Facts
Potatoes are a starchy, tuberous vegetable from the nightshade family. A tuber is a a outgrowth of a stem or shoot where new plants can grow. Potatoes grow beneath the soil. Potatoes absorb many nutrients from soil, but also chemicals. It is a good idea to purchase organic potatoes whenever possible.
Potatoes have been used as part of the human diet for about 7,000 years. The plants originated in what is now Peru, but are today produced worldwide. Potatoes are grown so widely that they are available or "in season" all year long. The potato what first brought to the United States by Irish Immigrants. Since St. Patty's Day is coming up in a few weeks, potatoes seemed like a perfect food to cover this month!
Nutrition Facts: 1 medium potato
4 gm Protein
36 gm Carbohydrates (mostly starch and fiber)
0.22gm Fat
160 Calories
Micronutrients: Vitamin B6, Potassium, Copper, Vitamin C, Manganese, Phosphorus, Vitamin B3, and Fiber
**Sweet potatoes due to the nature of their color are richer sources of Vitamin A and Beta Carotene.
Potatoes also contain phytochemicals such as carotenoids and phenols. Remember that phytochemicals have been shown to provide health benefits beyond that of vitamins and minerals.
Potatoes are gluten free, so can be used by those with celiac disease safely as a source of complex carbohydrates. Some individuals may need to limit their intake of potatoes though. Individuals with diabetes should not avoid potatoes, but be mindful of the portion size and avoid consuming other carbohydrate rich foods at the same meal. Patients with kidney disease may also be told to avoid or limit potato intake if their potassium levels are elevated due to the high potassium content of the potato.
Health Benefits
Potatoes are a rich in fiber, which has been shown to help decrease cholesterol levels in the diet and improve bowl movements. Potatoes again, are also a rich source or potassium. Potassium rich diets, such as the DASH diet (Dietary Approaches to Stop Hypertension) have been shown to help lower blood pressure.
For more information visit whfoods.com.