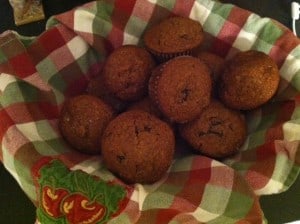 My favorite breakfast is skim milk and a homemade Oat Bran Chocolate Chunk Muffin.  I made another batch yesterday and promised some of my facebook friends I would share the recipe.  I decided to share the steps used to make them too, because they are so wonderful.  I have had to make them more frequently lately since my kids discovered how delicious they are.  The original recipe was found in a diabetic cookbook my mother had.  I have since changed the recipe slightly.
One of the first things you need to do is boil 1 cup of water and place the high fiber wheat bran cereal (I use All-Bran Bran Buds) in the boiled water and let stand for 10 minutes.  I also make the sour milk.  I never have buttermilk on hand as the recipe below calls for so, I add 4 tsp of lemon juice to 2 cups of skim milk (1tsp per 1/2 cup milk).  The sour milk needs to sit for 5 minutes.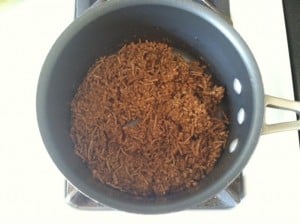 Here are some of the brands I like to use.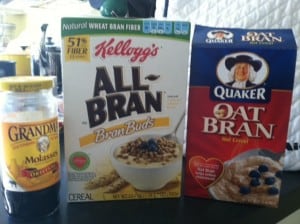 Next you mix together all of the dry ingredients: whole wheat flour, all-purpose flour, oat bran, granulated Splenda, granulated sugar, and baking soda.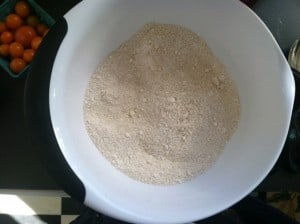 Once the cereal mixture has cooled the rest of the wet ingredients can be added to the cereal: buttermilk/sour milk, canola oil, molasses, eggs, and vanilla extract.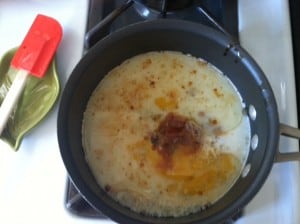 You are ready now to mix the wet ingredients into the dry.  Mix well until all ingredients are moist.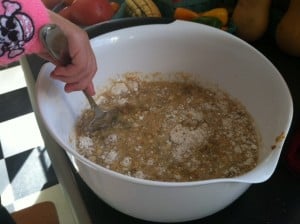 My helper took charge of mixing the ingredients together.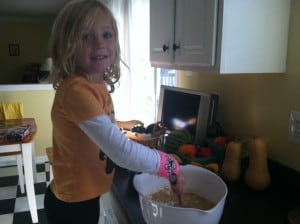 Now to add my favorite ingredient!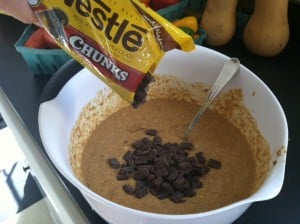 The batter can stay in the refrigerator for up to 2 weeks in a sealed container.  I never do this as I make two dozen muffins each time.  For muffins you place 1/4 cup of batter in each muffin slot.  I usually add more because there is always batter left over and I only have two muffins pans!  You can also use the batter to make pancakes.
The muffins bake for twenty minutes.  When cooled I usually freeze them in freezer bags to seal in the freshness.  When we are ready to eat them I pop one in the microwave and defrost for 1:15.  They come out perfectly warm.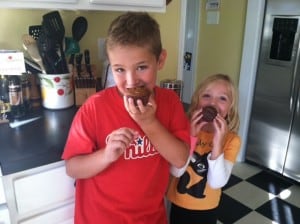 Oat Bran Chocolate Chunk Muffins
These fiber-rich muffins have just a hint of chocolate that kids will love.
Ingredients
1

cup

boiling water

1 1/2

cups

High Fiber Wheat Bran Cereal

All-Bran Bran Buds

2

cups

low fat buttermilk

or sour milk

1/2

cup

canola oil

1/3

cup

molasses

2

eggs

beaten (or 1/2 cup egg substitute)

2

tsp

vanilla extract

1

cup

whole wheat flour

1

cup

all-purpose flour

1

cup

oat bran

1/2

cup

granulated Splenda

1/3

cup

granulated sugar

1

Tb

baking soda

12

oz

Chocolate Chunks

Toll House
Instructions
In a sauce pan, add wheat bran cereal to boiling water. Let cool for 10 minutes. Stir in buttermilk/sour milk, oil, molasses, eggs, and vanilla

In a large bowl, combine flours, oat bran, Splenda, sugar, and baking soda. Add milk mixture, stir in just until moist.

Place 1/4 cup of batter in non-stick or paper lined medium muffin cups, filling 3/4 full.

Bake for 20 minutes or until muffins are firm to touch.
Nutrition Facts
Oat Bran Chocolate Chunk Muffins
Amount Per Serving (1 g)
Calories 160
Calories from Fat 68
% Daily Value*
Fat 7.5g12%
Cholesterol 12mg4%
Sodium 147.8mg6%
Carbohydrates 22.2g7%
Protein 3.2g6%
* Percent Daily Values are based on a 2000 calorie diet.