I have to admit I am not cooking Thanksgiving dinner this year, however I do cook every other year. So, I have cooked a fair number of Thanksgiving dinners.  A lot of work goes into preparing, serving, and cleaning up Thanksgiving dinner.  Whole Foods Market makes it easy for you to serve a delicious holiday dinner without the stress by offering a full array of Thanksgiving meal options.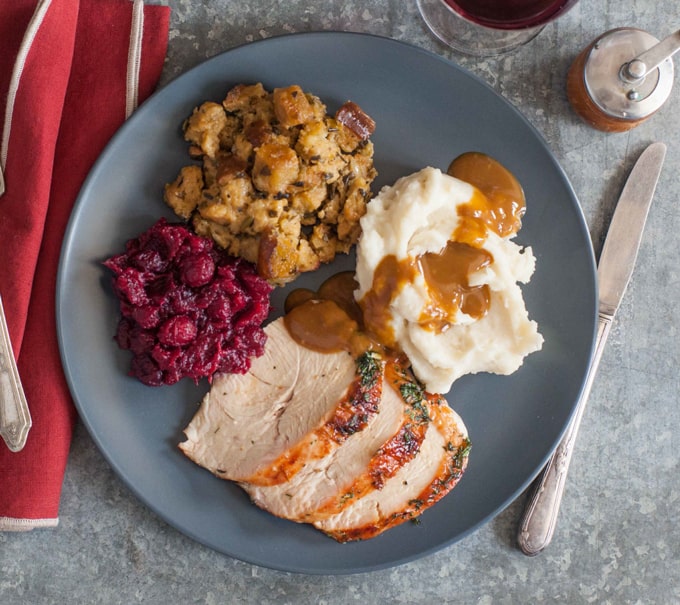 You can let Whole Foods Market make your entire meal or part of it.  Whole Foods has Turkey Dinners, which includes the turkey, gravy, and sides for 2-16 people.  Not a fan of a whole turkey?  Whole Foods also prepares meals that include turkey breast, lamb, or pork loin.
Need just the side dishes?  Whole Foods Market has you covered.
Soups
Organic Cream of Mushroom
Organic Triple Squash
Roasted Carrot and Parsnip
Curried Pumpkin
Sides
Homestyle Mashed Potatoes
Organic County Mashed Potatoes
Vegan Mashed Potatoes
Turkey Gravy
Organic Mushroom Gravy
Traditional Sage Stuffing
Organic Biscuit and Mushroom Stuffing
Multigrain Stuffing
Butternut Sweet Potato Casserole
Macaroni and Cheese Casserole
Organic Corn Pudding Casserole
Organic Green Been Casserole
Creamed Greens with Roasted Garlic
Glazed Carrots with Pecans
Green Beans and Shallots
Cranberry Apple Conserves
Mashed Maple Sweet Potatoes
Organic Cranberry Orange Relish
Organic Roasted Butternut Squash with Greens and Cranberries
Roasted Brussels Sprouts
Roasted Root Vegetables
Stuffed Acorn Squash
Don't forget about dessert!  Whole Foods has pies and desserts for all of your guests to enjoy.
Organic Pumpkin Pie
Pecan Pie
Pumpkin Pie
Pumpkin Pumpkin Pie
Cherry Pie
Apple Pie
Apple Cranberry Pie
Dark Chocolate Pecan Pie
Sweet Potato Pie
Vegan Pumpkin Pie
Gluten Free: Pumpkin Pie, Pecan Pie, and Pumpkin Cheesecake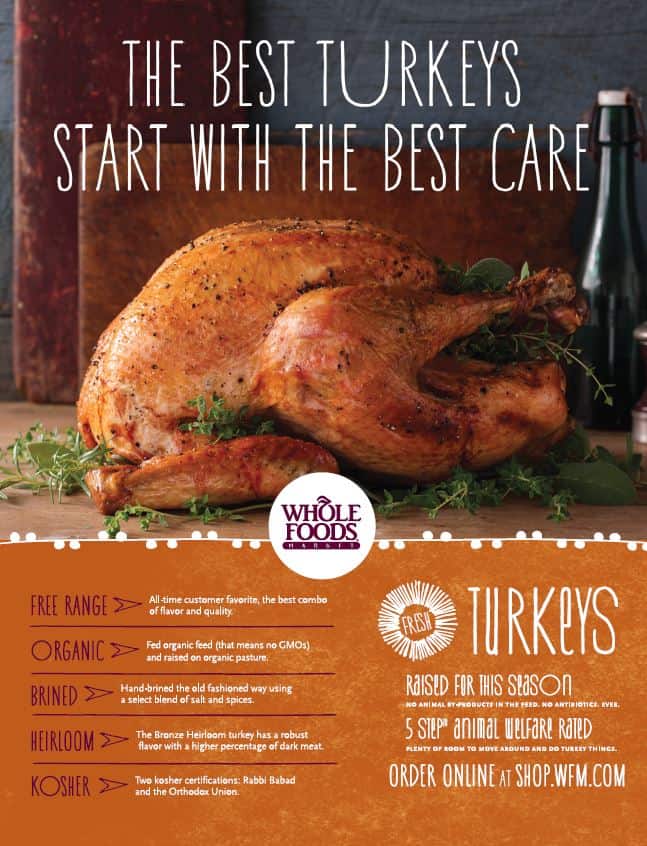 You can reserve your turkey, order a complete holiday meal, or any part of your Thanksgiving (entree's, sides, desserts, party platters, appetizers, and more) either in-store or online at shop.wfm.com.  When you order, you will be entered for a chance to win a free organic turkey.  Whole Foods Market is giving away one organic turkey each week up to Thanksgiving.
Want another chance to win a free organic turkey?  Whole Foods Market in North Wales PA is giving away one Free Organic Turkey with a Brine Kit to one of my local readers.  Enter below for you chance to win. Good Luck!  The winner must pick up their turkey at the Whole Foods Market North Wales.
Tell me what is your favorite Thanksgiving side dish?
I received no compensation for this post.  Opinions are my own.  Photos are courtesy of Whole Foods North Wales.  Winners will be chosen at random.