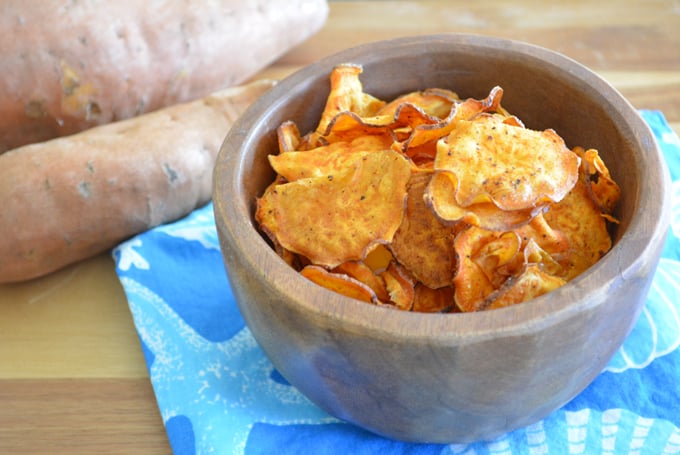 It's time again for The Recipe Redux monthly challenge.  This month's challenge asked partipants to dehydrate foods.
Get Your Dehydrator On
"Whether it's extra garden bounty or a sale at the supermarket – dehydrating food is a budget-friendly way to stock up for later. You can use a food dehydrator, a low slow oven, or natural sunshine to preserve natural healthfulness. Show us how you like to dehydrate, or a healthy recipe for how you enjoy using dehydrated fruits, veggies or other bounty."
I wanted to try dehyrating fruit to make my own fruit roll ups, but that didn't work out so well.  I ended up with fruit paper instead.  I almost skipped this month, because I don't normally dehydrate food, then I remembered the Sweet Potato Chips recipe I have been working on.
I love BBQ flavor!  I am a sucker for BBQ potato chips, regular or baked it does not matter.  Yes, I eat potato chips sometimes.  I have been experimenting with baking my own chips using sweet potatoes.  This is my favorite recipe so far.
You need to make sure the sweet potato slices are not too thin or too thick.  If they are too thin they will cook too fast and burn.  If they are cut too thick they will never get crisp.  I used a mandolin on my first attempt.  My mandolin scares me.  I am always afraid I am going to slice a finger!  On this attempt I used a knife.  I felt like I had better control of the size of the chips with the knife.  My fingers are safer too.
Make sure the seasoning ingredients are mixed well and you can coat the chips evenly before baking.  Place each slice on the baking pan, making sure they have their own space.  These chips need some "elbow room" to bake evenly!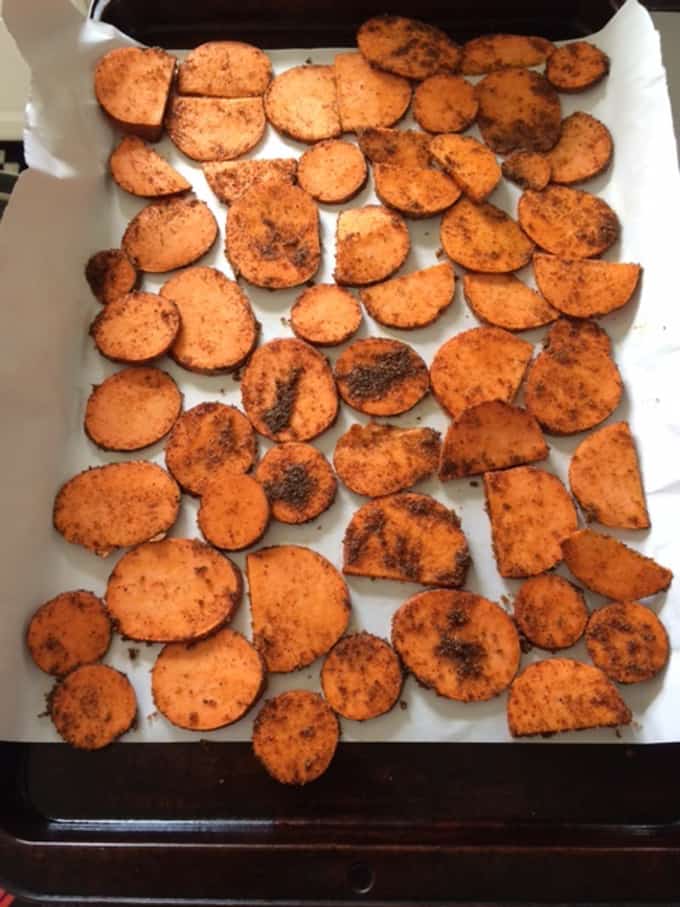 Try to evenly spread the seasoning.  If you leave it clumped like in the picture above you likely will not enjoy the intense taste!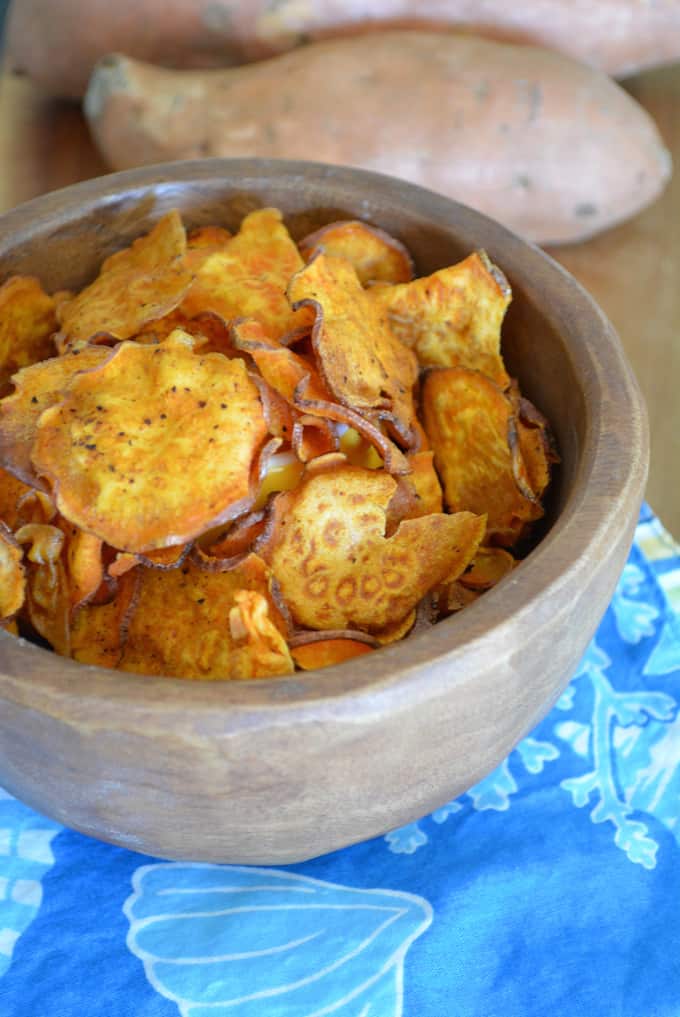 BBQ Sweet Potato Chips
Ingredients
1

Large Sweet Potato

1

Tablespoon

Grapeseed Oil

1

Tablespoon

Brown Sugar

1/2

Teaspoon

Garlic Powder

1/2

Teaspoon

Onion Powder

1/2

Teaspoon

Black Pepper

1/2

Teaspoon

Paprika

1

Teaspoon

Sea Salt

1/2

Teaspoon

Chili Powder

1/4

Teaspoon

Cayenne Pepper

optional
Instructions
Preheat oven to 225 degrees F.

Slice sweet potato into 1/8 inch slices.

In a small bowl combine sugar and seasoning ingredients.

Mix seasonings well, making sure the sugar is fine.

Place sweet potato slices in a large bowl.

Drizzle with oil, then add seasoning mixture.

Toss to coat evenly.

Place sweet potato chips onto a baking sheet lined with parchment paper.

Bake at 225 degrees F for approximately 2 hours, until edges curl and are crisp.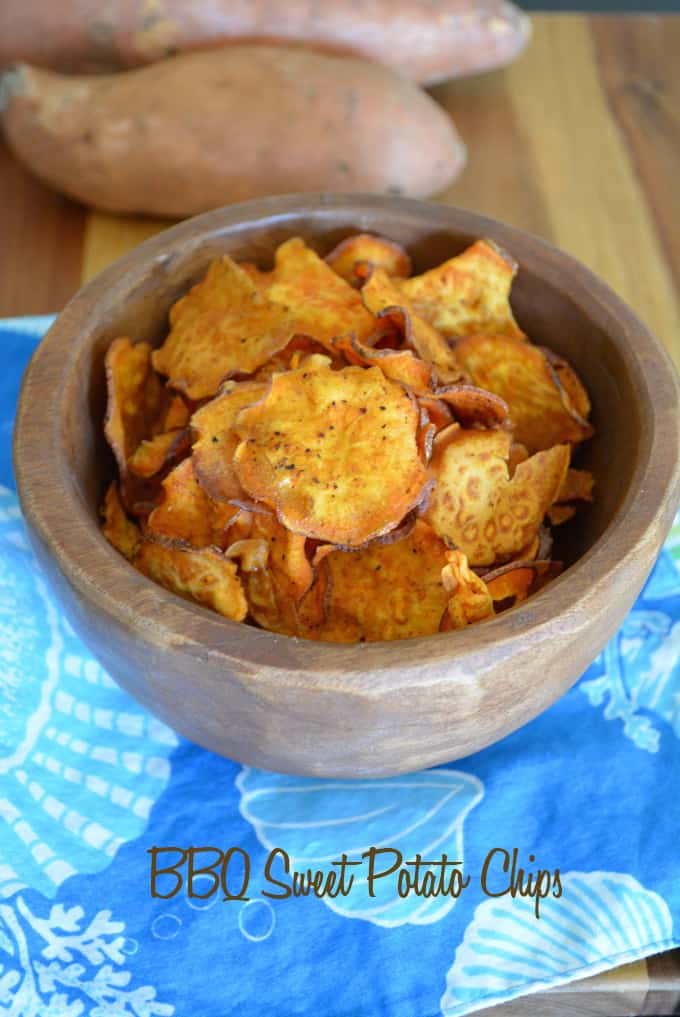 Loading InLinkz ...