Smoothies have become very popular over the past few years.  Pinterest is full of smoothie recipes.  There are even entire websites dedicated to smoothies.  Should you join the smoothie craze? Here are 5 reasons to drink smoothies.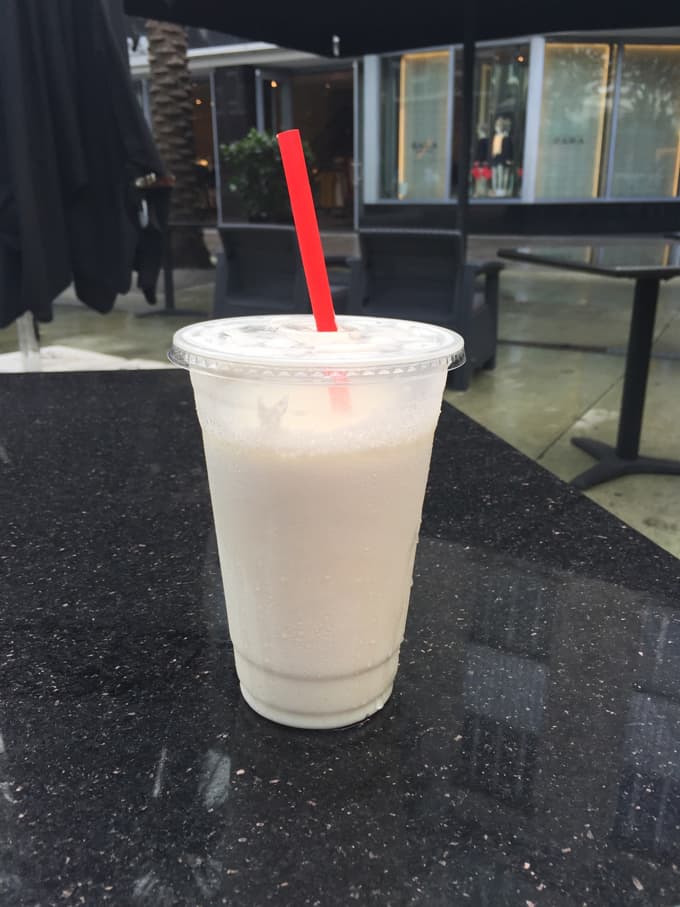 I drink smoothies a few times each week.  I recommend them too to my clients and patients.  Why?

5 Reasons to Drink Smoothies
Smoothies help you consume regular meals
Many people skip meals.  This often leads to over eating at the next meal and poor meal choices.  Breakfast is the most commonly skipped meal.  A smoothie for breakfast that contains carbohydrates, protein, and healthy fat is a considered a meal replacement.  This is a healthy and convenient way to start the day.
Increases your intake of fruit and vegetables
Do you eat enough fruit and vegetables?  Many of us don't.  I find that smoothies are loved by even the pickiest eater. The green smoothie I make has lots of spinach and it doesn't even taste like spinach!
Boosts protein intake
We need  protein to help build and rebuild muscle tissue.  Adequate protein is important for everyone, but especially anyone who is trying to lose weight and improve body composition. Recovery meals or snacks should contain both carbohydrates and protein.  Smoothies made with protein supplements, soy, or dairy are a perfect choice.
Replaces High Calorie Meals
One of the challenges to many of my clients is eating on the run.  Fast food meals and restaurant meals which are convenient often give you a whopping 1,000 calories.  Smoothies can help replace those high calorie meals.
Nutrient Dense
Smoothies made with fresh fruit and vegetables will give you fiber, vitamins and minerals. Smoothies are a great choice to help improve your intake of important nutrients.
Smoothie King Change A Meal Challenge
Smoothie King has started a campaign to help you reach your health and weight goals with their #ChangeAMeal challenge.  Join the challenge to commit to replacing 1 meal each day with a smoothie.  Smoothie King has 20 different options for you to pick from to help you meet the challenge.  Each smoothie contains less then 400 calories in a 20 ounce serving, at least 10 grams of protein, and are meal replacements.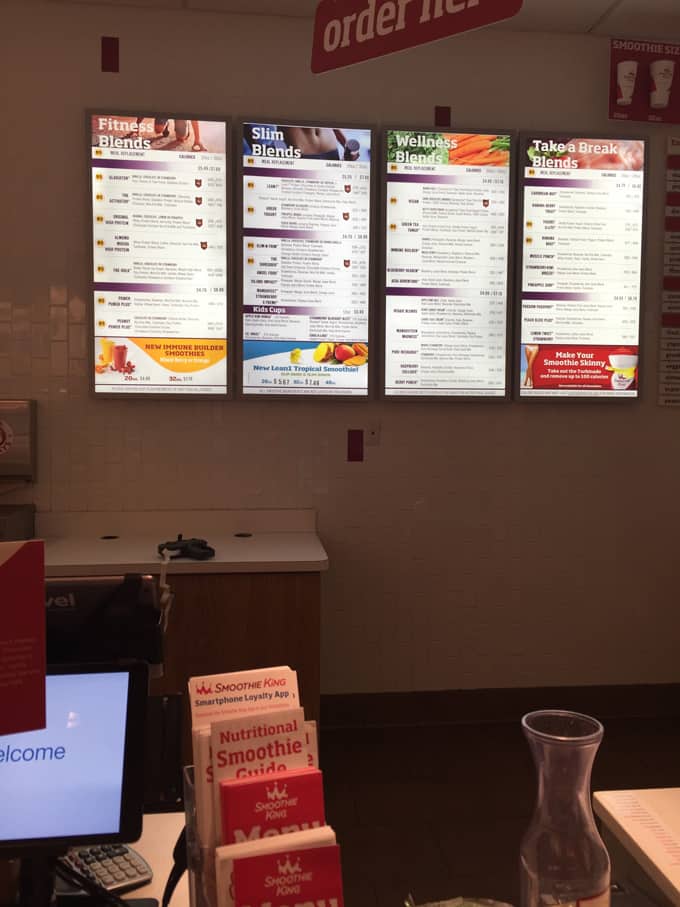 Smoothie varieties included in the challenge include: The Shredder (Chocolate, Vanilla, and Strawberry), Lean1 (Chocolate, Vanilla, Strawberry, and Tropical), Original High Protein (Chocolate, Banana, Almond Mocha), The Activator (Vanilla and Chocolate), Greek Yogurt (Strawberry Blueberry, Pineapple Mango and Peach Papaya), Gladiator (Chocolate, Vanilla, and Strawberry), and Vegan (Dark Chocolate Banana or Kale Mango).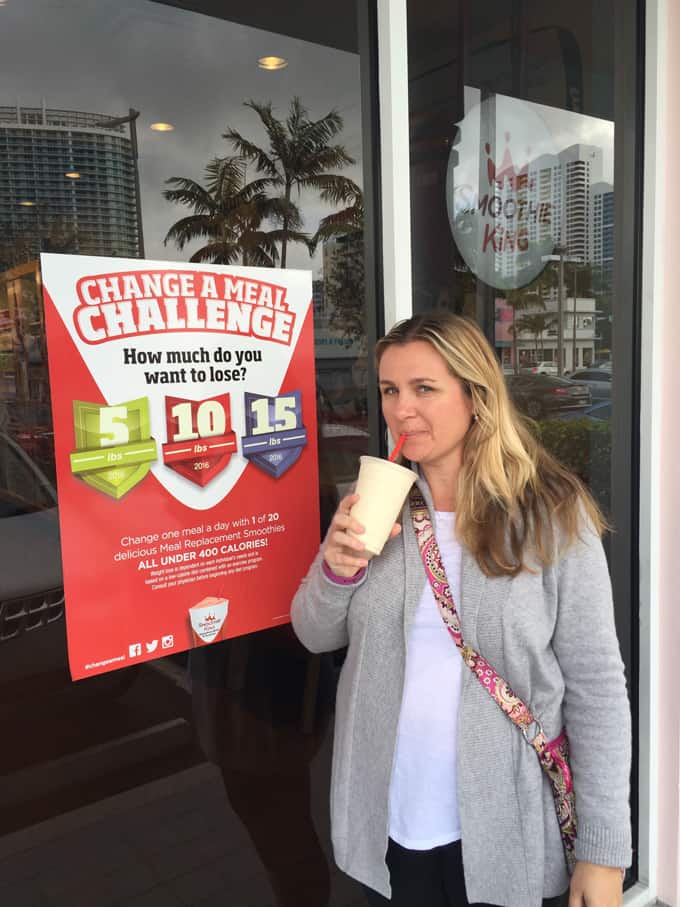 I chose the Lean1 Tropical based on the recommendations of the staff.  I highly recommend the tropical as well.  It was really delicious and filling.  I couldn't finish the smoothie!  I wish there was a smaller option. I stopped at the Smoothie King in Miami Beach last week while we were on vacation and yes that is a sweater I am wearing!  The weather was chilly that morning, but not as chilly as it was back home!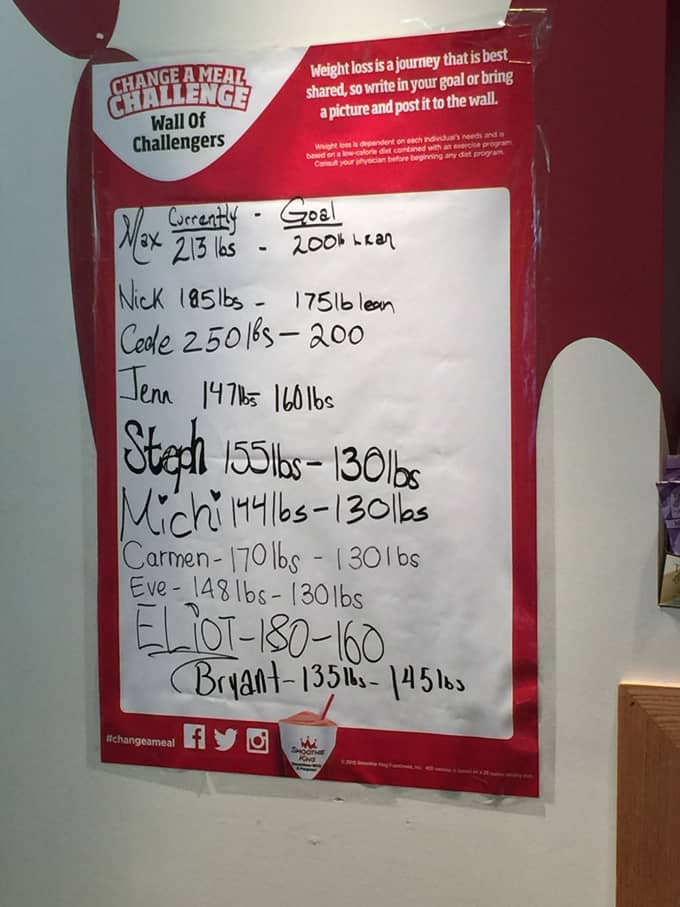 Smoothie King has three different tools available to help you stay on track with this challenge.  Download the Smoothie King app and earn rewards each to you change a meal.  Join the Kingdom online and receive a coupon to purchase a small Smoothie for $2.99.  Post updates of your journey on social media using #ChangeAMeal to win other great prizes.
Weight loss is dependent on each individual's needs and is based on a low-calorie diet combined with an exercise program.  Consult your physician before beginning any diet program.