Tummy troubles are no fun. Occasional bloating, constipation, gas, and diarrhea are signs and symptoms that your gastrointestinal tract is less than happy. If you suffer any of these symptoms frequently or occasionally you know you never want to feel like that again! Here are 3 ways to tame tummy troubles.
I partnered with Burt's Bees™ to bring you this post.  I received samples and compensation to write this post.  All opinions are my own.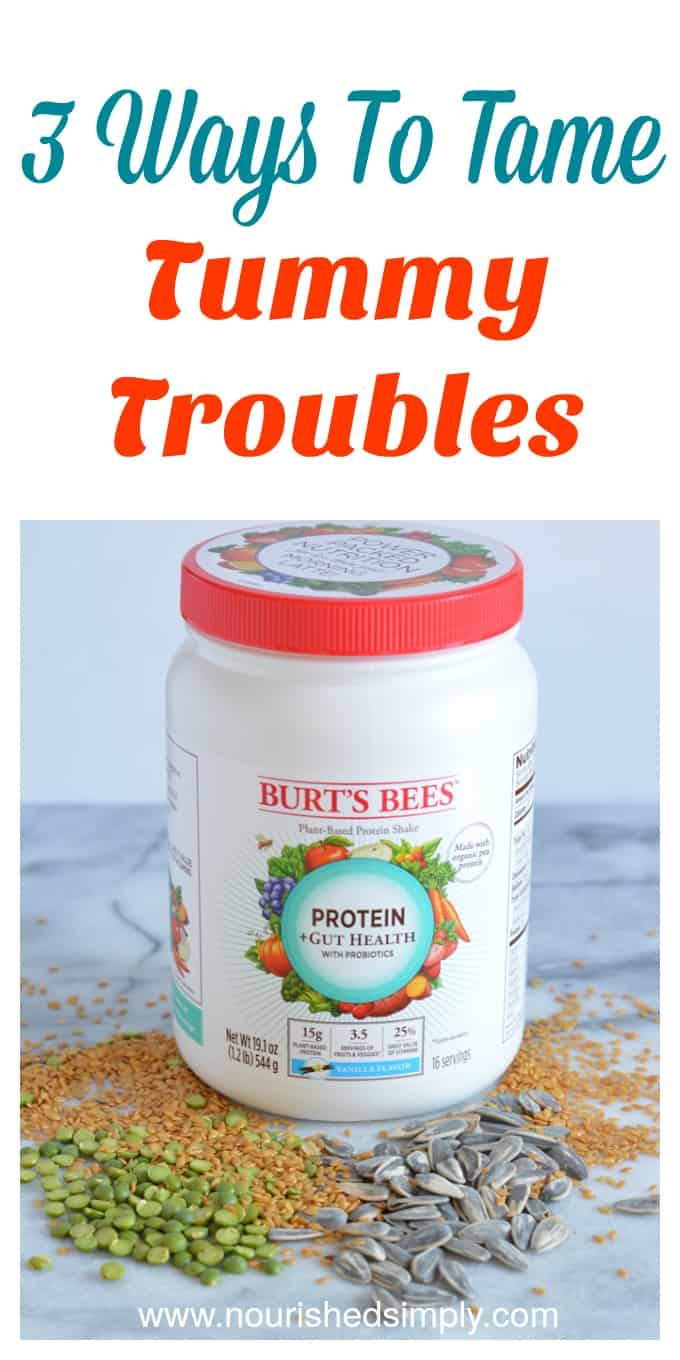 Before I talk about how to keep your GI tract happy let's talk a bit about how your GI tract works and what is does.
GI Tract 101
The GI tract runs from your mouth all the way down to your bottom (anus). The job of the GI tract is to take in food, break food down to its basic nutrients (digestion), absorb those nutrients (absorption) and then get rid of the waste (excretion).
Digestion begins in the mouth where food is broken up. Digestion is then completed in the stomach where food mixes with enzymes and digestive juices to break food down to a semi-fluid substance we call chyme. Chyme then moves into the small intestine. The job of the small intestine is to release nutrients from food and absorb them sending nutrients into your body to be used. In the large intestine, water is reabsorbed by the body. What's left over is waste, and is excreted as stool.
GI Issues
There are some disorders and/or diseases that affect the GI tract and its function. I am not going to go into these today. For the general population sometimes there are some hiccups in the process. These hiccups don't necessarily mean something is wrong with the GI tract, but it certainly feels that way.
Constipation
When stool doesn't move through the large intestine normally a back-up can occur, called constipation. The backup or build-up of stool can cause gas. The build-up of gas causes bloating, which makes your belly feel swollen and your pants tight.
Diarrhea
On the other side of the spectrum, diarrhea occurs when stool moves too quickly out of the body and doesn't have time to be formed or create bulk. Diarrhea can be caused by illness, food or water contamination, or certain GI disorders.
If you experience these issues frequently you should seek the advice of a physician. Otherwise, if these issues are occasional bothersome there are three things you can do to help get your GI tract working a bit better.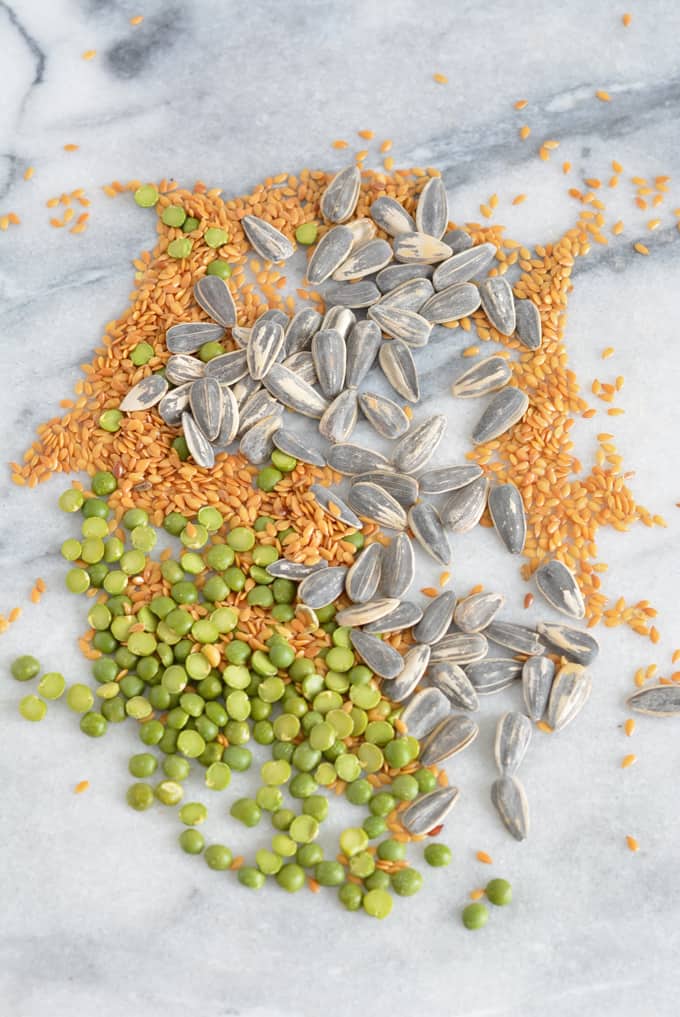 3 Ways to Tame Your Tummy Troubles
Fiber
Fiber which is part of plant foods including grains, fruit, and vegetables is important for digestive health. There are two types of fiber: soluble and insoluble.
Soluble fiber (oats, apple, berries)
-dissolves in water and creates a gel-like mush
-decreases cholesterol absorption
-helps you feel fuller longer
-helps control blood sugar
-absorbs water and create stool.
Insoluble fiber (seeds, skins of fruit and vegetables, whole grains)
-does not dissolve in water
-helps you feel fuller longer
-aids in motility ( gets the stool out)
Pre and Probiotics
Our large intestine is filled with good bacteria, which has several jobs including digestion, immunity, and protection from bad bacteria. Prebiotics and probiotics are both found in food that helps maintain the health of our intestinal bacteria. Prebiotics, which are carbohydrates, feed our bacteria. Probiotics found in fermented foods like sauerkraut, yogurt, kefir, and kimchi.
Eat whole foods and limit artificial ingredients
We know how each nutrient is digested, absorbed, and metabolized (used) in the body. We don't know exactly what happens with artificial ingredients. There is of course speculation that artificial ingredients can cause a whole host of health problems, although more evidence needs to be seen. We do that have antidotal evidence that many people have relief of tummy troubles when they avoid artificial ingredients.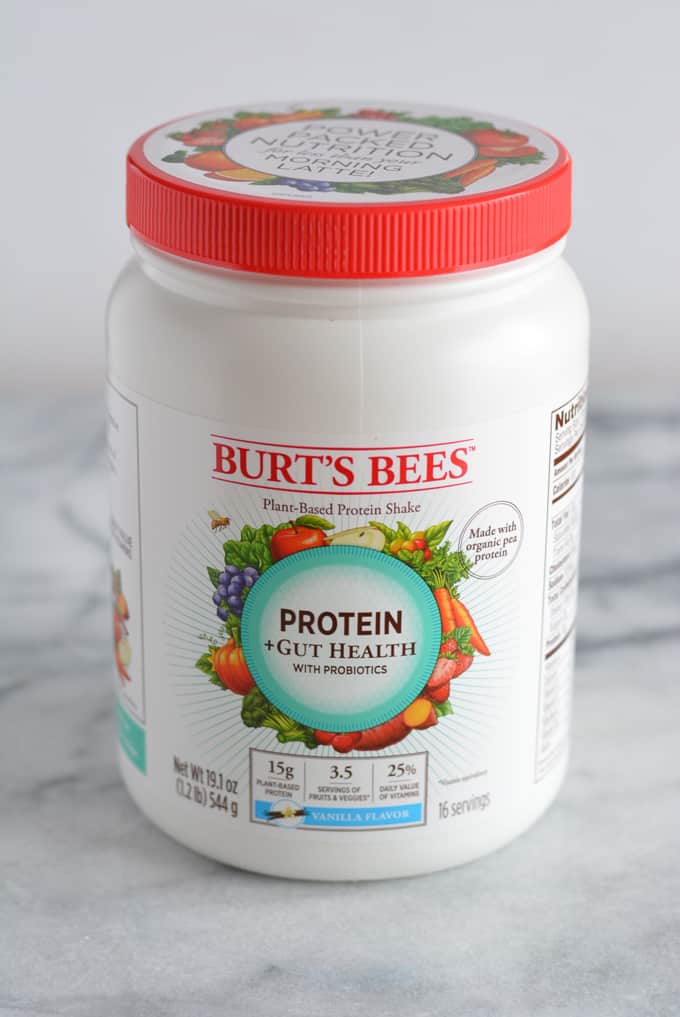 Burt's Bees™ has introduced a plant based protein shake, Burt's Bees™ Protein + Gut Health. Not only is Burt's Bees™ Protein + Gut Health a good source of protein but also is a good source of fiber and contains GanedenBC30 probiotics. Burt's Bees™ protein shakes also are gluten-free, dairy-free, and soy-free. Burt's Bees™ uses 70% organic ingredients that are also non-GMO.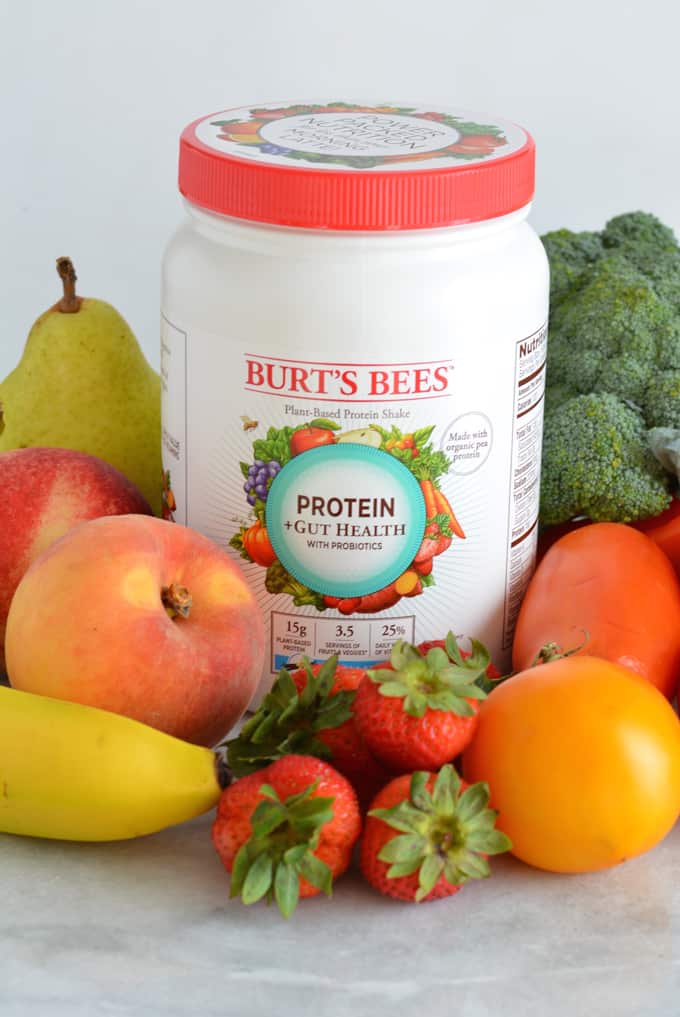 Adding Burt's Bees™ Protein + Gut Health Protein Shakes to your daily diet can help you consume additional protein, fiber, and probiotics that you may be missing.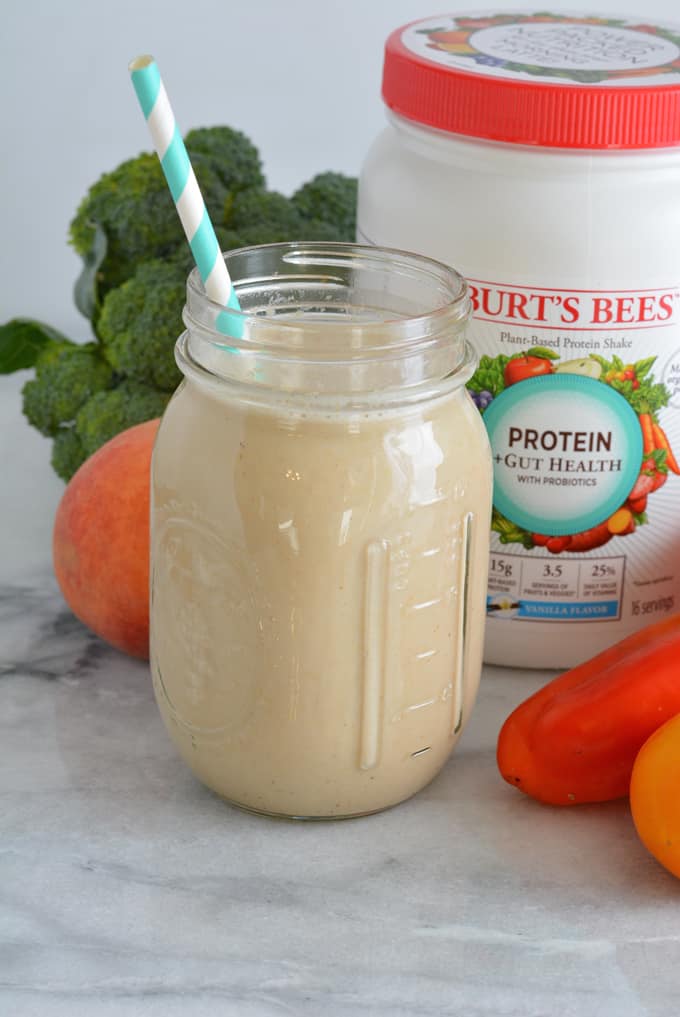 I partnered with Burt's Bees to bring you this post.  I received samples and compensation to write this post.  All opinions are my own.
This is a sponsored conversation written by me on behalf of Burt's Bees. The opinions and text are all mine.